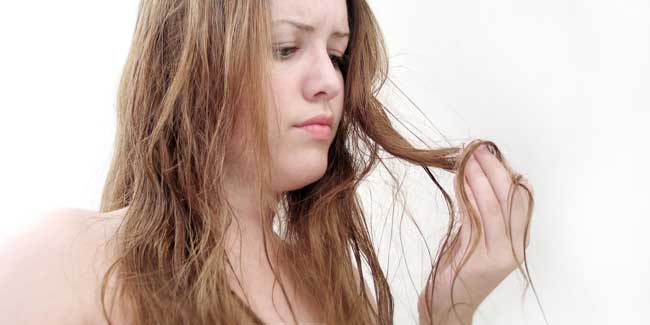 Split ends are unsightly and make your hair unmanageable. There are many things that you can do to prevent them.


Split ends make you look less beautiful. There could be several reasons behind getting split ends, some controllable and some uncontrollable. If you don't take care of split ends on time, it can get worse so much that the shaft of the hair may split.

Split ends cannot be repaired easily and you may think of cutting your hair instad with a heavy heart. You can, however, prevent it.
Use of Hair Care Products and Accessories
Use a mild shampoo to wash your hair and use a moisturising conditioner to rehydrate it.
Avoid using blow-dryers, curling irons, straighteners, flat-ironers chemical-dyes or relaxers.
Don't rub your hair with a towel. Rather, comb the hair dry. Avoid drying your hair with a hair dryer.
Comb your wet hair with your fingers or a wide-toothed comb to prevent hair breakage.
Make it a ritual to deep condition hair once in a week with either conditioners or protein reconstructors.
Massage
Massage your hair for at least 10-15 minutes, twice a week, using warm coconut, olive or mustard oil. Split ends can occur at any point along the hair shaft. Moisture is the key; the way to prevent split ends is ascertaining that there is moisture in hair. The dryness may make hair split faster.
Trim Down
Get your hair trimmed every six weeks to prevent split ends. If you are trying to grow your hair and thinking of not to trim, you must still trim at least an inch of the hair from the bottom to allow healthy hair growth and prevent hair damage. By cutting out the ends, you will only let the split ends to betray the damage they were causing to your hair in terms of breakage and truncated hair growth. You can also snip them out individually yourself using a sharp pair of scissors. Remember, never to trim hair when they are wet.
Incorporate Hair Healthy Food in Diet
You must learn that your health affects your hair. For example, a low-fat diet could make the hair dull and ugly. Do include healthy fats such as olive oil or fish oil to your diet. These are not only good for hair but are also healthy fats that are good for your entire body.

The way you maintain the condition of your hair is of high importance. Once you have got rid of the split ends, follow guidelines above to prevent future problems.
Read more articles on Hair Care.