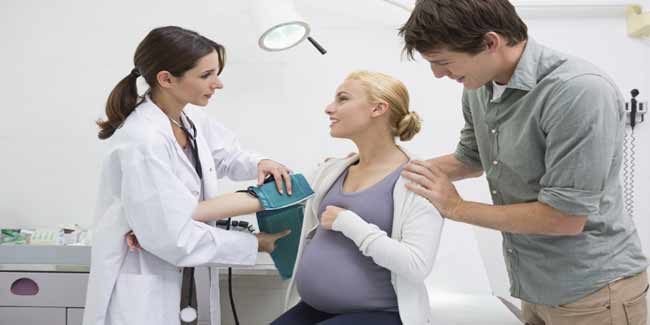 How to prepare a woman to go into labour? Women in labour is scared she will panic and behave in an irrational manner, so be prepared to handle all those eventualities.
It is difficult to come across someone who has had an easy labour, but you can certainly take steps in order to make things move faster.
Labour is the last and final stage of that magical journey called pregnancy. It is the final stage in a ride into a new life. Because once your baby is born, life as you have known it will change completely, Priorities, plans, people, everything will change to accommodate that one tiny person who is about to walk into your life. Preparing for labour must begin months in advance, preferably when you first find out you're pregnant.

The Role of Labour Partners
Labour partners should be as prepared as the mother, because it is going to be a trying and emotional time for you as well. It is therefore important for the labour partner to have access to the all-important hospital bag that you should have packed about a month before your due date, because when it finally begins, labour has a way of pushing out things like checklists from the top of your mind. Mothers must be ready to call their labour partners at short quick notice, and labour partners must be prepared to drop everything and run immediately.

The first and most important rule that all labour partners must remember and follow is, as the Hitchhiker's Guide to the Galaxy very kindly teaches us, Don't Panic. Mommies in labour will panic, be scared stiff, and behave in an irrational manner, but you must be prepared to handle all those eventualities, because she is going through probably the most trying and painful time her body has ever experiences before. Hospitals may not recognise your urgency, make you fill forms, wait for a room, and behave in ways that can drive you up the proverbial wall. So, come prepared to deal with it.

Make sure the mother is comfortably seated (preferably in a wheel chair so that she doesn't have to walk around), and take charge of the situation. Be polite to the staff (you're going to need their help!) but convey your urgency, and help the mother stay calm. Remember that this is the most important day of her life!

Preparation Steps

Take her for Prenatal Appointments
Your doctor and midwife will of course be monitoring your position and progresses and will keep you updated on the same. You must address all issues that are troubling you and making you feel uncomfortable. Clear any query that you may have regarding labour.

Make her attend Birth Classes
Every pregnant woman should be attending birth classes and so you must help her to choose one such class which will help you reach your birth goals. You will have to make sure that the woman finishes her classes before 36 weeks so as to give herself enough time to finish before birth. She must practice all the techniques that she learns in her classes at home.

Exercising during Pregnancy
Studies have shown that certain exercises could be of great help to prepare a woman for labour, and so you must ask her to perform squats. The most important part however is that you must assist her with the exercises and help her keep her balance.

A Birth Plan
Sit with the expecting mother and prepare a birth plan. You should keep this plan clear and focus on the items that are most important. You can also discuss the woman's wishes with doctor to make sure that such expectations run parallel with reasoning.

Pre-Register at the Birth Place
By pre-registering at the birth place you will not be worried about looking for a suitable place on the day of birth. This place would already be booked by you and will have your insurance and medical information with them. A little thinking could help you in many ways.


Upon entering labour you will go through three stages and the third stage of labour lasts for about five to ten minutes maximum. After which you will have your new born baby.

Read more articles on Labour and Delivery