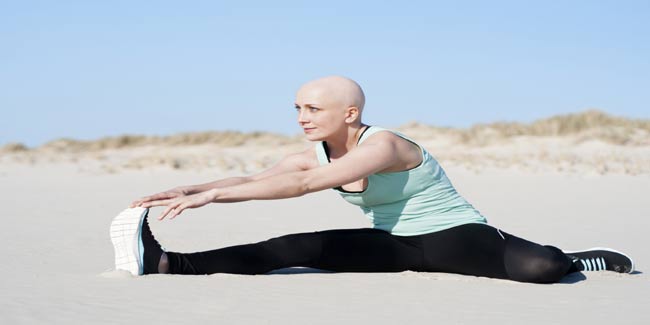 Here are some handy tips to motivate your friend or relative suffering from cancer to start exercising to reduce the impact of cancer on health.
There is a general understanding that those treated for chronic illness are suppose to take rest and are told by medical practitioners to reduce their level of physical activity. This is only right when movements can cause pain, rapid heart rate or shortness of breath, but studies are now showing that exercise is safe and possible for a cancer patient. Furthermore, it can also improve how a person functions physically.
During cancer and even after its treatment, the patient's energy levels are reduced significantly and his strength and immune system go for a toss. If any of your close friends or family members has suffered from cancer and underwent its treatment recently, you can offer your bit of help by motivating him to exercise. Here are the steps to do so.
Person should be able to Exercise
Before beginning with your plan to motivate, ask the person if his oncologist has advised him to exercise. During the cancer treatment or even after it, a person experiences prolonged tiredness making rest a necessary part of the recovery process. The patient may find it hard to walk for 10 minutes, so putting him on a treadmill with the required stamina will be a task. This will require weeks of basic exercises to rebuild strength. Initiate your plan by making sure that your friend is healthy enough to workout.
Teach the Benefits of Exercise
After cancer treatment, the energy levels of the patient diminish significantly. His body loses flexibility and he ends up experiencing incessant bouts of tiredness. Exercising a bit will re-boost his energy levels and aid in retaining flexibility. Exercise and fitness controls the overall body weight by significantly diminishing the chances of cancer recurrence, especially in people with breast, colon and prostate cancer. [Read: How to Encouage a Friend to Lose Weight]
Exercise Together to Motivate
Workout with your friend because doing so lends your support to him while also making the workout sessions fun. Your presence will make your friend more accountable to his regular exercise regime. This is a good way for you to show your friend that you are there to support and you will motivate that person with your presence.




Start with Low Impact Exercises
Vigorous exercises are wearisome and require high energy levels. Therefore, choose exercises that are appropriate for your friend, who has just undergone cancer treatment. If your friend has undergone chemotherapy, he should avoid swimming as chemotherapy makes the patient more susceptible to water-borne diseases. For a cancer patient, stationary exercises work best. Your friend can ride a stationary bicycle or engage in seated exercises. Your friend can also do yoga. Remember that the exercise routine of your friend should not make him feel extremely tired or he may discontinue altogether.
Track the Success Rate



When diagnosed with cancer, exercise is the last thing in one's mind. Dealing with the menaces of cancer is not only physically bothersome, but also takes a toll on the patient's emotional well-being. By keeping a track of your friend's success at the gym or during yoga classes, you can motivate him to continue. Achievements of the past are a strong motivational factor, which may induce a cancer patient to achieve utmost level of fitness.

Exercising for ten minutes a day will be a great deal of help to your friend's deteriorated health. It will stimulate his immune system, nourish his body and the lost spirit. Most importantly, a cancer patient should consult a doctor before starting to exercise.
Read more articles on Understanding Cancer.