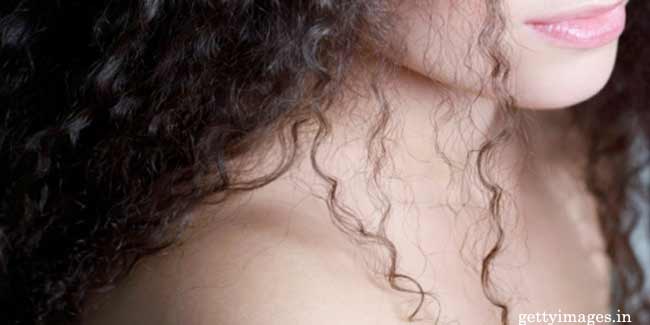 Permanently straight hair can get a tad too boring sometimes and the next best thing to do is try some hot curls. For steps, here are some.
For a lot of us who have wiry straight hair, curls are of tremendour appeal. If you have straight But, there are several aspects that one needs to consider before curling straight hair.
First, curly hair needs appropriate moisture at all times. Therefore, avoid the usage of everything that steals moisture out of your hair. Moisture-free curls look terrible. So, use the right conditioners to moisturise your hair as it is quite essential. You must moisturise the tips and leave the scalp. This will also help in avoiding a greasy look!

Second, styling curly hair can be tricky for beginners. Washing hair with shampoo, conditioning them regularly and applying curling products appropriately are all critical for maintaining curls. Moreover, drying hair is another aspect that has to be taken into account. Curls should be dried with a hair dryer and diffuser should be set on luke warm mode.


Instructions to Make Straight Hair Curly

1. Wash and Detangle
The first step for curling straight hair is washing and conditioning hair. In case you are going out later in the day, wash them after you get home. The next step following washing/conditioning is combing it through the length with a wide-toothed comb and getting rid of all knots. If you are facing any difficulty in detangling, use detanglers such as children's hair detangler.


2. Transformation of the Hairdo (Crimped)
Separate hair into four equal parts when you are eyeing crimped look. Thereafter, form tiny braids that are held with a non-slip grip ponytail holder. Keep the braids for as long as possible to crimp hair to the maximum. One must ensure that the braids remain intact at all times.

When you wake up the next morning, take all ponytail holders off. Follow this with a slight massage of the scalp, but do not brush hair so that they become frizzy. Slowly take crimped hair down from one of the sections and secure it with a clip. Do the same for other sections as well to get the desired hairdo.


3. Perm is an Alternative
If you are not considering a crimped look, but still want to curl your straight hair, go for perms. For perms, the first step remains the same, wherein you have to wash and condition your hair and detangle them. This is followed by separation of hair into four sections, twirling each section and twirling sections to form a bun. The bun formed is then secured with a non-slip ponytail holder. You have to keep these buns throughout the night.

When you wake up the next morning, take off the ponytail holders and run fingers through your hair gently. You will have your desired perms that will last for a couple of days. To make them last long enough, put some hairspray on it.
Soft homemade curls can be flaunted anywhere be it a party or formal get together.
Read more articles on Hairstyles.