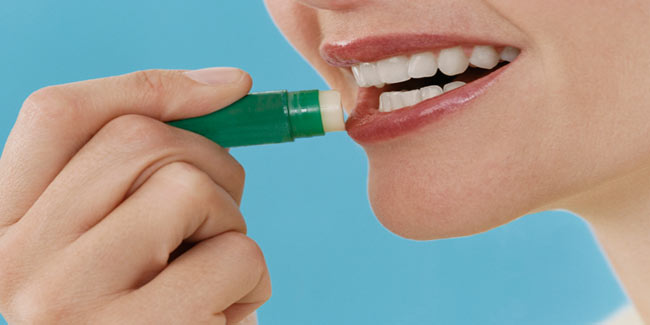 Chapped or dry lips are unattractive and once they become chapped, they can be painful and uncomfortable. Chapped lips is very common in winter, although it can occur any time. There are many things that you can do to give your lips immediate relief and make them supple and nurtured in short duration.
Below are some of the recommendations on how to heal your chapped lips and keep them supple.

Exfoliate: Just like you exfoliate facial skin, you must exfoliate your chapped lips. The dead skin can be removed with the help of a toothbrush or warm wet washcloth. Exploitation needs to be followed by healing ointment. Moreover, you must ensure that you don't eat or drink anything for at least an hour. Ideally, you should apply it right before bedtime.
Use sunscreen and lip balm: Lip balm or sunscreen or a product that keeps lips soft and supple is a must to prevent chapping. The application of these products helps lips retain moisture and helps them stay hydrated so they can heal. Coating of petroleum jelly is as effective as a moisturising lip balm; one of the ways to heal chapped lips.
Water: You need to drink enough water so that your lips. Drinking enough water helps lips stay hydrated along with the rest of your body which prevents further cracking of lips.
Diet and vitamin intake: Deficiency of vitamin B, Vitamin C and iron can also make lips crack. Ascertain that you are getting enough of these nutrients in your diet through vegetables, fruits and other organic sources. Alternatively, you can take a multivitamin daily to make up for the vitamin and iron requirement.
Know the no-nos: Avoid licking your lips when you think your lips are dry. Reach for the balm. Licking lips may make feel better for a moment or two, but it actually dries them out. Resisting the urge to lick the lips is a big no-no. Smoking dries out your skin; avoid smoking until chapped lips heal. Moreover, avoid the overuse of cosmetics during this time.
Prevent it in the first place: You won't fret over chapped lips if you prevent chapping in the first place. All you need to do is apply a lip balm on your lips and keep them supple throughout the day. Avoid licking your lips is also important to keep chapping of lips away. Windy or cold conditions make your lips susceptible to chapping. Make sure you use a humidifier in your home and wear scarves or jackets to cover your lips when outside.

If dry and cracked lips condition doesn't heal with the aforementioned, you must see a doctor.
Read more articles on Skin Care.