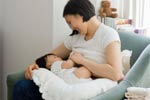 Getting Pregnant while breastfeeding seems like an uphill task for women. However, we present to you ways in which you might be able to get pregnant during that period when you are breastfeeding your baby.
While breastfeeding a woman is less fertile but this doesn't mean that she can't get pregnant. Even though you may not menstruate for a few months after delivery but the body starts to ovulate even before you get your first period post delivery. In such a case you will not know when you ovulated till a few weeks later i.e. when you menstruate.
Breastfeeding curbs the ovulation triggering hormones. The more you nurse your baby the later will your periods arrive. Therefore, it is rare for nursing women to conceive during the initial six months post pregnancy. Especially if you are nursing your baby round the clock and the baby hasn't started a solid diet. Here are some of the ways to boost your chances to get pregnant while breastfeeding.
It is always important to have patience while trying to conceive. But even more is required by nursing women. However, the best part is that the majority of nursing women who try to conceive do succeed. And the chance to get pregnant increases if women keep track of their fertility status.
The chances to get pregnant while breastfeeding depends considerably on the frequency of feeding. If you are nursing your baby at a regular interval of four hours then you are less likely to conceive. Cutting on feeding can increase your chances of getting pregnant.
Night weaning (introducing diet supplements other than mother's milk) reduces the odds of conceiving.
If you are feeding your baby day and night then it may take more than a year to come back to your regular menstrual cycle. In order to get pregnant, nursing women must gradually decrease the nursing sessions by putting their baby on a solid diet.
Changing the timing of nursing sessions has also worked for some women.
Research have shown that women who are pumping milk stand a greater chance of getting pregnant than those who directly breastfeed. So if you are trying to get pregnant and are directly nursing your baby then replace few feeds with pumped breastfeed.
Remember that you may start to ovulate anytime after three months of lactation. So regular sexual intercourse will surely help you to get pregnant while breastfeeding.
---------------------------------------------------------------------------------------------------------------
Related Articles