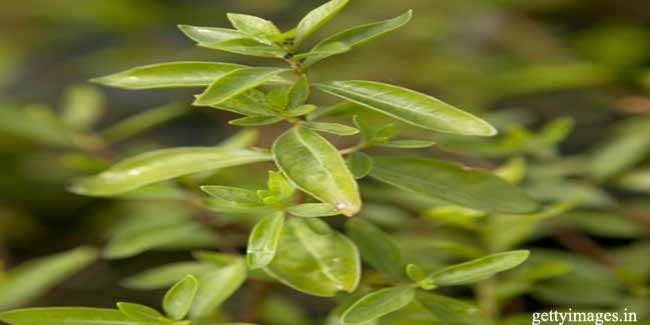 Henna herb renders several benefits on its hair application such as colouring, increasing smoothness and strength.
Henna (Lawsonia Inermis) is acknowledged for its high dye content. The herb produces various hues of red on its application on hair that colours hair. It is due to presence of lawsone in the plant that henna has colouring properties. This burgundy compound, concentrated in the petioles part of the leaves, combines with protein to provide colouring effect. Hair bleached or dyed with henna products gives soft, shiny and healthy outcome. In this manner, applying henna on hair has innumerable advantages.
Preparation of Henna Paste

Take powdered henna in the quantity depending on the length of your hair in a container. Add citrus juice or water for preparing a paste. Yogurt can also be added to the henna paste. Thereafter, put a lid to cover the container and keep it at the room temperature for 12-15 hours.
Instructions for Applying Henna Paste on Hair

1. Before applying henna paste to dye hair, make sure hair are thoroughly washed and dried. Thereafter, hair should be combed it into sections before proceeding further.

2. Put on an old shirt or wrap some cloth around your shoulders so that henna spills do not spoil your clothes.

3. Beginning from neck, apply henna paste to the hair and scalp. Among ways henna can be applied are smearing with gloves, using squeeze bottle and using a piping bag.

4. Make sure it is applied thoroughly and thickly. Ascertain that the paste do not leave out any dry spots below.

5. Demark hair, by sectioning one can apply henna in more appropriate manner.

6. Cover entire hair with some plastic wrap or plastic grocery bag, keeping henna paste warm and moist while it has its effect.

7. Some paste will roll down on your forehead and neck; wipe it off cleanly without disturbing paste of the head.

8. Give some time to henna paste for the desired outcome, least of 4 hours. People that keep it for longer duration derive better result.

9. After paste becomes dry, wash all the paste with water, rinsing as much of it out. Thereafter, apply some shampoo and follow it with a conditioner to get rid of last portions of henna from hair.

10. Dry your hair and experience the change.

Read more articles on Hair Colouring