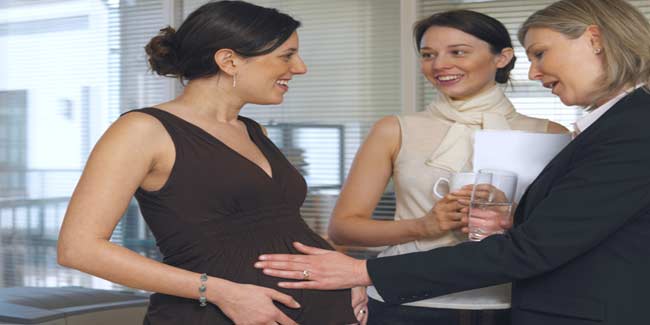 Dressing appropriately for work when pregnant can get many a head thinking hard! But, we are here to make your life easy.
You might think of ways to hide the growing baby dump; rummage through your wardrobe to find clothes that will not make you boil due to the heat and finally something that will make you look good despite of having a baby on board. Dressing for work when pregnant does not mean that you have to spend a fortune on a wardrobe overhaul. A few changes will ensure that you continue to look your gorgeous best.
First Trimester
During the initial stages of pregnancy, you will be able to dress in your regular office clothes. Most women will be comfortable in their office clothes till about 8 weeks. During that interval you might have to tweak your clothes a little. For example, you can leave the button on your pant open and hide it with a belt for added comfort! Better still; don't tuck in your shirt so that no one can see the open button.

In case your bust starts growing at an alarming rate you can cover it by wearing a jacket. Or else, dig into your closet and rediscover those loose fitting tops! They will look great and will also disguise the increasing bust line. Those wearing more traditional outfits need not worry as kurtis will remain comfortable for a while at least. Opt for darker colours as they will make you look slimmer and will hide the weight gain!
Second Trimester
This is the tricky stage of pregnancy because it is now that the baby bump begins to appear. Many women tend to hide the news of their pregnancy until the later stages of the second trimester. But, because your tummy is coming out of your old clothes, you will need to alter your clothes and even slightly change your style of dressing for work. You should technically buy a few pants and skirts that have elastic bands and are a size bigger than your actual size. You may also add an elastic band to your existing pants so that they give you breathing space.

Invest in empire cut clothes. They sit tight around the bust area and make the free flowing lower half hide the little bump. Wraps are an excellent way of camouflaging the baby bump. Layers of cloth in front will hide it. You can either opt for wrapped kurtis or blouses or even dresses when dressing for work. Loosely fitting shirts, cardigans and loosely fitting tops are excellent for this period of pregnancy. Invest in a belly band; they fit well over the belly.
Third Trimester
Dressing for work when pregnant now becomes easy. Wear loosely fitting clothes to work. Also, remember that in this stage of pregnancy you will feel warmer than usual. Therefore, invest in lighter colours and do not wear solid prints. Wearing skirts and dresses is comfortable compared with trousers. Buy flowing skirts and dresses that accentuate your curves the right way.

Accessorise; buy stoles and mufflers that will add colour to any outfit that you wear. For business meets, spend in a pregnancy business suit. They are easily available and come in a variety of cuts in order to suit the various body types. You can also get your business suit made-to-order for that added comfort. Some women also opt for traditional attires for formal work related events. A beautiful saree looks prettiest on glowing pregnant women! So, go ahead and flaunt it!
Dressing for work when pregnant does not mean that you have look boring. A little mix and match and smart choices when it comes to shopping for outfits for work will surely take you a long way.
Read more articles on Pregnancy and Work.