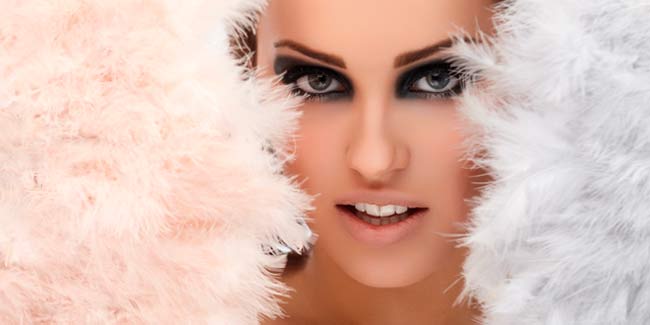 Getting those perfectly smokey eyes might have been your long cherished dream, but you surely need to master the art of smokey eye make-up application, in order to achieve that impeccable look. It is important to master the technique of choosing complementary shades of light and dark for the desired impact. You need to apply the strokes in the right manner and blend the make-up with the skin tone in such a way so that the make-up seems like an extension of yourself, rather than appearing extremely loud and artificial. It is also important to learn the tact of completing the entire look through perfect eye make-up in a matter of minutes. This is when some tips for smokey eye make-up could come in really handy.
Doing Smokey Eye Make-up
These sequential steps can actually help you to achieve that smokey look within minutes.
The first thing you should do is to make sure that the eye shadow does not smudge or melt on the eyelid crease. Therefore, it is best to start with a shadow base. It is important to prepare your eyelid before applying the actual make-up.
The next step is to apply thick eyeliner right on top of the eyelashes. Make sure the line is thicker in the centre. The choice of colour for your eyeliner should be the same as that of the colour of smokey eye desired by you.
Apply a lighter shade of the same eyeliner in the lower eyelashes, carefully. Doing up the lower eyelashes well is the key to that smokey look. Once the eyeliner has been applied, you need to smudge it uniformly for the desired impact.
Apply a light base to your eyelids right up to your eyebrows.
Now is the turn to blend in the darker colours. You need to blend carefully so that the colour does not extend beyond the eyelid crease. Now, with bold strokes apply a dark shaded eye shadow from the eyeliner above the lashes and towards your eyebrows. The application should be such that the eyeliner disappears completely.
Now, you need to check if both eyes have a uniform look. Apply some more colours with a Q tip, if required. However, do not try to lighten the shades, as this would spoil your entire look. That is why it is important to select your shades carefully right at the outset, as per your choice and preference.
Finish this off by a liberal application of mascara. The eyelashes should be highlighted well so that they match up with the smokey look.

Following these simple steps will help you to learn how to do smokey eye makeup, within no time. It is important to keep it methodical and simple, without getting into too many intricacies.
Read more articles on Eye make-up