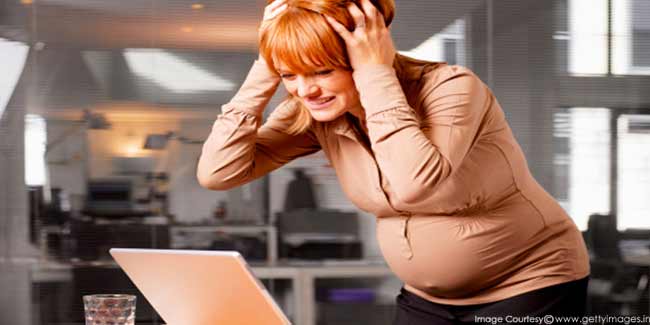 Dealing with stress at work during pregnancy involves staying healthy at your workplace. With the advancing pregnancy, your work will become more burdensome than before.

Complications such as backache, swollen legs, morning sickness and fatigue are bound to be felt. You need to keep your body and mind free from the problems that pregnancy brings.
Prenatal Appointments
If you have decided to continue working during pregnancy, it is likely that you would have discussed the no. of working hours with your employers. If you still find that you are unable to get time for attending your prenatal appointment, you can override that commitment. Women have the right to visit their health care provider at any time all through their pregnancy. It would be good on you though to fix appointments after or before working hours.
Take Breaks Often
Rather than one long break, it is advisable to take short breaks at frequent intervals. This helps to maintain focus and keep up the energy levels. If you keep moving every now and then after sitting up from your desk, it will keep your circulation going and minimise fatigue. If your job involves standing up a lot, you must sit down every half an hour for a few minutes or so. Use the lunch hour to get the much needed short nap for recharging your batteries.
Little Healthy Snacks
Keep a few nutritious snacks handy when working. Stuff like cheese, a fruit, healthy biscuits or crackers help to keep your energy levels up and the mind concentrated.
Keep your Commitments to a Minimum
Performing to your best at work would mean getting as much rest as possible when you go home in the evening. Keep your other commitments minimal. Your significant other really needs to help you now. He should be willing to lend a helping hand and assume responsibilities for some tasks which you performed.
Seek Help Whenever Needed
Do not be hesitant in asking your colleagues to help you out. If there is a project that is not going well because you are unable to bring the energy it needs, ask your fellow workers to share the burden. They will only be glad to help you.
Your Comfort is Priority

If this isn't possible in your workplace, try to take an occasional sick day or vacation day to relieve fatigue and reduce the number of hours you work or the time you spend on your feet, especially toward the end of the second trimester and during the third. You'll definitely need a job reassignment, preferably even before you conceive, if you work in a field where you come into contact with known reproductive hazards such as heavy metals like lead and mercury, chemicals such as organic solvents, certain biologic agents, and radiation. You're likely to come into contact with these hazards while working in places such as computer chip factories, dry-cleaning plants, rubber factories, operating rooms, darkrooms, tollbooths, pottery studios, ship-building plants, and printing presses, to name a few.
Follow these tips and you will do just fine in managing stress at workplace during pregnancy.
Read more articles on Pregnancy and Work.