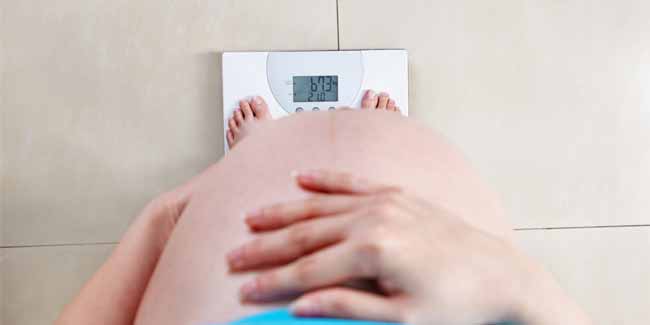 Best way to control excessive weight gain during pregnancy is to keep a check on your calorie intake. Eat healthy and increase fluid intake in your diet.
Weight gain during pregnancy may result in certain complications such as gestational diabetes, preeclampsia, and caesarean section during delivery are common concerns among the moms-to-be.


These complications not only put the expectant mother at the risk of delivery problems, but may also cause birth defects in the baby such as poor development of foetus's brain and heart. Therefore, it is important to follow the given ways to control weight gain during pregnancy.
Calorie Count
According to the American Dietetic Association (ADA), on an average pregnant women must consume 2,500-2,700 calories on daily basis. There is a slight increase in your calorie need especially after you conceive. A well balanced diet that includes all the basic food groups ranging from dairy, fruits, meat and vegetables will help you to gain healthy weight.
Increase Water Intake
Drink at least eight glasses of water or healthy fluids (milk or juices). Increased water intake will help you in two ways. First, it curbs your appetite and keeps you away from munching unhealthy calories. Second it aids digestion, regulates body temperature, flushes waste, provides fluid to growing blood tissue and amniotic fluid needs.
Say 'no' to Fast Food
Majority of fast foods are high on calorie and low on nutrition value. It is wise to avoid fast food during pregnancy as they only add to unhealthy weight gain and calories. Commercially available frozen meals, burgers, noodles and pizzas must be kept out of reach from pregnant woman's reach.
Decrease Sugar Intake
To control weight loss during pregnancy you must replace your ice cream with yoghurt or fruits. The whole idea is to cut down sugar intake; you must avoid chocolates and candies.
Increase intake of Fruits and Vegetables
Another effective way to control weight gain during pregnancy is to increase your fruits and vegetable intake. Include salad serving in your lunch and dinner. Small fruits servings can be taken throughout the day.


Exercise during pregnancy



Exercise during pregnancy is good for most women. You can join an exercise program for pregnant women or hire a personal trainer who is certified and experienced. Exercise increases body's dopamine level and suppresses the appetite. Besides this exercise during pregnancy also prepares your body for labour and delivery.

Along with following all the weight gain control measures, it is equally important to be on a nutrition-rich diet for your baby's unhindered growth and development.
Read more articles on Pregnancy.