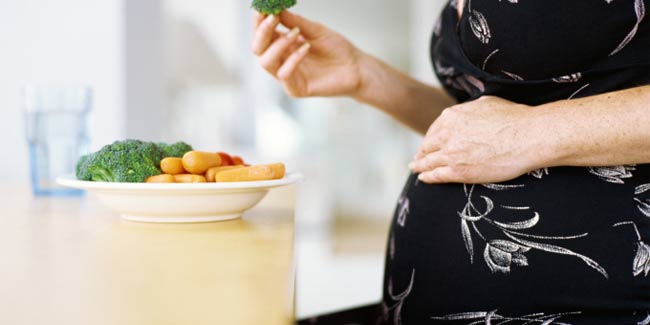 The great way to stay healthy during pregnancy is to have nutritious diet. Mostly women face the problem of gestational diabetes, which is high blood sugar (glucose) that starts or is first diagnosed during pregnancy. In case you are suffering from gestational diabetes, choosing the right foods is really important. You may control gestational diabetes by eating well and doing exercise on regular basis with the consent from your doctor. Maintaining a balanced diet is an important part of pregnancy. It becomes even more important if you have diabetes. About 80 per cent and 90 per cent of women with gestational diabetes are able to control their condition in this way.
[Read: What triggers Gestational Diabetes?]
Sugar (glucose) is the one of the main sources of energy that your body needs. A hormone called insulin works to control the amount of sugar in your blood and to turn it into fuel for your body. In gestational diabetes, the body is unable to produce enough insulin and thus the blood sugar levels get very high resulting problems in pregnancy.
If you were overweight before your pregnancy then your doctor may recommend you to restrict your calorie intake to avoid sudden rise and fall in your blood sugar levels and control gestational diabetes. To help you with this, your doctor and dietitian may suggest a special diet plan for you to follow. This diet will guide you about:
What to eat and what not to eat
how much to eat
how often you must eat
In order to control gestational diabetes, you must add simple carbohydrates in your daily intake. Include added sugars, such as table sugar and honey, natural sugars found in fruit and milk in your meals, but in moderation. Avoid drinks that are very high in added sugars, it can upset your blood glucose control. Eating plenty of fruits and dairy products helps in avoiding the problem of gestational diabetes in pregnancy.
[Read: Effects of Gestational Diabetes in pregnant women]

To avoid complications caused by gestational diabetes in pregnancy, eat food items that are high in complex carbohydrates and low in fat. They provide extra fiber, which is important for your digestion.
Choosing food items with a low glycaemic index (GI) will help in managing your gestational diabetes. The glycaemic index (GI) of a food is a measure of how quickly sugar (glucose) is released after eating, into your bloodstream. Low-GI foods are rich in fiber and that is why, take longer for your body to digest as the glucose is released more slowly into your bloodstream.

Here are some examples of food with a low GI:
oats or porridge,
fruits like apples, oranges, pears, peaches;
sweet corn,
beans and lentils.
[Read: Gestational Diabetes and Babycare]
Food items that have high glycaemic index must be avoided during pregnancy to control gestational diabetes. Some examples of food with a high GI:
baked potato
cornflakes
white rice
white bread
Choosing more foods with a low GI may be able to help you control your blood sugar levels hence keeping gestational diabetes at bay.



Read More Articles on Pregnancy.