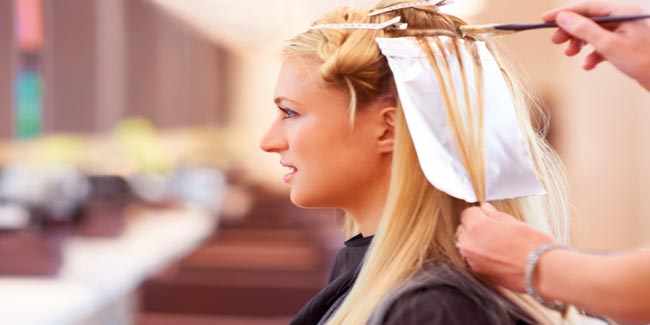 Colouring the hair does not mean selecting any random colour and going with it. There are many things to take into consideration.
Choosing the right hair colour is important as it should suit your appearance. You would be surprised to notice that your appearance will go through a tremendous change when you change the colour of your hair. There are a lot of factors that need to be closely looked at when you are considering picking the right colour for your hair, it is all game of colours. Below are the steps that you should follow in order to choose the hair colour which is right for you.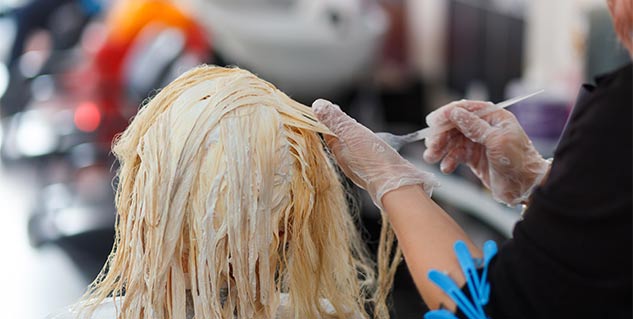 Image: Shutterstock

[Read: How to Colour Hair at Home]
Your skin tone

You must select the hair colour in accordance to your skin tone, so here are a few suggestions:
If you are pink skinned then you should stick to ash tones to neutralize your colouring, and avoid shades of red or golden brown.
Pale skin tones can use any hair colour as they all seem to suit pretty well.
For those with an olive skin tone, darker colours would suit them well, and should never go for lighter colours than that of your skin as it may not look good.
If you are extremely pale then do not go for the very dark hair because it makes you look even paler.
If you have yellow hues on your skin then you must avoid yellow, gold or orange tones, and should stick to deep reds and cool dark browns.
The colour of your clothing

It is also of vital importance for you to know the colours that look best on you, and so consider the following:
If you happen to look good in red, orange, golden yellow, olive green or rust and happen to have most of your clothes in these colours then you should colour your hair golden blonde, golden brown, strawberry blonde or aubum.
If red, purple, charcoal grey, periwinkle or teal, you should opt for neutral tones like sandy blonde, beige blonde, chocolate brown and mahogany.
If bluish red, fuchsia, black, royal blue or pine green then tones such as platinum, ash blonde, ash brown, burgundy and jet black is your colour.
Your eye colour

Look carefully to figure your eye colour, and take these into your consideration:
If your eye colour is brown, green or hazel then red, gold and aubum should suit you best. These particular eye colours have a yellow base.
Hair colours like light gold or ash are cooler tones and are suited best for people with blue or grey eyes. These eye colors have a blue base as opposed to having a yellow or brown base.
The right hair colour

Finally look out for the right hair colour, look at the following:

[Read: Hair Colour Ideas for Women]
Brown

This is a low maintenance colour and reflects well in light and minimizes breakages and tresses. So you are in a win-win situation here.

[Read: How to Remove Hair Colour from Hair]
Red
For the pink skinned people, use this colour if your hair is in good condition, if your hair is in bad condition then you will have a hard time.
Blonde
This is for those who can afford regular maintenance, as this is the most expensive one to maintain. You will need to give regular touch ups and specific products to make the colour last longer.
Black

You will have to be absolutely certain about using this colour because this is the hardest colour to lift. So, once you get this colour, you will find that it is almost impossible to get back to old colour without actually damaging your hair.
Apart from few bigger factors, there are some small things that you need to keep in mind while choosing the right hair color. Like...
Decide on longevity of the toner. There are permanent hair colors and then there are semi-permanent colors. And then there are toners that are permanent and semi-permanent. So, it is for you to decide the longevity of the color and accordingly you can decide the permanency of the toner.
If you are looking for a more natural look that would simply alter the shade of your strands, choose to opt for semi permanent colours. They would last for as long as 20 washes on an average and frequent application would not be required.
Before buying any toner, make sure that the toner doesn't have any harmful chemicals in it. Try and look for toners that are natural and don't have ammonia in it. In case you are allergic to peroxide based colours, the best option for you would be the semi permanent vegetable based colours. These are made from natural extracts and vegetable compounds and are completely safe. Furthermore, there will be no colour lifted from your strands and the look would be perfectly natural. The colour, however, would last to only about 8 shampoos and you might have to resort to frequent application.
A very important aspect of how to choose hair colour would be to be able to select the right shades. For example, if you are light complexioned, using dark shaded hair colours would be inappropriate. For those with dark complexion, you could use about five tones of blonde, chestnut or honey shades for the right look.
If you are confused about the choice of the right shade for your hair colour, always stick to brown. This is a shade, which suits most skin tones. You can alter the shades of brown and create several innovative looks successfully.
In case you are planning to select on the basis of ease of application, colour black would be the most suited option since it is delightfully easy to apply. You will also need to remember that the colour black looks good only on olive or dark skinned people.
Select a color carefully. Usually the toughest part of buying a color is selecting the right color and when you are buying a toner, it is different from buying a color because toners are not exactly are colors, they are an agent to neutralize the color by balancing the pigmentation. Choose shades of red if you are attempting a sexy look. If you have blonde hair, you would have to go for a couple of shades darker, in order to achieve the desired shade of red.
Top Image Source: Getty

Read more articles on Hair Care.
For more such stories, Download Onlymyhealth App.