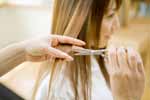 How to avoid split ends without trimming? Most women when faced with split ends reach for a pair of scissors but the better solution is to understand the nature of your split ends and look for a permanent solution.
Most women when faced with split ends reach for a pair of scissors. Trimming is not the answer to split ends. In most cases you will instead end up with rough edges and more split ends. While daily wear and tear will cause some hair to be damaged, split ends can become a recurring problem. Understand the nature of your split ends and look for a permanent solution.
Diet
Split ends may result from lack of proper nutrition. A healthy body always means healthy hair. If you're not getting enough protein and vitamins your hair may turn brittle.
Heat
Prolonged use of hair irons, curler rods, crimpers, blow-dryers and even exposure to sun during summer can cause irreparable damage to your hair. Avoid split ends by wearing a cotton scarf outdoors and reducing reliance on grooming tools that require heat.
Dry Scalp
A dry scalp can be a major cause of split ends. Nourish your scalp with warm oil treatments. A trichologist may advise you to take supplements of vitamins A and D found aplenty in almond oil. Do however seek the doctor's advice in case of excessive dryness and split ends.
Friction
Harsh combing, back combing and brushing damp hair can lead to split ends. You can reduce your chances of getting split ends greatly by first drying your hair gently with a soft towel. Always comb with a detangling serum and a wide toothed comb. Also avoid synthetic pillow-covers. Soft muslin and cotton are the best options. Also avoid hairstyles that require excessive manipulation and tugging. Scrunchies are safer than rubber bands for they are softer.
Chemicals
Alcohol based products are your nemesis in the fight against split ends. Look for shampoos and conditioners which do not have alcohol. You might also want to avoid shampooing daily or use baby products as they are the mildest and best for frequent use. If grooming is a concern opt for safer options like natural wax and glycerine based serums. Steer clear of harsh counterparts like gels and sprays. If you swim in chlorine added pool water wear a protective cap. Also avoid dyes and colours especially the ones with ammonia.
Hard Water
Do check the salt content in your water supply. Sometimes the cause of our problem is so ubiquitous it ironically escapes our notice. Hard water can be a major culprit in causing split ends. If daily use is unavoidable ask your trichologist for protective products you can employ.
Heal as you Prevent
While you tend to the causes to prevent more damage, heal your hair by using natural conditioners like eggs; various oils like carrot, almond and coconut; traditional Indian herbs such as amla and shikakai.
Read more articles on Hair Care Basics