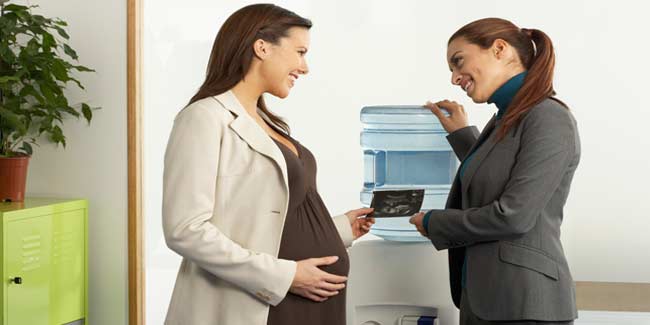 If you're currently holding a job and you'd want to know how to ask for maternity leave, you may find it difficult at first. It is a tough business, so better plan ahead and be prepared.
Most organisations have a positive approach towards pregnant women. But, there is always a concern 'how to ask for maternity leave' that many working women face.
Maternity leave is that duration of leave given to a to-be-mother that lets her to prepare and recover from childbirth without having to work at the office. The duration of a maternity leave vary in organisations.
Discuss with doc

Determine if you actually want maternity leave or if want to take a break for some months after the birth. How long will your leave be? Would you like to do part-time at first or work from home (if possible)? Find out if you can take leave without pay and do you need to provide relevant documents to your company to make use of any medical benefits for the same. Consult your health care provider.
Know-how of company policies
Most companies have paid maternity leaves but you would need to ask your boss regarding any formalities or paper work which may be required to get maternity leave. You may also approach the human resources department of your company to be aware of the policies and regulations. Talk to your human resource manager about sick, paid and unpaid leaves you can avail.
Ask your boss
Talk to your boss before you actually start looking pregnant and definitely, after the pregnancy is common knowledge. Contemplate your boss's possible reaction and your answers to his questions and concerns. Determine the points you will negotiate (like the length and type of leave). Inform your boss when pregnancy started to show up and discuss with him/her about maternity leaves. It would be considered irresponsible on your part if you did not inform. You need to give time your boss and colleagues to adjust to the idea of your absence and negotiate the time duration and type of your leave.
Ask other co-workers
Note how other women at your company proceed with maternity leave and consult colleagues you trust for advice.
Make suggestions
Suggest boss people who can replace you in your absence (these solutions help to get the leave). Be honest about the amount of time you want to take off so that work is not hampered in any way. Discuss how your work will be handled while you are gone and offer to help train someone new if necessary.


Asking for maternity leave can be a tough business and you may have fears on how to ask for it. You can do better if you plan ahead and are prepared.
Read more articles on Pregnancy and Work.