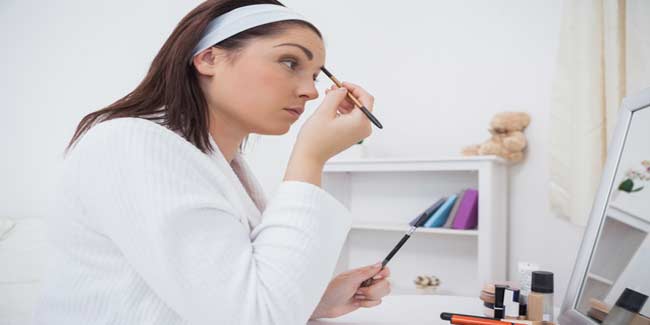 Don't have the luxury of time to dress your face? You can certainly do better than simply slap on lipstick and kajal.
It is possible to look your best with minimum time and tools at your disposal. It helps to keep a small make-up kit in your bag with essentials like loose powder, highlighter, blush and such. As for racing ahead of time for a quick fix, here's how:

00.00 to 00.01 mins
Splash your face with cold water to tighten pores and if you don't want to bother with the time consuming base use tinted sunscreen or moisturiser. Being more diluted, those are easier to apply without caking. Be sure to move your fingers in circular motion following the natural contours of your face and neck.
00.01 to 00.02 mins
Eyes need not be painted elaborately to show appeal. The simple highlighter in bronze or other metallic shades as suitable to your skin colour with a quick dab under the eyebrow arch lights up your face. Do however spend half a minute each on a lid to ensure proper coverage. If you want to pop open your eyes further you can try white liner in the inner lower lid or stick to the traditional kohl. If you're feeling more adventurous go for colored eye pencils instead in cool coral shades.
00.02 to 00.03 mins
To highlight your cheekbones use blush. Instead of the cream base, pick powder. Making circular motions with the little brush ensures an even spread.
00.03 to 00.04 mins
Most women would not even need to look in the mirror while putting on lipstick but you may have spent more time on your eyes or are not that handy with the wax wand. So add gloss for that dewy effect on a single coat of lip colour. Even lip balm with a touch of shimmer and colour is a good option if you're already short of time. Do remember that the lighter the colour, the lesser the effort.
00.04 to 00.05 mins
Finally, check for any imbalance in colour or bleeds with a wet wipe. Finish off by dusting loose powder on forehead and nose to complete the look. This will also help you avoid shine if you have an oily T zone.
Read more articles on Face Make-up.