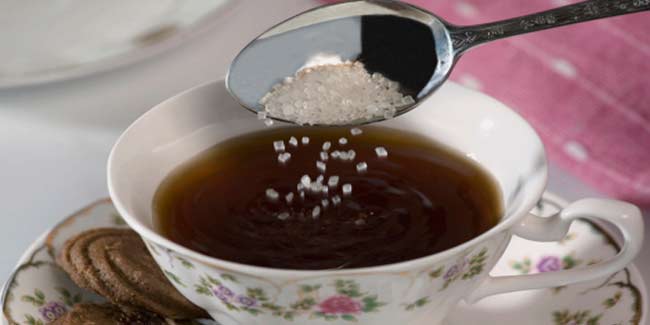 It is a myth that diabetes is caused by eating too much sugar. Sugar intake should be counted into your carbohydrate allowance to control blood sugar level.
Diabetes is a condition in which the body is unable to fully absorb the amount of glucose or sugar in the bloodstream. The sugar- starved cells send messages to increase the uptake of blood glucose into the liver, which leads to a build-up of sugar-level in the blood stream. There are two types of diabetes, type 1 and type 2.
In Type 1, the body cannot make the required amount of insulin i.e. the demand of insulin is higher than what the body can supply. Type 2 occurs when the body is unable to utilise all the insulin that it is making. Over 90% of all diabetic patients tend to have type 2 diabetes.


Total Calories have to be Watched
One of the most common myths related to diabetes is that it is caused due to excess sugar intake, however, it is not the amount of sugar intake but the total calorie intake that has to be watched. Diabetes, whether of type 1 or type 2, requires the patient to take care of the total carbohydrate intake in his or her diet during a given day. Sugar, a simple carbohydrate, is not the only culprit. A person diagnosed with this condition needs to maintain a log of all the sugars/ carbohydrates they consume through the day as also their blood glucose levels at different times of the day.

In short, as against worrying about total grams of sugar in a day, they have to see the total grams of carbohydrates in that day. There is also a difference in the amount of glucose produced by different carbohydrates. This has to be taken into consideration, when calculating the amount of sugar intake. An average would be less than 1 to 3 grams of carbohydrates per pound of body weight.

While formulating a diet for diabetics, it is important to keep in the total carbohydrate intake as well as the serving size. One cannot look at only the sugar grams. The carbohydrates from starch have to be considered too. Some foods with labels claiming to be sugar-free or reduced sugar may still be high on other carbohydrates. Starchy food tends to be included in any healthful meal. Here, the portion size can make a difference. For most diabetic people, 3-4 servings of carbohydrate rich foods are acceptable. Starchy vegetables like peas, yams and corn can also be eaten. Whole grain foods are also a rich source of fibre, which in turn keeps the gut healthy.




As Dr. Glenys Jones, a nutrition communications manager for sugar Nutrition, UK, puts it like this "It's really difficult to separate sugars from calories."

Diabetics can Eat Sweets, But...
Sweets and chocolates can also be eaten by diabetic people, if coupled with exercise. Sugary treats are best avoided and if taken, should be partaken in very small amounts.

A new research at UC San Francisco has, however, indicated that increased sugar level in a populations' diet could be linked to high diabetic rate. If there were 150 calories increase per person, per day from sugars, the prevalence of diabetes in that population would be increased by 1 %. However, an increase of 150 calories from any other food caused only a 0.1% increase. This research took into account factors, such as obesity and physical activity. The same study also found that diabetes rates dropped over time, when availability of sugar went down. This was independent of changes in intake of calories from other foods. Though this cannot be called conclusive evidence, it does suggest a direct link of sugar to diabetes. A low-sugar diet would help keeping the blood glucose level in check and hence, help counter diabetes.

Living with diabetes means making major lifestyle changes, while it entails eating sensibly, it also means exercising at least 20 mins a day. This can significantly improve your chances of contracting related complications like heart or kidney diseases. All diabetic patients need to monitor their blood glucose levels through the day. Moderation in sugar and starch intake will go a long way in controlling this disorder.

Whatever the type, diabetes needs a strict vigil on diet as well as exercise regime to help patients lead a fulfilling and healthy life. Instead of worrying about how much sugar intake is needed, you should concentrate of making necessary lifestyle changes and curbing excesses in food or laziness.


Read more articles on Diabetes.