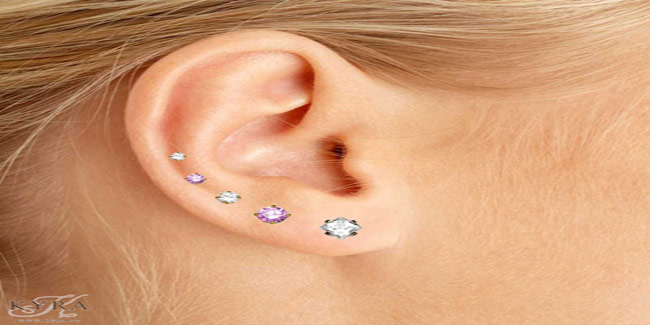 Slight redness and formation of scabs is a commonly reported, once the ear has been pierced. This is part of the normal healing process.
Ear infection is a result of piercing is also equally common. However, slight redness and formation of scabs is a commonly reported, once the ear has been pierced. This is part of the normal healing process . An infection can be detected with the presence of yellowish discharge, pain, irritation or burning sensation in the affected area, the formation of red bumps and swelling.
Home Based Solutions for Ear Piercing Infection
Although piercing your ears wouldn't have an adverse impact on your health, it might be responsible for nagging and excruciating pains. If left untreated, this can spread to the other parts of the ear including the perichondrium. Some home remedies to cure ear piercing infection should be resorted to for limiting the problem suitably.

During the inception stages, you could consider removing the earring and cleaning area with diluted alcohol. This will help in eliminating the infecting agents suitably and will help to prevent the problem from spreading.

You could consider rubbing an ice cube onto the affected parts of the ear, for sustained relief and comfort. Consider repeating the process at least twice a day.

Consider applying a regular antiseptic cream or solution to the infected area. This might provide the required results without too much of a hassle.


Take some distilled water or tap water in a container. Warm it up. Boiling isn't necessary. To this add sea salt or Epsom salt in the ratio of 1:8. Mix in the salt with the water till it dissolves. Dip clean cotton into this solution and place it on the affected area, around four to five times. Repeat this process two times a day till you experience relief. You could also use the same solution to clean your ear. Gently press the area where puss has been accumulated. However, make sure you do not repeat this more than twice a day.

Consume food items which are rich in vitamin C and minerals such as zinc, for speedy recovery.
Garlic is considered highly effective in anti-infective therapy. Therefore, make sure you increase your intake of garlic for sustained results.

Use hydrogen peroxide to clean the affected area. It aids the fight against infected microbes.
You could also place a warm washcloth on the infected lobe for mild relief.

Most cases of ear infection will heal over time. Refrain from touching the area with dirty hands to prevent Infction from worsening. Ideally, the infected part should be kept away from surfaces of common contact such as telephone receivers for speedy recovery. Continue to clean the area at regular intervals for keeping the infection in check.
Image Courtesy: Youqueen.com
Read more articles on Home Remedies