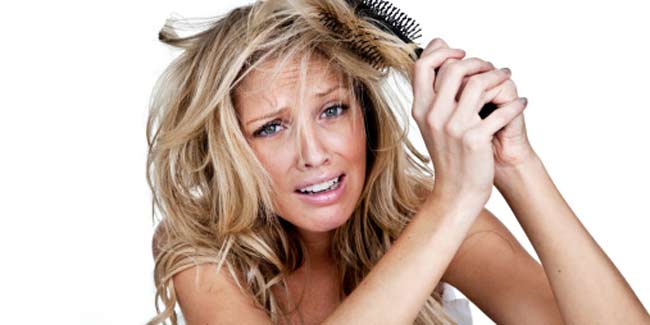 Get some tips to manage your dry hair and split ends with ingredients available in your home.
Most of us would be plagued with problems associated with dry and frizzy hair, one of the most common ones being recurrence of split ends.. Few causes of split-ends include over exposure to sunlight, usage of chemical based styling products, shampooing too much, swimming in chlorinated waterAlthough several chemical based cures for dry hair and spilt ends are available in the markets, resorting to natural remedies would indeed be a great start. These would be absolutely free from side effects.
Natural Home Based Solutions for Dry Hair and Split Ends
Some of the most effective home based remedies which can be used to treat dry strands and split ends would include.
Mayonnaise
Mayonnaise could be one of the most suitable options to be used on dry follicles. It would be one of the most common items found in your kitchen too. Mayonnaise is high on fatty acids and is known to provide suitable moisturising impact to the strands, providing a soft and shiny feel. However, you need to ensure usage of pure mayonnaise for the desired impact. Using ones with too many additives could have an adverse impact. You need to apply mayonnaise on washed strands, and comb through your hair. Wrap a plastic bag and a warm towel around it for some time. Wash off with a shampoo and conditioner after 30 minutes.
Beer
Spray some beer on your hair after you have washed and towel driy it. Using a spray pump would be the best thing to do. Once it dries off, you can style your hair as you wish. Beer will bring on a soft shiny feel to your hair and would tackle split ends suitably.
Avocados and Bananas
A concoction of overripe avocados and bananas could be an ideal potion for dry hair which has subsequently developed numerous split ends. Banana contains vitamin A and is also high on potassium. Avocados are rich in omega 3 fatty acids. The blend is therefore ideal for nourishing parched and undernourished strands. You need to apply a paste of the same on clean strands, post wash. Leave on for15 minutes on an average and wash off for soft bouncy hair.
Olive oil
Olive oil is considered to be an excellent remedy for dry hair and split ends. Wash your strands and towel dry. Warm up a little olive oil and apply it onto the scalp and strands, evenly. Leave on for about half an hour and wash off with shampoo. Follow up with your regular conditioner.

One important tip to follow when taking care of dry hair is to refrain from shampooing too often. Most of us indulge in regular shampooing because it seems to be a part of their daily hygiene regime. However, the more you wash your hair, the more moisture it would lose.
Image source: Getty Images
Read more articles on Home Remedies for Hair.