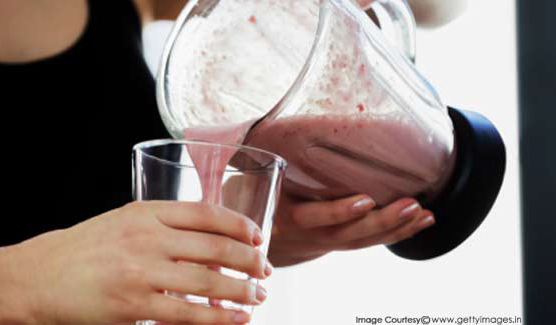 Protein shakes are one of the mediums that aid weight gain by boosting your daily intake of calories. Learn the easy recipes of some healthy protein shakes that will help your weight-gain efforts.
Protein shake is the best option for you if you're keen to add some pounds to your current weight or boost your muscles. You can acquire the required amount of protein for weight gain by using protein powder or natural protein sources.
If you do not feel satiated only by diet and wish to eat something, treat yourself with this protein shakes that will help you put on weight. Listed below are recipes of some protein shakes that can aid weight gain by boosting your daily intake of calories.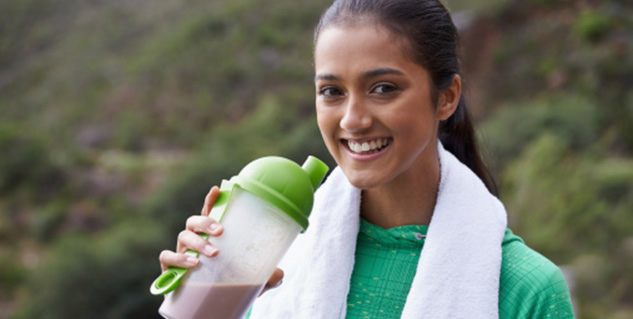 Banana thick layered shake
You may have it plain or add flavour by adding strawberry powder, vanilla powder or chocolate powder. Here is what you've to do to prepare it;
Add one or two mashed bananas to your protein powder.
Add two tbsp. of yoghurt.
Add flavoured powder.
Blend the mixture and pour it in a glass to serve.
Chocolate protein shake
Delicious chocolate ice cream will be an interesting addition to your routine protein shake. To prepare chocolate protein shake to gain weight, you'll require:
two scoops of chocolate ice cream
two tbsp. of yoghurt
one tbsp peanut butter
10 ice cubes
300 ml of milk
and 1/8 cup of ice cream topping.

Add all the ingredients and blend them. If you've been taking this shake for a few days without any visible effects, you may increase its intake to two to three glasses per day.


Nutty shake
The name of the shake itself implies the required ingredients, but before you start preparing this shake, make sure that you've a high-speed blender. Here is the quantity of nuts and other ingredients needed to prepare nutty shake.
One handful of raw walnuts.
Two tbsp. of blanched almonds.
Four dates.
½ mashed banana.
Cup full of raspberries.
½ cup low-fat yoghurt.
A cup of cold water.

Add all the above mentioned items and blend them for 2-3 minutes until you get the desired consistency. This creamy nutty shake is inclusive of 600 calories, 28g of protein and fibre provided by dates and raspberries. Walnuts are rich sources of omega-3 fatty acid.
Cocoa shake
Cocoa shake is an easy-to-made breakfast recipe, which is calorie-laden and rich in protein. To make a glass of cocoa shake for yourself, you'll require:
200ml of low-fat yoghurt
a cup of skimmed milk
mashed banana
few raspberries
one tbsp. of cocoa powder
30g of whey protein powder (chocolate flavoured)
and 5 ice cubes
Blend all the ingredients together and your glass of 530 calories, 7.5gram fat and 48 gram of protein is ready. Gulp these healthy protein weight gain shakes and you'll surely feel heavy!
Image source: Getty