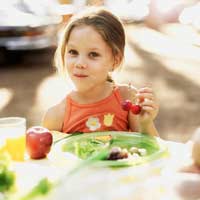 How to ensure that your toddler grows healthy with balanced nutrition.
Toddlers undergo changes very fast and this requires, or rather depends on, the diet which they are fed. As it is the time of learning, growing and making routine, the toddlers need to be fed a diet which is ideal for these activities. Moreover, if you give your toddler child a variety of foods, it would make him try out new things. But you do not need to take care of the stage of life of your toddler as his eating habits can fluctuate on a daily basis. A healthy diet plan for toddlers should include foods that are important for his growth but also an understanding of his eating habits.
Read: How to Make Toddler Diet Plan
As a parent, you are responsible for decide about the foods that will be offered to your toddler. This would include knowledge of the quantity and time of food that need to be fed to your child. The right thing to do is to let your child decide whether he wants to eat and how much.
A balanced meal for a toddler needs to include healthy snacks. You should be aware of the foods your child is inclined to ask again and again. But these food preferences do not last very long. The amount of food that your toddler should have would depend on his activity level.
Some of the foods that should be included in your toddler's diet include pasta, cereals, crackers and bread. These should be whole grain products.
Peanut butter and dry beans are some healthy sources of protein that should be included in the diet plan of your toddlers. For dietary fibre, the meal should include fruits and vegetables.
Toddlers are required to have 3-4 servings of fat on a daily basis according to the American Academy of Paediatrics. It is important for proper growth of the toddler especially development of brain.
When your child has completed his first birthday, you need to wean him from bottle. This is because they are inclined to drink more than necessary and form bad eating habits. Try giving them a regular cup during meals for a start. By giving your child two servings of dairy foods daily, you can easily meet his calcium requirements. You can give whole cow milk to your toddler aged between 12 and 24 months. After he completes two years, start feeding him with reduced fat milk. If you want to give him fruit juice, give only 100 per cent fresh juice to avoid empty calories.
[Read: Grooming your Kid for Hygiene]
By following the meal plans for toddlers given here, you would ensure that your toddler grows healthy with balanced nutrition.
Read more articles on Parenting