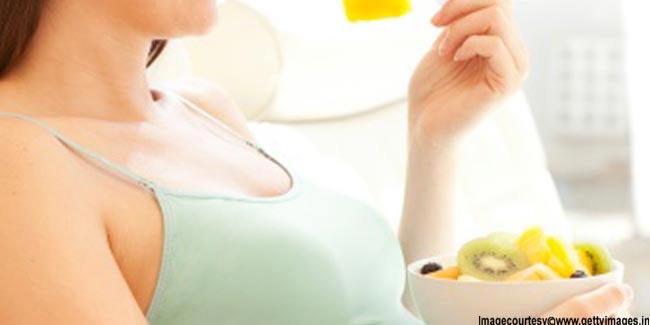 Diet Plan for a Pregnant Woman - You need to plan out your pregnancy diet plan in advance. Follow some tips given here and enjoy a healthy pregnancy.
A healthy diet plan for pregnant woman can be a tedious affair if not planned well in advance. A couple should pre-plan their pregnancy diet chart well in advance to avoid later stage hassles. One should take care of the fact that the diet is well-planned, incorporates all kinds of required nutrition intake in quantities and the timings of meals. A pregnant woman not only has to take care of her health much more cautiously, but must also remember that she has to provide for the growing foetus inside her body.
The foetus might remain underdeveloped, mal-developed or have low immunity levels, if proper food does not reach it. Hence, planning a meal remains important apart from maintaining physical fitness. The best way to receive a well-planned and a personalised diet chart is to visit your health care practitioner who, after a check-up, will provide you with a diet chart that is specific to your body type.

However, general eating principles such as not staying hungry for more than two hours at a stretch and abstaining from alcohol, liquor, nicotine and caffeine should be followed without strictly. One must not forget to include the basic nutrients such as calcium, protein, iron, Vitamin C and folate in their diet. Doctors worldwide have agreed on the fact that a woman during pregnancy requires an additional count of 300—400 calories per day apart from their daily diet intake, especially as they near their labour date.

Another important aspect of a suitable diet plan for pregnant women is the intake of minerals. Minerals are essential for a healthy pregnancy as the woman's body needs to adapt to the changes occurring externally and internally. Minerals help produce higher amounts of red blood cells (RBCs) in the body which helps in the proper distribution and carrying of oxygen and nutrients to all parts of the body.

One must also take care of eating roughage and carbohydrates in required quantities. During pregnancy, the digestion process of the woman's body considerably lowers down. An improper intake of roughage can delay the proper removal of wastes from the body leading to contamination of blood or other related infections.

Eating green leafy vegetables is a must! Apart from that, a pregnant woman must include at least five different colours of fruits in their daily diet. This can be consumed in small quantities or over a period of time, in case your appetite does not allow you to have it all in one go. Have bananas for Folic acid. Include foods that are rich in calcium such as milk and milk products. Abstain from supplements and have them only under the guidance from your doctor. Including one glass of mixed fruit juice is another way to boost your daily immunity.
---
Read more articles on