Yoga for Sleep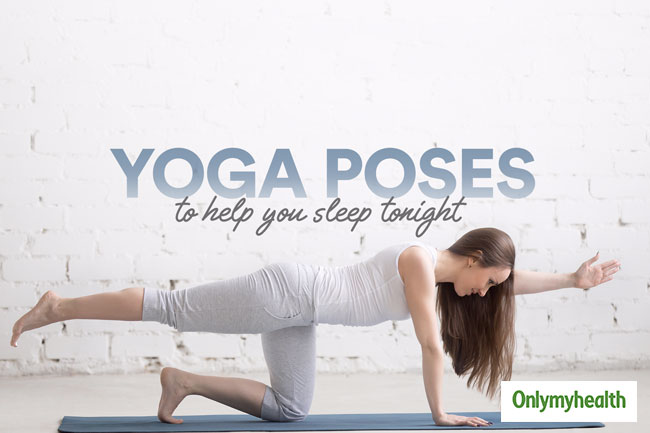 Sleep deprivation can be a severe problem which may ruin your day or even career and relationships. You can try several things to improve your sleep; however, it may not be that effective. Not taking proper sleep can lead to various health concerns, physically as well as mentally too. Also, in times like these when there are stress, anxiety and uncertainty, one should ensure that their sleep pattern remains unchanged. One can try yoga to help get rid of insomnia too. That's where yoga comes in. Certain yoga poses can be particularly helpful for your sleep. Did you know yoga helps in enhancing the blood circulation in the body, which helps relax and get rid of fatigue too? Try these yoga poses listed below for sound sleep:
Relaxation Pose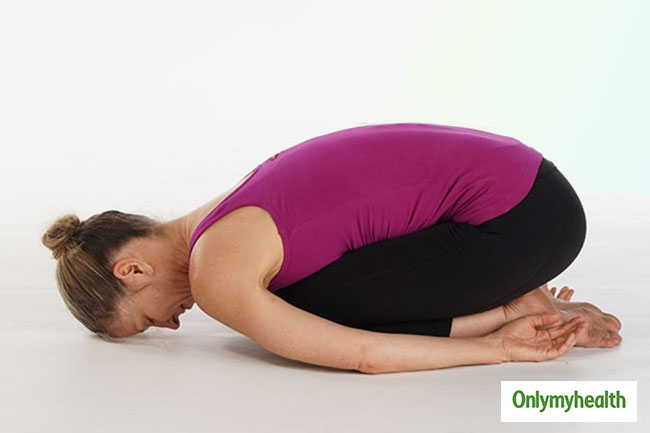 As the name suggests, to sleep, the most important things are to relax and recoup. One cannot sleep with unrest in mind. Hence, try doing the relaxation pose to prepare for a sound sleep. To perform this yoga asana, lie flat on a mat with your arms on your sides. Relax your body and take deep breaths. Slowly move the wrists and ankles around in circles. It will relax your body further. Now stretch the toes and fingers apart. Finally, contract and release your facial muscles and stay in a relaxed position as long as you can. It helps in relaxation of body muscles, calming of breathing and more.
Downward Facing Dog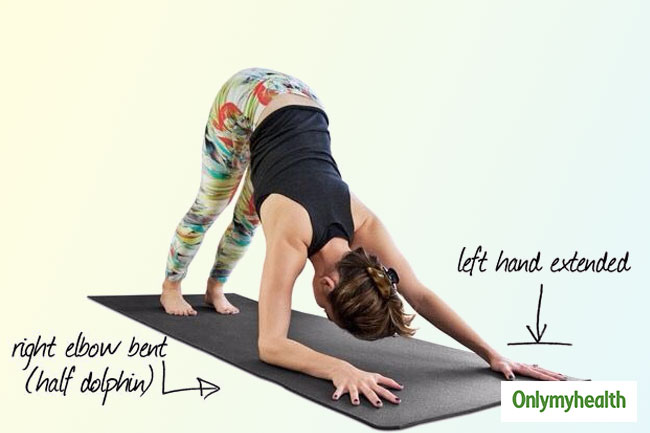 It may take time for you to get in the mood to sleep. Another yoga pose, which can help you sleep is the downward-facing dog. As the name suggests, this yoga asana is simple to perform and has some great benefits on the mind and body too. To perform this asana, get on all fours and slowly lift the knees off of the floor while you exhale. Extend your legs as much as possible and tilt the pelvis slightly inward. Stay in the pose for a couple of minutes. This amazing pose reduces fatigue and insomnia and also improves digestion. This asana is great to stretch and get rid of the shoulders, hamstrings, hands, etc.
Legs against the Wall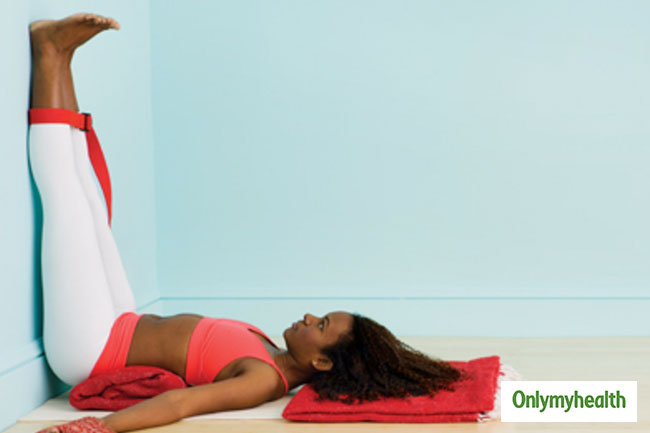 When facing difficulties in sleeping, we may try all the possible poses, angles and sides of the bed to get some sleep. The legs against the wall posture can help you sleep in such cases. To perform this asana, lie on your back close to a wall so that your hips touch the wall with your legs against the wall. Stay in the pose for up to 15 minutes. It will help you feel relaxed when you go to bed. This yoga asana is best to do before sleeping as it helps aid digestion. It provides relief from tired hands and feet, which enables one to sleep correctly. Also, those suffering from varicose veins should do this yoga asana daily for pain relief.
Yogic Breathing Technique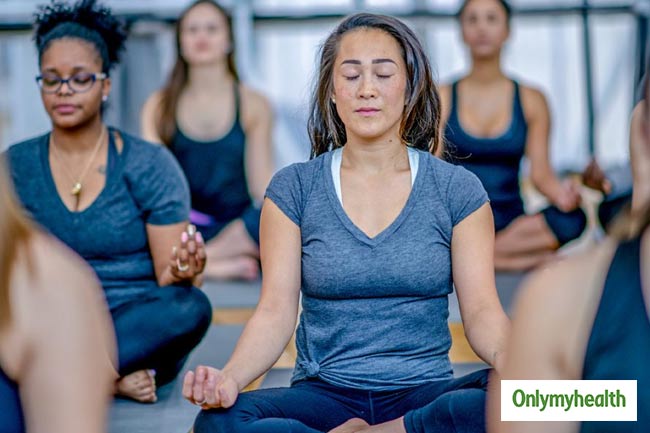 Breathing is a critical phenomenon, which helps us sleep. To do yogic breathing, sit comfortably on a mat and inhale. Now exhale through your mouth and make a "ha" sound as you exhale. Do this for five to eight minutes. This technique helps tone your throat muscles for sleep apnea. Further, breathing in yoga helps reduce stress and gives a boost to the heart functions too. Other health benefits of yogic breathing technique include better breathing, respiratory health, and promotes overall well-being. Further, it reduces anxiety and stress and helps one to focus on sleep properly. Sleeping seems to be a simple activity but can give various problems, if not done correctly.
Forward Fold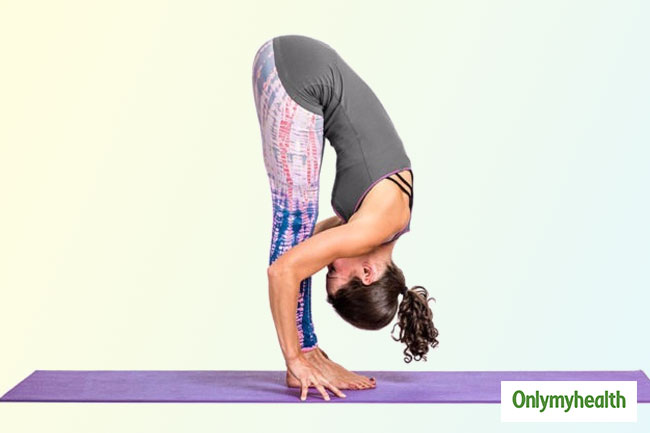 Another yoga asana to sleep better is the forward fold position. For this pose, bend forward and fold your upper half toward your lower half and hold for up to one minute. You can also rest your hands on a chair or something if you have trouble reaching the floor. Forward fold position helps stretch the calves, hips and hamstrings and further strengthen the knees and thighs. To sleep is essential to be free of stress and anxiety, and henceforward fold posture can help reduce stress to a great extent. Further, it activates abdominal muscles and relieves pain from back, neck and spine. Stretch only till where you can as stretching extra can lead to muscle pull too.
Head-to-Knee Forward Bend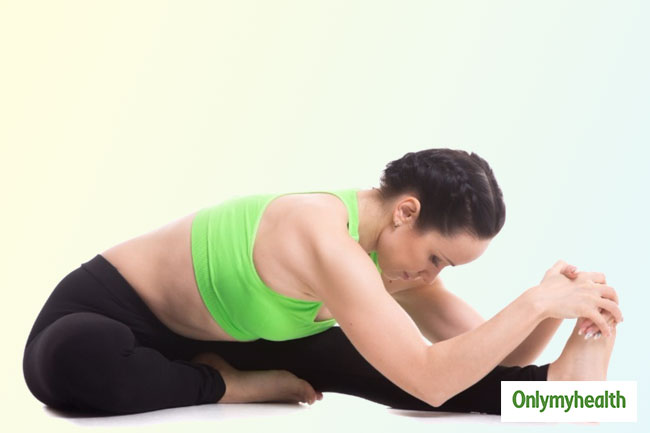 Another yoga poses to try this team when sleep is not regular is the head-to-knee forward bend pose. To perform this yoga asana, sit on a mat and stretch your legs into a straddle, then fold your left foot in toward your groin, so your left knee is bent and resting on the floor. Turn your torso toward your right leg. Stay in the pose for a couple of minutes. Repeat the same with the other leg. Hence, one should know that this yoga pose can help calm the brain and also get rid of mild depression. Further, doing this yoga asana helps improve digestion, live and kidney functions and more. Yoga is useful to get rid of fatigue, stress, mental discomfort, etc.
Bound Angle Pose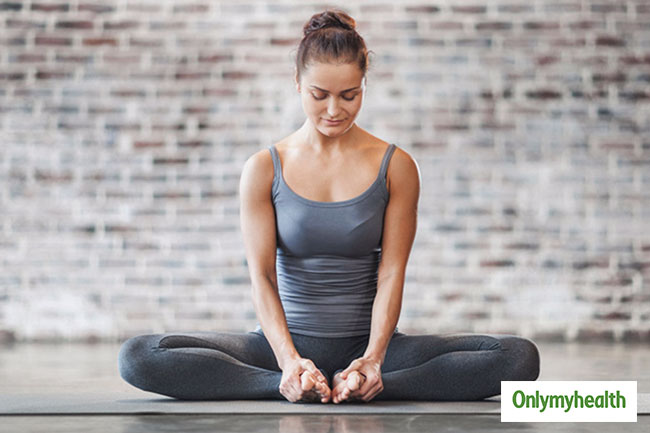 The bound angle pose also helps facilitate sleep. To perform this asana, sit on the floor and bring the soles of the feet together in front of you, hands holding the feet or ankles. Now inhale and lengthen the spine. Exhale and bend forward from the hips, keeping the spine long. To sleep better, one should be free of fatigue, stress and discomfort. Hence the bound angle pose helps in enhancing the flexibility of inner thighs and knees. Further, it is a tremendous meditative pose, which helps relax the body and mind. Also, if the ladies are having severe cramps due to periods, this pose can help provide relief from menstrual pain too.
Wide-angle Seated Forward Bend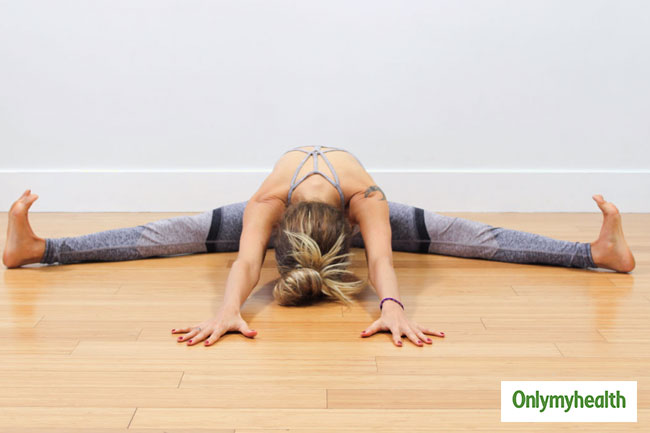 Try your hands on the wide-angle seated forward bend pose for good night sleep. To perform this asana, sit upright on the floor and extend the legs in front of you. Go as wide as is comfortable. Inhale and lengthen the spine, ensuring the lower back isn't rounding. Exhale and bend forward from the hips, with hands in front of you. Focus on the breath as you lengthen the spine with every inhale and relax ahead with every exhale. Like other asanas, this helps in strengthening hamstrings and also activates the core muscles of the body. It improves posture, calms the mind and helps sleep better.
Thread the Needle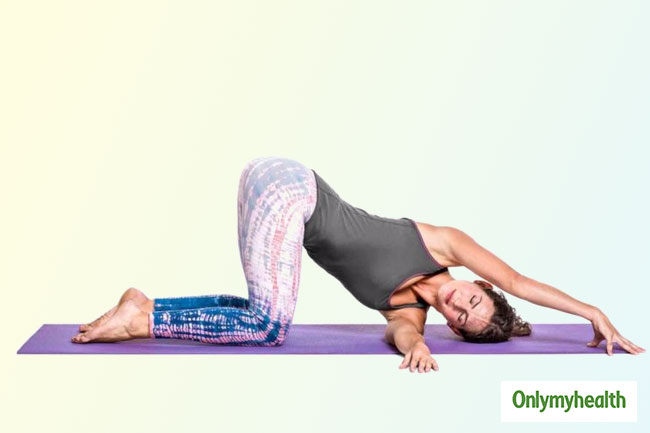 This is yet another yoga pose for sleep. The tread the needle pose can be done simply at home. For the same, lie on your back with the head flat on the floor. Bend the knees and place the soles of the feet on the floor. Bring the right knee toward the chest and place the right ankle below the left knee with the right knee pointing to the right. Flex the right foot to keep the muscles engaged and protect the knee from the strain. Lift the left foot off the floor and bring the left knee toward the chest. These poses will help you with your sleep.