Burning feet home remedies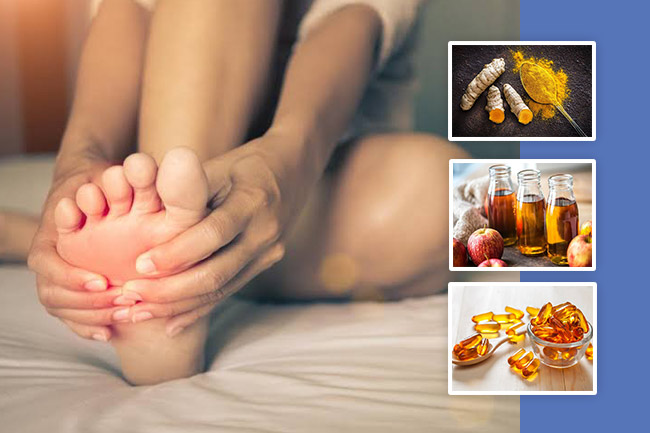 Burning feet or also called hot feet is a common disorder that causes a sensation of burning feet, which gets worsened at night. It can occur as an single problem or be a symptom of another underlying health condition. Experts refer to the sensation of burning in the feet or lower leg, burning feet syndrome (BFS). Burning foot usually causes the feet to become  hot and painful, which can be discomforting. Burning feet syndrome symptoms vary from being mild or severe, depending on the cause. It is often observed in older adults, and has the chances of becoming worse at night. You might feel a hot, tingling, or numb sensation. Burning feet syndrome does not only affect the soles of the feet, but can also affect the tops of the feet, the ankles, and even the lower legs. The most common cause of burning feet is diabetes. The pain from burning feet syndrome can be persistent or recurring and vary from mild to severe. Other causes of BFS, such as  foot fungal infection like athlete's foot or too much tight shoes can be managed with natural remedies easily. In rare cases, the cause behind this disorder is unknown. Read the article further to know about some useful home remedies to treat burning feet.
Apple cider vinegar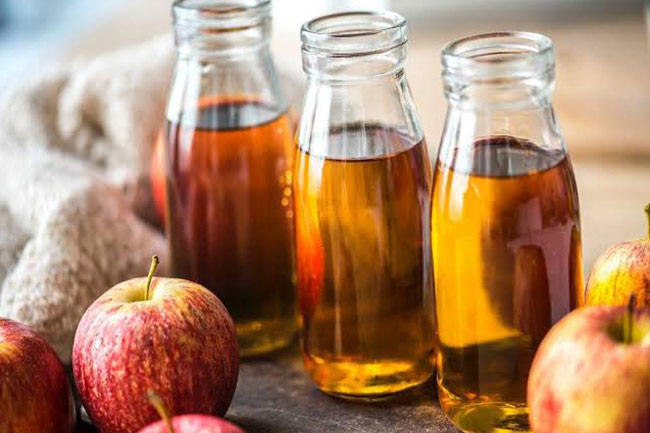 Apple cider vinegar can help in fighting bacteria, fungi, and many other harmful germs. Soaking the feet in an apple cider vinegar warm water foot bath can be an  excellent way of treating athlete's foot. However, there is no scientific evidence to prove how effective this home remedy can be. Most of the home remedies to treat burning feet include foot bath. Apple cider vinegar can be found easily in the stores or online. Having apple cider vinegar can provide several other health benefits. Besides many benefits, ACV is easy to consume as it can be added to your daily diet as well. Apple cider vinegar helps in balancing the pH levels of your feet and easing the pain and reduces the discomfort too. Soaking your feet in apple cider vinegar hot/cold water is one of the best ways of treating burning feet syndrome.
Cold water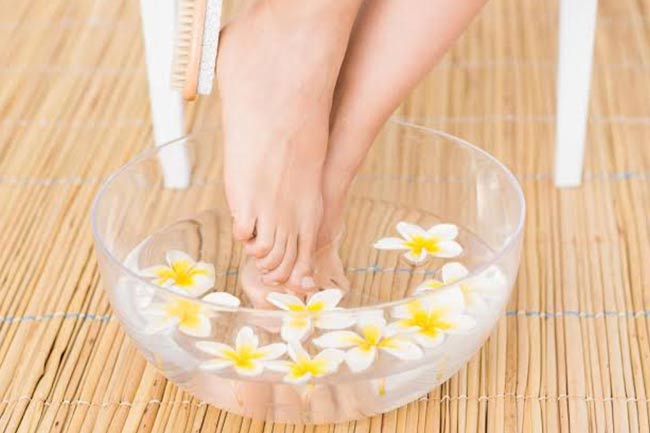 The burning sensation in your feet can be treated through a cold water foot bath. You can soak your feet in cool water for at least 15 minutes. This can atleast provide temporary relief in the symptoms of burning feet syndrome. In additions, avoid exposing your feet to heat as it can worsen the symptoms. To make this home remedy even more effective, it is suggested to add Epsom salt in the bucket of cold water. You can use this natural remedy and go to bed, as there are chances of symptoms getting more intense at night. Moreover, you should also avoid applying any topical creams or ointments unless suggested by a doctor. Pouring cold water on your burning feet is one of the most effective home remedies for treating BFS.
Epsom salt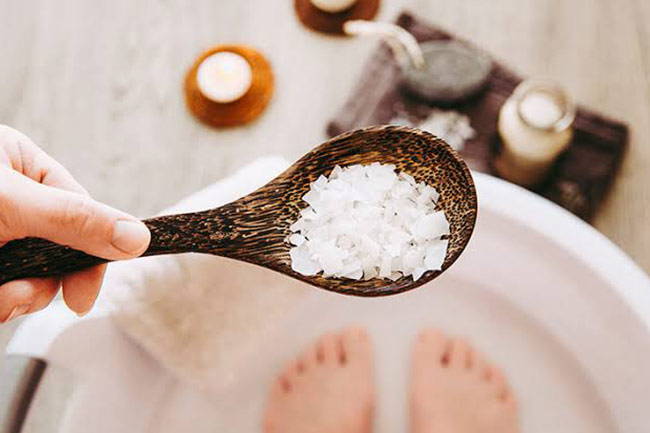 Epsom salt is mainly a mineral compound derived from a crystal of magnesium sulphate. It is being used by many people since ages to cure pains and it also acts as a mild laxative. It can be added in cold water to treat burning feet syndrome. You can dip your feet in the water for 15-20 minutes. It provides relief in cooling down your feet and also alleviates the pain. Epsom salt solution can also be used to treat the symptoms of athlete's food as well. The best thing about this home remedy is that Epsom salt can be easily found in households and it is also a very budget friendly remedy. This natural compound reduces inflammation and can also help in getting rid of the bad odour in your feet. But, a diabetes patient should check with their doctor before using an epsom salt foot bath as a home remedy for burning feet.
Turmeric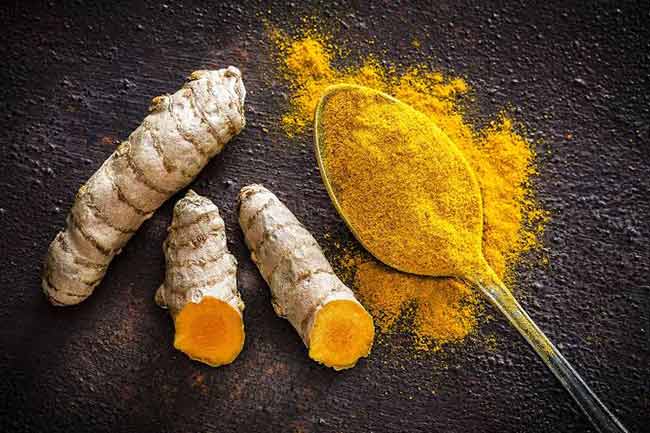 Turmeric is a popular kitchen ingredient, that contains medicinal properties. It has anti-inflammatory and antimicrobial properties that can help in soothing and cooling down your feet and alleviating the pain. To use turmeric as a home remedy to treat burning foot, you can either apply a smooth paste of turmeric and coconut oil on your feet or you can have a glass of turmeric milk with a tablespoon of turmeric powder and ghee. Also called the golden milk, haldi Ka doodh is consumed before sleeping by many Indian households. The compound curcumin present in turmeric is full of antioxidants and can prevent and treat many skin infections as well. One can even include turmeric in their daily diet as it has several health benefits added to it.
Fish oil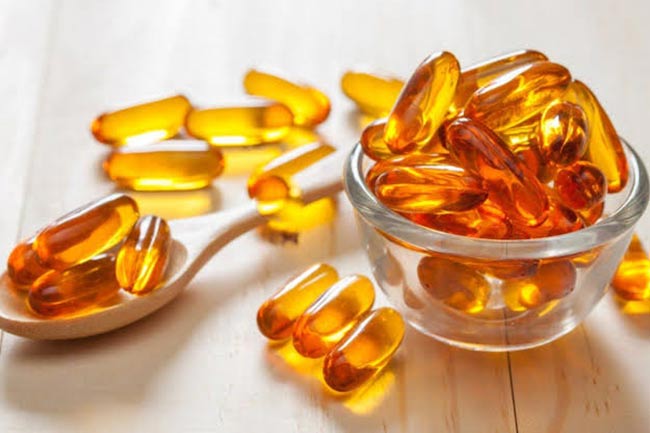 Fish oil also contains anti-inflammatory properties that can prove to be useful in reducing pain and discomfort. If a person is suffering from burning feet syndrome and the factor behind it is diabetes, then it is best to treat their BFS using fish oil. As per a study, it was shown that fish oil can slow down the progression and even reverse diabetic neuropathy. Fish oil supplements are also  available in the stores. An individual can take between 2,400 and 5,400 mg of fish oil in a day. Omega-3 fatty acids work well in curing pain related issues. It can prevent and treat nerve damage as well. Taking fish oil is just like popping a vitamin supplement, but it can have a few side effects if combined with other medications.
Foot massage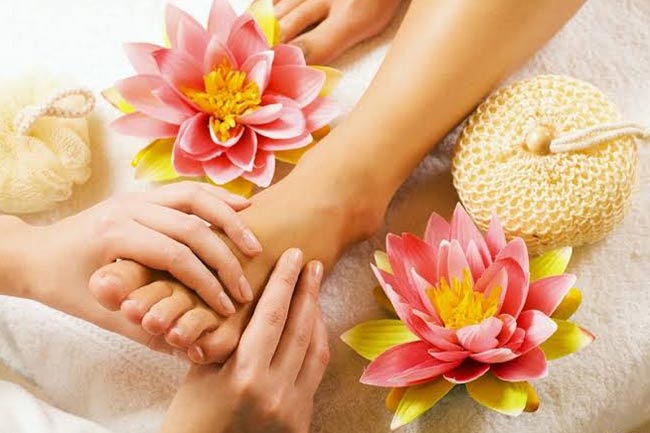 Massage plays a vital role in increasing the blood flow in any part of the body. Therefore, if a person suffers from BFS they can massage their feet to improve circulation and blood flow to the areas that need it. This can help treat some of the symptoms of BFS. According to a study, foot massage helps people suffering from diabetic neuropathy in improving their balance, the limited mobility in their foot, and the burning foot sensation. You can use fish oil or other essential oils for a foot massage to make the home remedy even more effective. It can relax your feet and provide pain relief. You can even get a foot massage from an expert as well, because there are some pressure points that should be focused on while treating this disorder.