Black Gums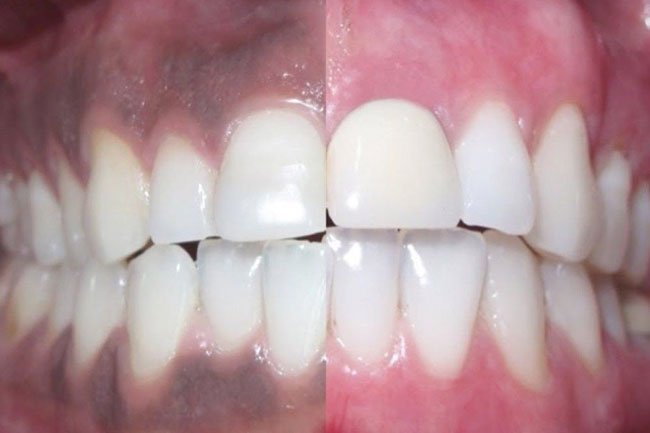 Oral health is not just about white teeth and a clean tongue but it also involves inspection of your gums. Sometimes, your gums can be indicative of any underlying oral problem that needs to be addressed. Having pink and spotless gums shows that your gums are healthy. Any change in their appearance or feel such as spots, colour change or painful gums, etc. could be due to a health problem. Black gums are one such medical issue that indicates that your gum health is compromised. The various causes of black gums are increased melatonin production that causes darkness in the skin and a periodontal disease that causes your gums to darken. If you love your smile and don't want anything to stop you from giving a wide smile, treat black gums as soon as you see them. Just like how there are several remedies that allow teeth whitening, there are numerous remedies to lighten black gums. Scroll down to find the best home remedies to treat black gums.
Eucalyptus Oil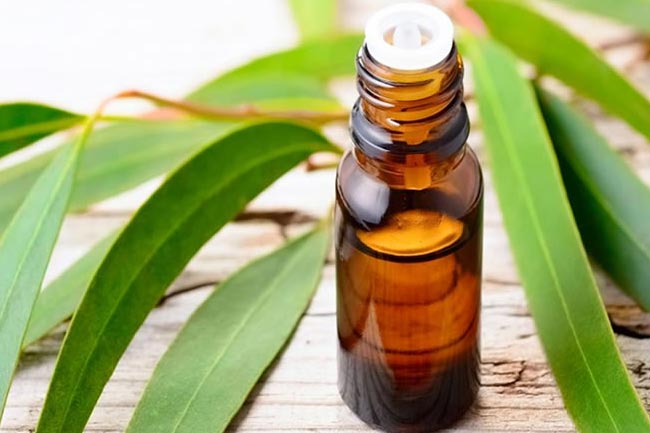 Essential oils are becoming popular with each passing day because of the numerous benefits they offer in terms of health problems and diseases. Eucalyptus oil is an essential oil that is extensively used in treating various minor to major problems including black gums. It possesses antibacterial and anti-inflammatory properties that help in lightening black gums by eliminating bacteria and reducing inflammation. There are many ways in which you can utilise eucalyptus oil for your black gums problem. Fill half a glass with water and add 5-8 drops of eucalyptus essential oil to it. Mix well and rinse your mouth with this water. You can also add a few drops of eucalyptus essential oil to a bowl and add three tablespoons of water to it. Dip a cotton ball to it and apply the solution to your black gums. Do this once daily to see the healing of your gums. This oil would eliminate all the bacteria buildup inside your mouth and promote faster healing.
Drink Green Tea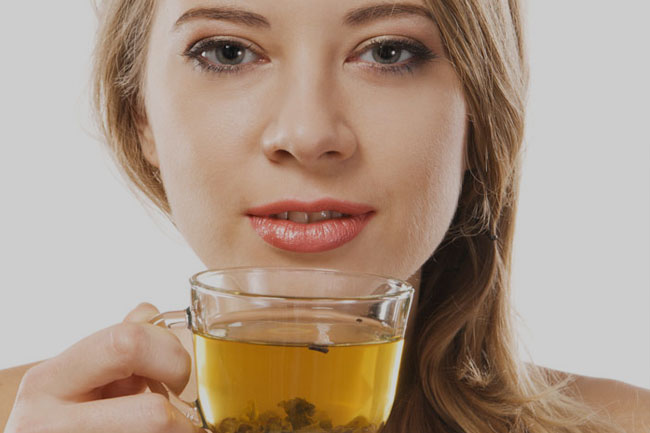 Until now, we only thought green tea to be good for weight loss only but there are innumerable benefits of green tea. This is because of the abundant antioxidants present in green tea. Black gums, if caused due to an infection can trigger headaches which can be relieved with a warm beverage such as green tea. It is not only warm but beneficial as it reduces gum inflammation and provides restorative properties. Green tea is capable of eliminating bacteria from your gums and mouth. This is why it can help in treating black gums infection by targeting the root cause of this problem. You must consume two cups of green tea to get rid of black gums. Good thing is that it comes with several other health benefits too.
Sage Leaves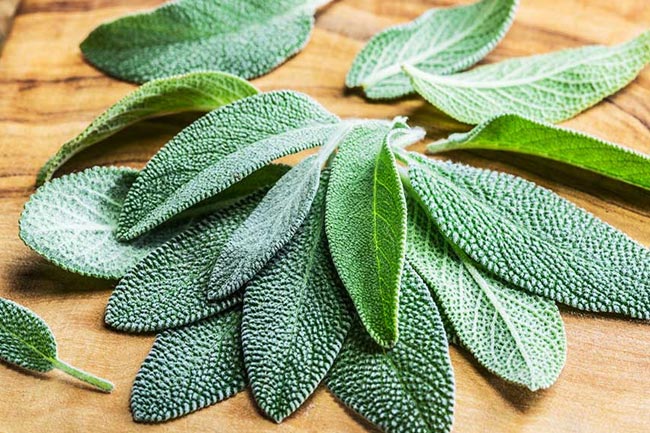 Another solution for black gums is sage leaves. These are medicinal leaves that can help your gums heal and ward off the risk of other oral problems that might be triggering or causing black gums. This is another plant-based cure for black gums. All you need are some sage leaves that can be obtained from a nursery near you. These leaves can work as a tonic for almost all of your gum problems including their darkening. To obtain healthy pink gums, you need to apply sage leaves on your gums. Just make a paste of sage leaves and apply it on your gums. These are safe to be applied on your teeth and gums and they won't cause any side-effects. Just try to not intake the paste. Alternatively, if you are not comfortable applying leaf paste, you can also prepare sage tea by boiling sage leaves in water and drink it hot.
Clove Oil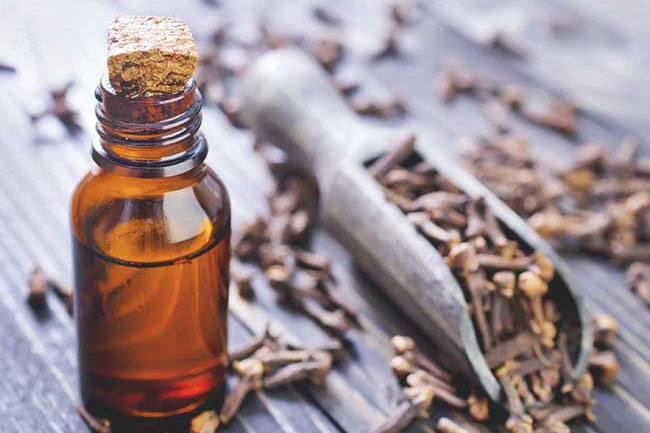 This is indeed a panacea for oral problems as there is nothing that clove oil cannot help with if it is related to your oral and dental health. From painful and sore gums to tooth infection, using clove oil for dental problems is the one-stop solution that most people swear by. All the benefits that cloves or clove oil provide are due to the antiseptic. antibacterial and anti-inflammatory properties it has. When you apply clove oil to your gums, it stimulates the process of regrowth and repair of damaged gums. Besides, massaging clove oil on your gums can lighten them and reduce all the dark spots to give pink & healthy gums. If you don't have clove oil at home, you can also chew some cloves as when you chew them, they release oil or essence that works the same as clove oil.
Sesame Oil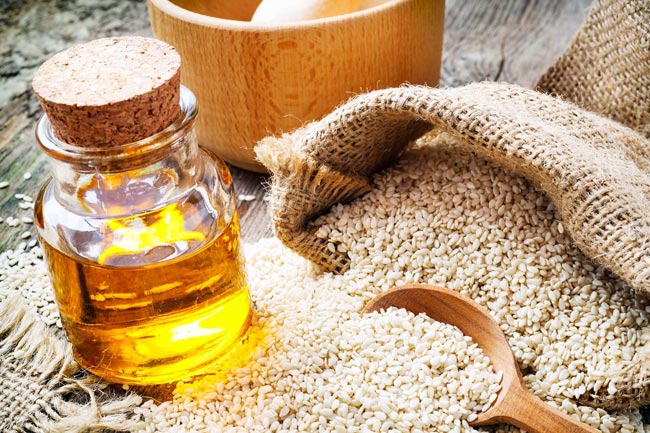 Another oil that can be of great help in treating black gums is sesame oil. This is a powerful oil that possesses toxin-removing properties. Sesame oil is not a medicinal oil but it provides various medicinal benefits such as treating black gums. In some cases, black gums can be caused due to buildup of tartar and plaque that might be causing darkness of gums. Massaging sesame oil on your black gums can help in loosening this tartar and allows it to get removed on its own. In addition to this, sesame oil also helps in improving colour of your mouth and makes your gums pink in no time. You can either massage sesame oil on your gums or do oil pulling with sesame oil. Rinse your mouth with lukewarm water thereafter to get rid of excess oil.
Coconut Oil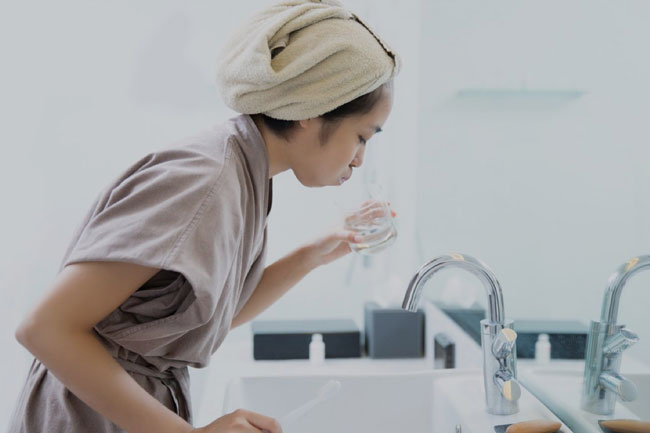 Coconut oil pulling is one of the popular methods for oral care and it is highly beneficial to swish some coconut oil every day before brushing your teeth. This habit eliminates and treats most dental problems including black gums. Coconut oil has antifungal and antibacterial properties that help in providing the best treatment to your gums. It kills all the bacteria present in your mouth to promote faster healing of gum problems. Do not swish the oil for more than 2 minutes as then it might get inside your throat. You can also use this oil as a mouthwash.