Sweaty armpits home remedies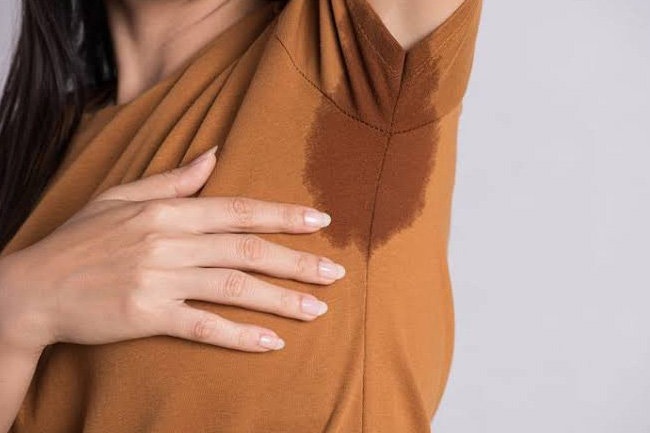 Do your armpits sweat a lot? This might be due to a condition termed as 'Axillary hyperhidrosis', in which the person experiences heavy sweating in the underarms. Even deodorants don't work in some cases. It is a common problem and there are many simple ways to manage it. This condition can be embarrassing and discomforting for a lot of people. Adolescents are at a higher risk of excessive underarm perspiration. The bad odour can even leave you embarrassed in social situations. One can talk to a doctor regarding the medical treatment for this condition. This condition develops due to overactivity of the body's sweat glands. Anxiety and depression can trigger excessive sweating in the armpits, hands and feet. It can also be caused by many other underlying medical conditions. The sweat in your armpits can also be accompanied with other signs such as itching and inflammation. The sweat causing bacteria can lead to pungent smell about which you can talk to expert. There are many natural remedies that can reduce or remove excess underarm sweating effectively. Keep reading to know about some home remedies to manage sweaty armpits.
Apple cider vinegar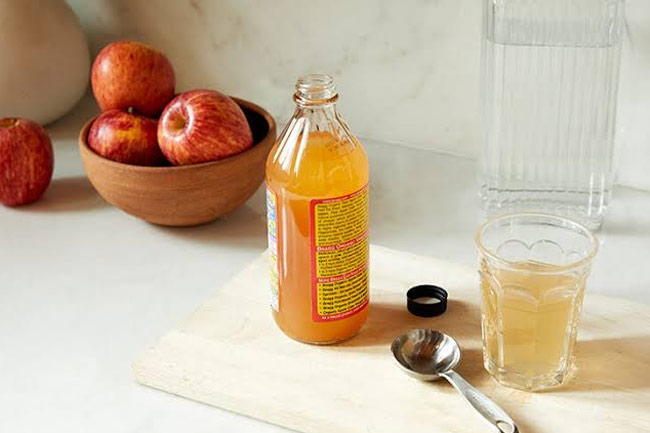 Apple cider vinegar is used as a home remedy for many skin and hair care problems. It has many other important uses as well. Apple cider vinegar plays the role of a natural astringent. You can apply in on your armpits using a cotton ball at night during bedtime and then rinse it off the next morning. The bad odour causing bacteria can be controlled using ACV. Apple cider vinegar can be easily found in the market and on the stores online. It is an affordable and easily available home remedy to manage sweaty armpits. It can help in controlling sweating within a few days. It can help in controlling the sweat and in getting rid of the odor causing bacteria. Acetic acid and other organic acids present in apple cider vinegar help in killing the bacteria. It also functions as a lightening agent for the darkened areas of your underarms.
Tomato juice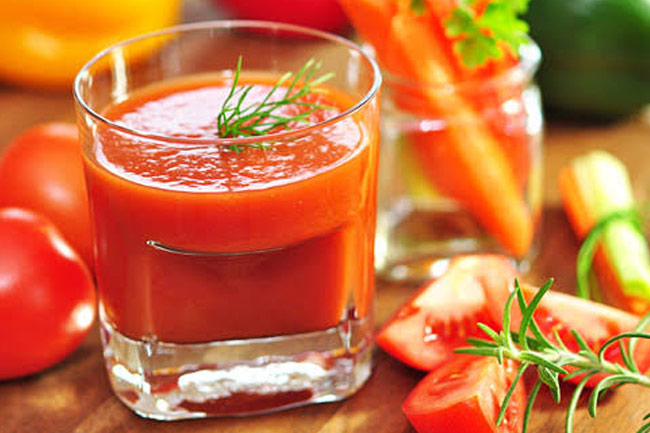 Another home remedy to manage sweaty armpits is tomato juice. Tomato juice has the power to reduce the amount of sweat in your underarms with the help of its active ingredient properties. According to some studies, it was found that by drinking tomato juice, the pores shrink naturally shrink which lowers the risk of chronic sweating. Tomato juice can be easily prepared at home and it also helps in maintaining your body temperature. There are several ways to consume tomato juice, including drinking a glass daily or by making it a part of your day to day meals. As per a few studies, it was shown that one can apply pure tomato juice to the armpits go get rid of the sweat. Let it stay on your skin for 15-20 minutes before you rinse it off. The pores will naturally absorb the minerals of the tomato juice, hence reducing underarm sweat naturally.
Baking soda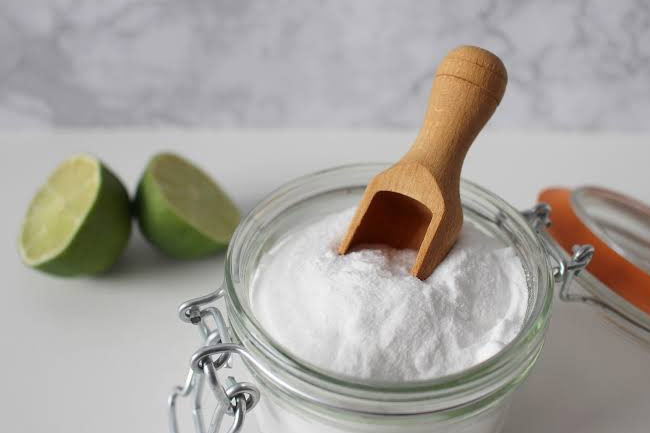 Baking soda is a popular home remedy for sweat issues and is known for being a water absorbing ingredient and alkaline properties. These properties help in managing the body odour and can even be considered as an alternative for deodorant. In fact, many market bought deodorants contain little amounts of baking soda. Baking soda or sodium bicarbonate has beneficial properties that can kill the bacteria causing sweaty armpits. Add baking soda to a small bowl of water to make a smooth paste for applying in your armpits externally. Let this mixture stay on that area for atleast 10-15 minutes. Then, wash it off with warm water and dry the underarm using a cloth or towel. In fact, baking soda can also be sprinkled on the underarms.
Potato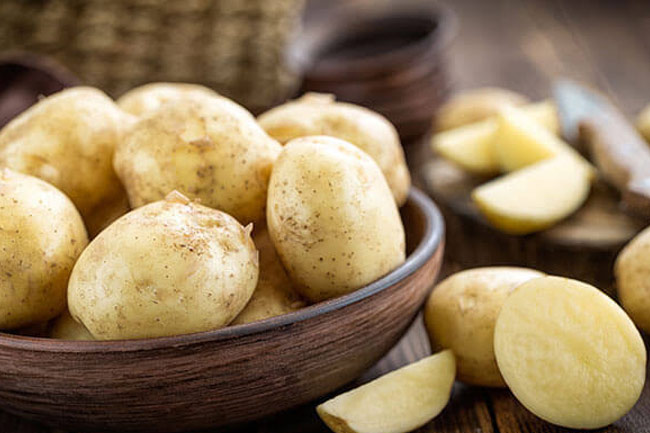 Potato contains certain substances which may help you remove any sort of skin pigmentation. We generally have darker underarms and using grated potatoes can be a great option. It will cool down the skin under your arms and also decrease sweating. You can try mixing potatoes with a little glycerin and clay to make a pack for your underarms. This will also help in sebum control in your underarms. It will also help you to cure the acne due to sweaty and oily underarms. You can mix potato in yogurt before application. It would be helpful if your skin is already inflamed. Potato also acts as a bleaching agent and removes dirt and impurity from the skin. You can use potato juice along with rosewater and tomato juice. You can just soak some cotton balls in this mixture and place it over your underarms. It will have excellent effect on your skin quality and it can also decrease sweating and well as the bad odour in the sweat.
Lemon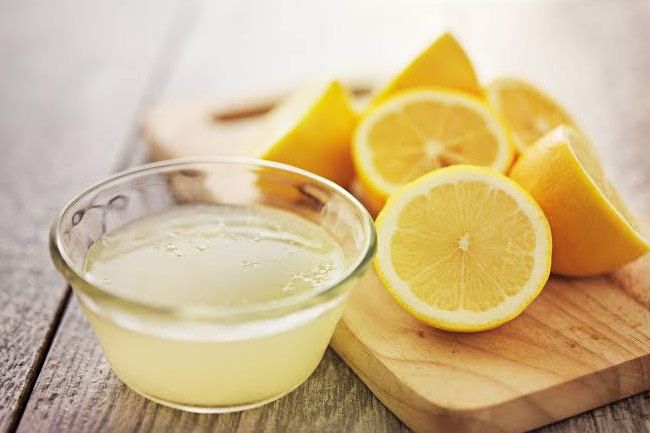 Lemon acts as an excellent bleaching agent. It helps in lightening the skin tone. Lemons are also associated with people who seek help regarding the bad odour under the arms. You can simply squeeze out lemon juice from half lemon and rub them in circular pattern on your underarm. If you feel that you are facing itching and pricking, you can also use half spoon of milk/whey/olive oil on the inside of the peel. You should avoid direct application of lemon juice or maybe dilute the mixture before application. Lemon peels can be used by soaking in a bucket of water over night. This water can help you get a more refreshing bath. It is shown that adding some lemon juice in water helps in removing extra oil and dirt from the skin. It will also lead to much less sweating and bad odour.
Tea tree oil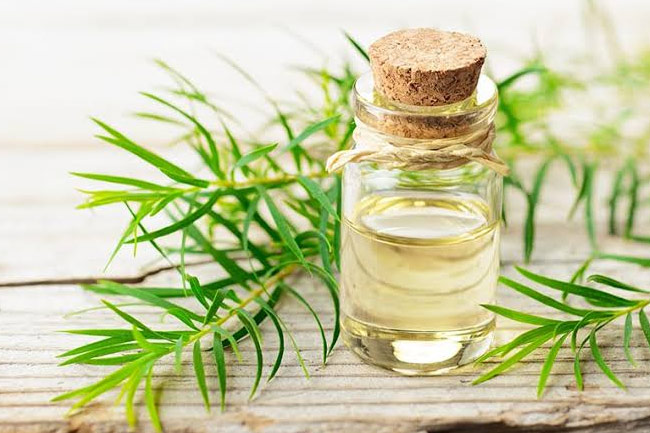 Using tea tree oil for problems such as bad odour or too much sweaty armpits is one of the best natural solutions. Tea tree oil is a multipurpose essential oil that is mainly used to combat skin infections. However, it is not suggested to apply this oil more than twice in a day as it can dry up your skin adversely. Just take two or three drops of tea tree oil and apply it on your sweaty armpits. Then, clean it off with a dry towel after 10-15 minutes. Tea tree oil contains antibacterial properties that can help in fighting the bacteria causing pungent smell and excessive sweat in the armpits. Tea tree oil is extracted from the melaleuca tree, found in Australia. It is an easily affordable and budget friendly home remedy to manage sweaty armpits.