Athlete's foot home remedies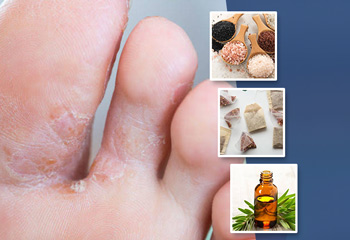 Athlete's foot, also referred as tinea pedis, is a fungal skin infection that mainly develops in between the toes. It causes a scaly and itchy rash that can be painful or have burning sensations. Some people may even get ulcers or blisters, which can cause a lot of pain. This fungal infection can be contagious and you can even contract this while walking barefoot on wet floors, in public showers, or around swimming pools etc. Athlete's foot is very much similar to other fungal infections such as ringworm and toenail fungus. It can be treated with over-the-counter antifungal medicines, but the infection has a chance of recurring. Athlete's foot is the most common diabetic foot infection that patients get. It is basically a fungal infection that triggers itching, redness, and cracking. The fungus can enter through the cracks in your skin and result in a bad infection. The doctor has to kill the fungus with medication in order to treat athlete's foot. But, there are a number of useful home remedies that can help in easing the symptoms of athlete's foot. If not fully treated, some natural ingredients can surely help with the worsening condition of your foot. Read further to know about some useful home remedies to cure athlete's foot.
Sea salt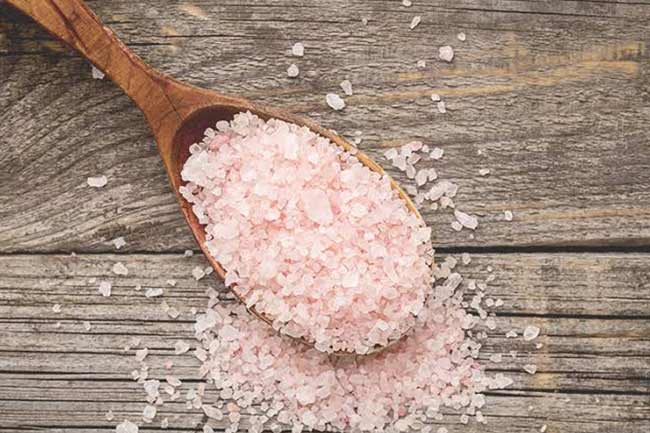 Sea salt contains anti-fungal and anti-inflammatory properties, that can make it an effective home remedy to cure athlete's foot. It has also gained more importance with an added purpose of  healing cuts and sores by reducing inflammation and irritation. One can soak  feet in a tub of warm water dissolved with sea salt for around 10 minutes to let the infectious area heal and to prevent the spreading of the infection. Sea salt is the salt that is produced by the evaporation of seawater. It is also used as a seasoning in cooking and for preserving food. The other names of sea salt are bay salt, solar salt, or simply salt. Sea salt is used for a wide range of purposes including a natural treatment for fungal infection. Sea salt can also help in making your feet less sweaty and smelly. You can apply it on the affected area twice a day and you will see improvement in the infection within a few days.
Tea tree oil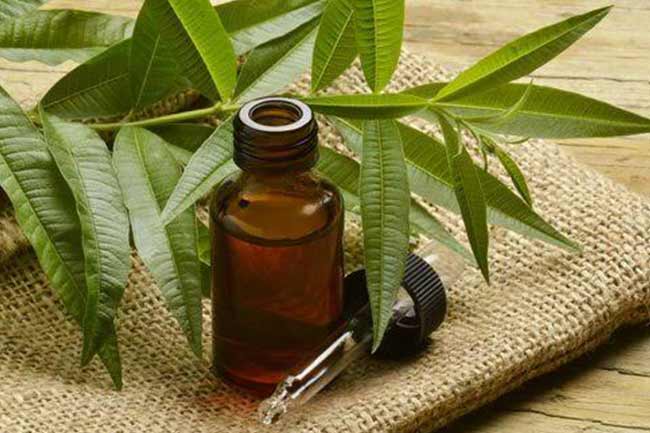 Tea tree oil is derived from the melaleuca tree in Australia and is an extremely beneficial oil for treating various skin infections. It can help in curing as well as preventing many infections as it contains useful antifungal, antibacterial, anti-parasitic, antimicrobial, antiviral and antiseptic properties. This essential oil also helps in treating many other skin infections as well. You can surely rely on this home remedy for treating the irritating  symptoms of athlete's foot. Take a few drops of tea tree essential oil and apply it over the athlete's foot. Massage gently using a cotton ball or just your fingers. You have to make sure to mix tea tree oil with a carrier oil like coconut or olive oil. Apply this mixture atleast thrice a day, everyday for a week and wait for improvement in the symptoms of athlete's foot.
Yogurt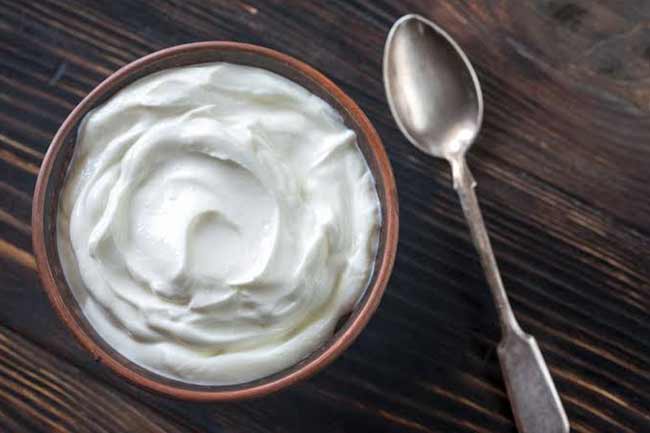 Yogurt, which comes in use mostly due to the lactobacillus bacteria, can be your friend in treating athlete's infection. The good bacteria present in fresh yogurt not only eliminates the fungus but also soothes the dry, irritated and inflamed skin, which are the main symptoms of athlete's foot. You have to apply the fresh yogurt directly on to the affected part to ease the discomforting signs quickly. Yogurt can be used as an effective natural remedy for both fungal and yeast infections. It is one of the most safe and affordable options to deal with the symptoms of athlete's foot. It is a probiotic food and is accustomed to provide relief in fungal infections. You can apply yogurt in between your toes or the affected area of athlete's foot, and wait for a while. Then, wash it off and keep the area dry with a towel. After using it twice a day for a week, you will see better results, as yogurt will reduce both the dryness and itchiness.
Baking soda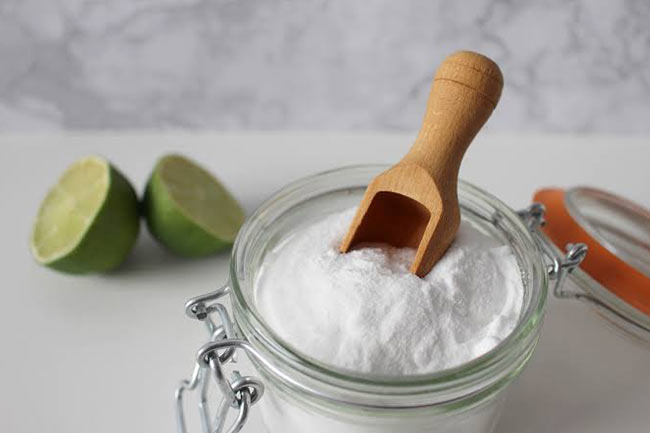 Just like tea tree oil, baking soda can also be used to treat all kinds of fungal infections, including athlete's foot. It is an effective treatment for the symptoms such as redness, itchiness and swelling. Baking soda or sodium bicarbonate has beneficial properties that can the kill fungus that is causing the infection. Just add baking soda to warm water, to make a foot soak to treat the affected toenail. You can also make a smooth paste of baking soda with a little bit of water and apply it topically on the toenails. Let it be on the infected area for atleast 10-20 minutes. Then, wash it off with warm water and dry the foot using a towel completely. Baking soda can also be sprinkled on the foot or in the shoes/socks like you use talcum powder. Baking soda can also contribute towards keeping your foot dry and it has healing properties that are helpful in reducing the fungus in athlete's foot.
Garlic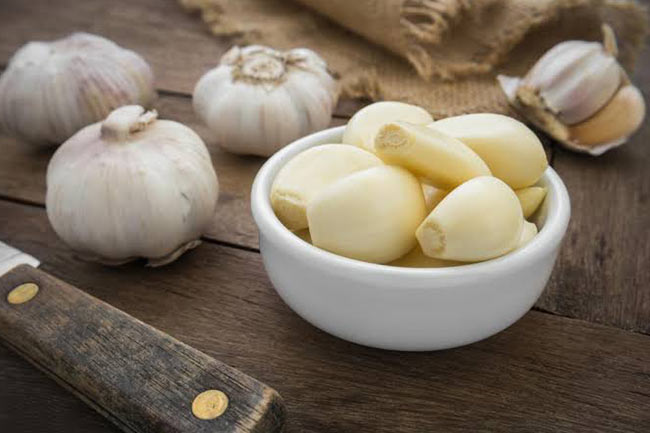 Even a kitchen ingredient like garlic can help in curing athlete's foot. It has antimicrobial and anti-inflammatory properties that help in combating various fungal infections, including toenail. It can help in quick relief with the symptoms of this fungal infection, such as burning sensation and sometimes even pain. Garlic is one of the best and affordable natural remedies to treat fungal infections. Fresh garlic contains active compounds such as allicin and ajoene, that are beneficial in such cases. Applying a simple garlic paste can play a vital role in getting rid of the infection. Just make a paste by grinding garlic at home and apply it on the infected and surrounding areas. You can mix the garlic paste with other beneficial ingredients such as vinegar and tea tree oil.
Talcum powder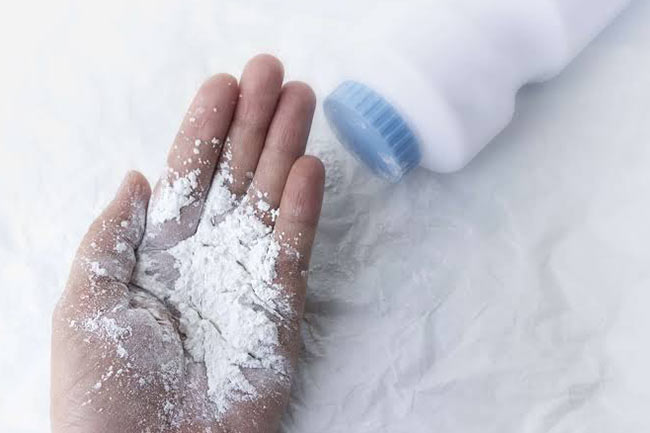 Fungal skin problems are most common in the summer season. And, talcum powder is used on a day to day basis to keep your body cool and fresh. Therefore, you can also use it in between your toes to prevent as well as cure athlete's foot. It will not only help in keeping skin infections away, but also keep your feet fresh. Talcum powder is one of the most common and best home remedies for smelly feet. You can sprinkle it over your feet like baking soda, for fresh and nice  fragrance. Remember not to put powder on your feet while they are still wet as it can worsen your infection and make the symptoms worse. Talcum is easily available in the markets and is economical as well. It will help in cooling the infected area, and will help in getting rid of discomforting symptoms such as itching and burning sensation.
Green tea bags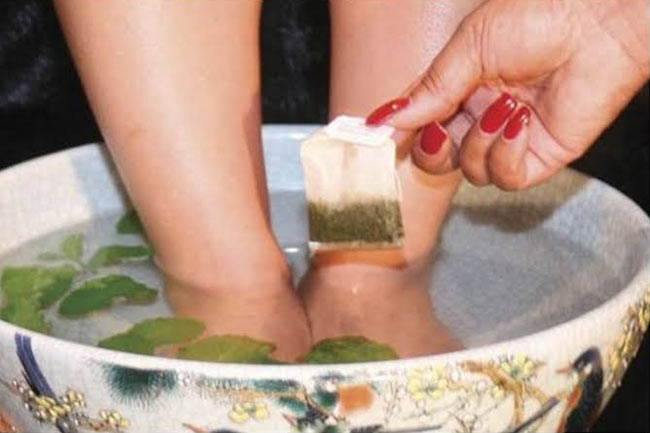 Green tea also contains beneficial bioactive compounds that have antifungal properties that can provide relief with athlete's foot. So, do not throw away those used green teabags! Green tea has a compound called tannins that help in killing the fungus that is responsible for fungal infections. Meanwhile, the  antibiotic and astringent properties present in green tea relieve other symptoms such as burning sensations, swelling and irritation. Just put some used tea bags in the refrigerator for 20 to 30 minutes. Then, use those cold tea bags on the affected toenails for 10-15 minutes. Use this home remedy 2-3 times daily until the infection clears up. Besides treating athlete's foot, many other benefits of green tea are famous as it fulfils daily purposes such as digestion aid, weight loss, flawless skin, etc.