The Queen of Fruits- Grapes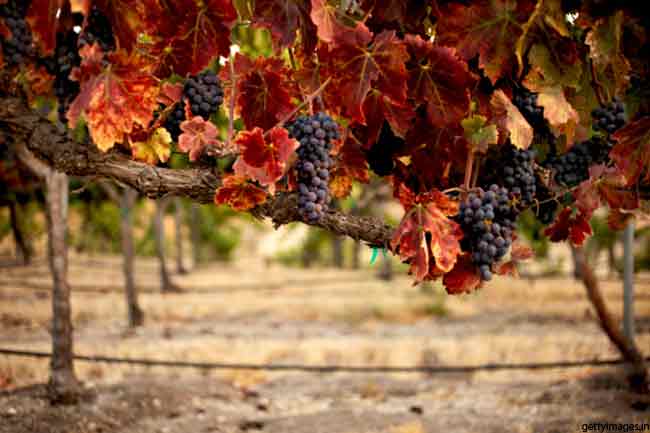 Grapes can be consumed in many ways, they can be eaten raw or they can also be used in making juice, wine, and jelly or Grape seed oil.  Although grapes are tiny in size, they have numerous nutrients, antioxidants, minerals and vitamins which keep us healthy, fit and fine. Let's learn the various health benefits of grapes.
Migraine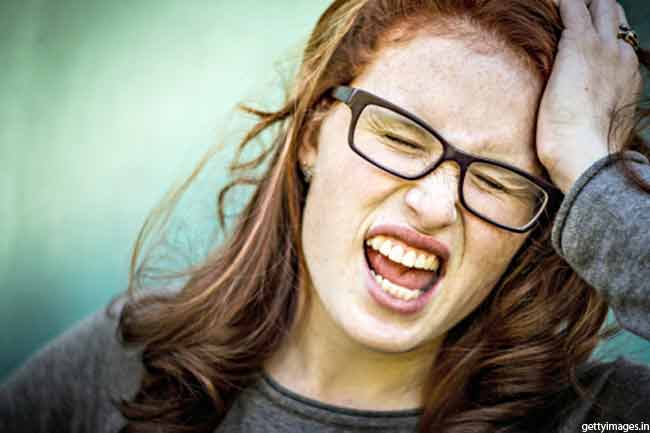 Ripe grape juice is an important home remedy for curing migraines. It should be drunk early in the morning, without mixing additional water. Ironically, drinking red wine is often considered a cause of migraines, but grape juice and grape seed extract is considered a solution for the problem.
Indigestion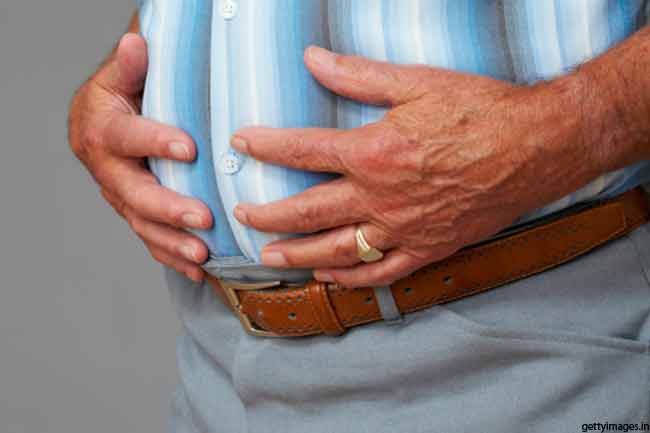 Grapes play an important role in dyspepsia. They relieve heat and cure indigestion and irritation in the stomach. They are also preferred over other digestive aids because they are considered a "light food".
Constipation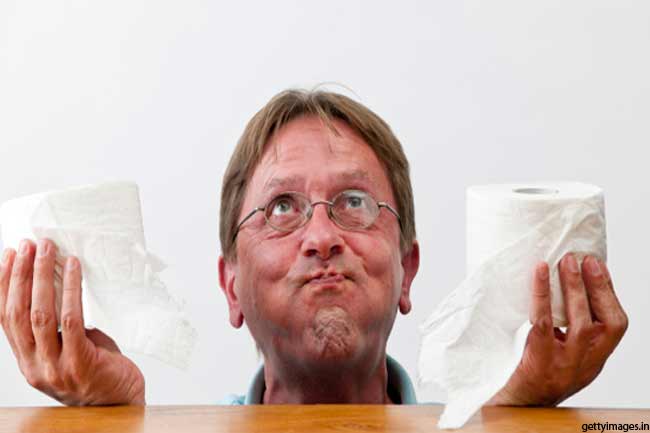 Grapes are very effective in overcoming and eliminating constipation. They are classified as a laxative food, because they contain organic acid, sugar and cellulose. They also relieve chronic constipation by toning up intestinal muscles and the stomach.
Heart diseases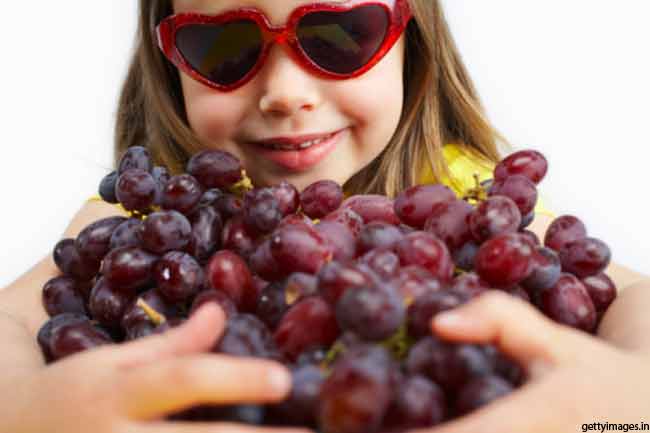 Grapes increase the nitric oxide levels in the blood, which prevents blood clots.  Therefore, grapes are an effective way to reduce the chances of heart attacks. Additionally, the antioxidants present in grapes prevent the oxidation of LDL cholesterol, which blocks the blood vessels and is a main contributor to various coronary conditions.
Vision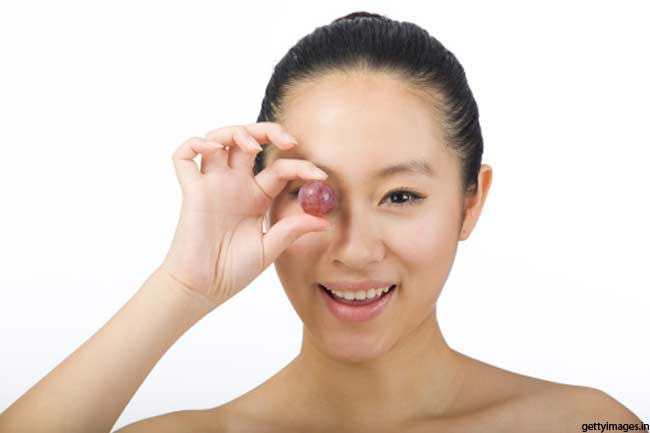 The most well known health benefit of grapes is on the eyes. Grapes are very good for eyes. Grapes are rich in lutein and zeaxanthin, which are responsible for maintaining good eye health as we age. Studies have shown that three servings of grapes a day can reduce the risks of macular degeneration by over 36 %.
Blood cholesterol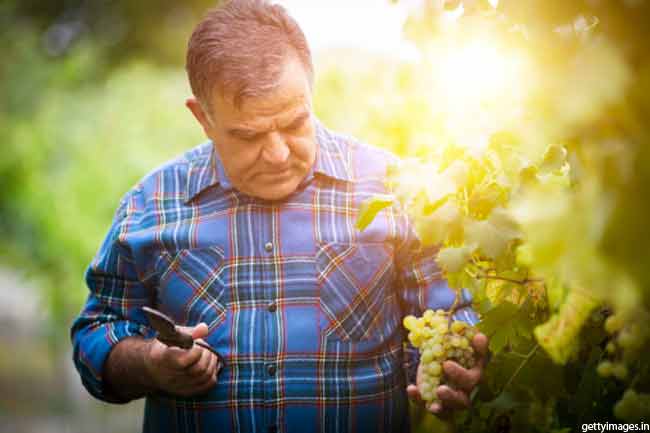 Grapes contain a compound called pterostilbene, which has the capacity to lower a person's cholesterol levels. Pterostilbene is closely related to resveratrol, the beneficial antioxidant and coloring flavonoid that is also found in grapes.
Alzheimer's disease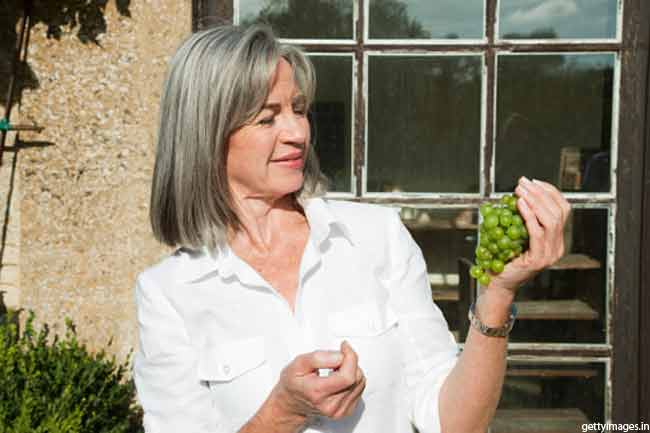 Resveratrol, a beneficial polyphenol present in grapes, reduces the levels of amyloidal-beta peptides in patients with Alzheimer's disease. Studies suggest that grapes can enhance brain health and delay the onset of degenerative neural diseases.
Asthma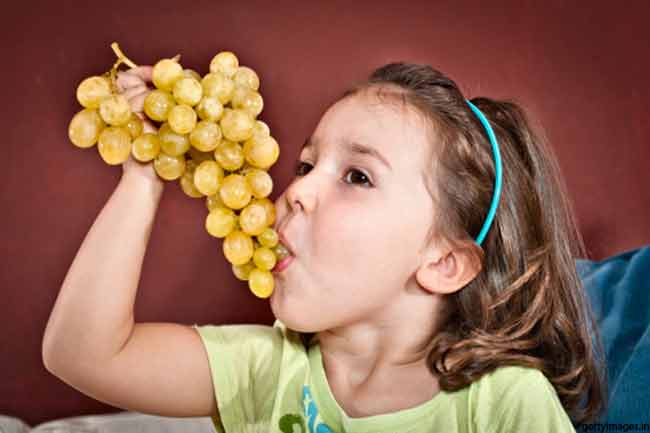 Due to their well-known therapeutic value, grapes can be used as a cure for asthma. In addition to that, the hydrating power of grapes is also high, which increases the moisture present in the lungs and reduces asthmatic events.