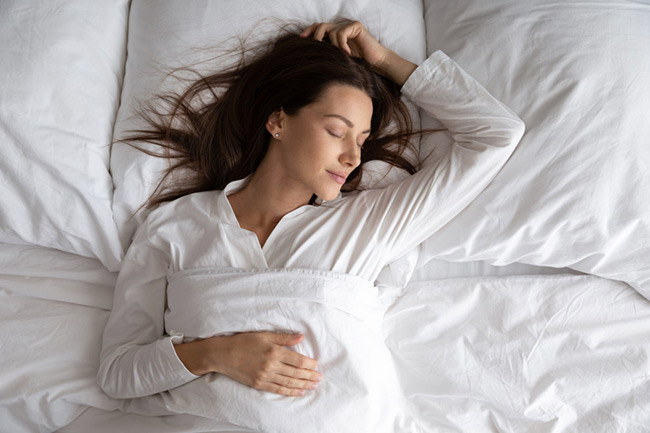 A restful sleep rejuvenates one for the day ahead and is important for overall well-being. But there are times when you are just wide awake tossing and turning in the bed due to stress, anxiety, or some sleep disorders. Over the time, not able to sleep enough can turn into a chronic condition if not treated on time. Ayurveda considers sleep or Nidra as one of the three important pillars to good health and there are various Ayurvedic treatments and herbs that can help nourish the body, mind and the soul.  Treatments like Sheerodhara and Nasya, help soothe the mind and rejuvenate brain cells while certain herbs and plants help remove imbalances in our body, repair brain cells, and help with exhaustion. Dr Sailee Modi, Ayurveda Consultant, Vedicure Healthcare And Wellness tells us six ways we can get better and deep sleep at night.
Sheerodhara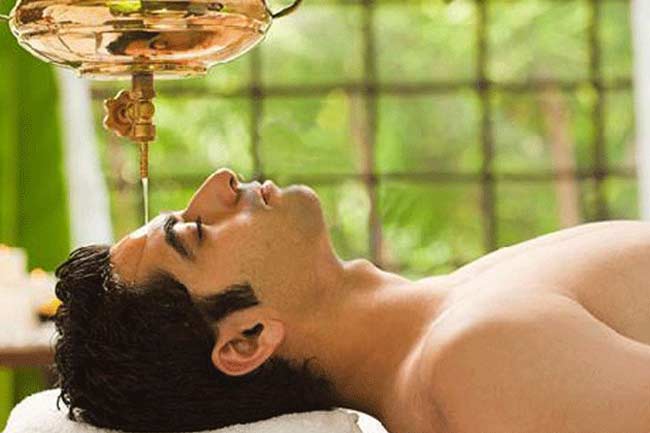 Sheerodhara one of the ayurvedic procedure that is part of panchkarma is performed while slowly dropping a liquid, generally oil, milk, buttermilk of water onto the forehead. The liquid is generally mixed with medicinal herbs, also called Medhya Dravyas (brain boosting medicinal herbs) like Shankhpushpi, Jatamasi etc. Once the medicine is made, it is continuously and slowly poured in the form of a dhara (stream) onto the forehead especially at a point which is called glabella. The dhara or solution is poured for around 30-35 minutes and during this time the medicated oil goes inside the brain and nourishes the cells.  After the Sheerodhara procedure is completed, excess oil or liquid is wiped off slowly from the forehead of the one who is taking the treatment. The person must relax for 30 to 60 minutes to allow the oil to go deep inside the head. Sheerodhara is very effective in dealing with insomnia as it improves sleep quality by rejuvenating brain cells, lessening stress and anxiety. It has an overall calming effect on the body and the mind.
Nasya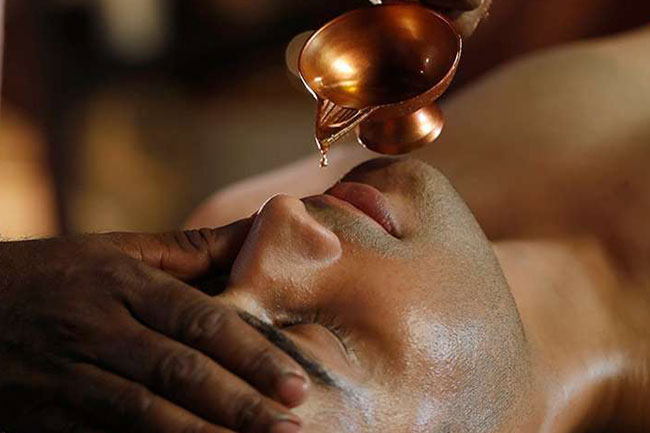 Another Ayurvedic therapy or procedure that shows excellent benefits in improving sleep, especially if done over a long period of time is Nasya.  Nasya as the name suggests is administered through nose and people can even do this within the comforts of their home. In case of insomnia, Brahmi Ghee (a medicated ghee) is used for performing Nasya. Patients must administer the drops of ghee in both their nostrils before going to sleep. Nasya must be administered on an empty stomach and an hour before or after the shower or exercise while lying down with the head tilted back. 4-5 drops in each nostril are enough to do the magic. 
Sahadevi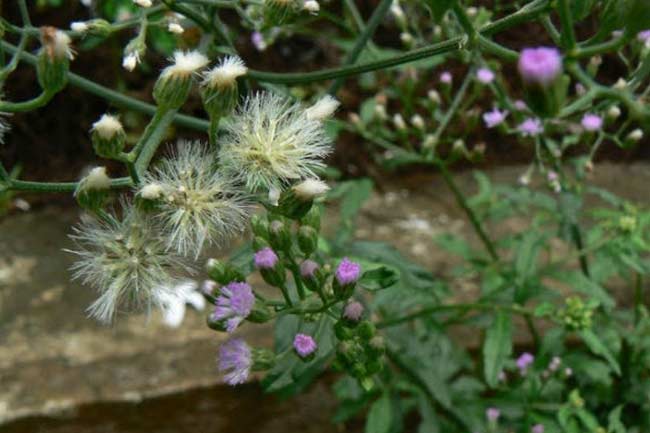 Sahdevi or Vernonia Cinerea is a small medicinal shrub with a bitter taste and its leaves, roots, stem, and seeds are used for preparing medicine. For insomnia, the patients can plant this shrub in their bedroom or keep the stem of this plant below their pillow for better sleep. It is also recommended to make the paste of  the root of Sahadevi over the scalp as part of the treatment. Apart from a sound sleep the plant also helps in relieving stress and anxiety issues. Different parts of the Sahadevi plant are useful  in skin problems, diarrhea, improving fertility and controlling fever.
Jatamansi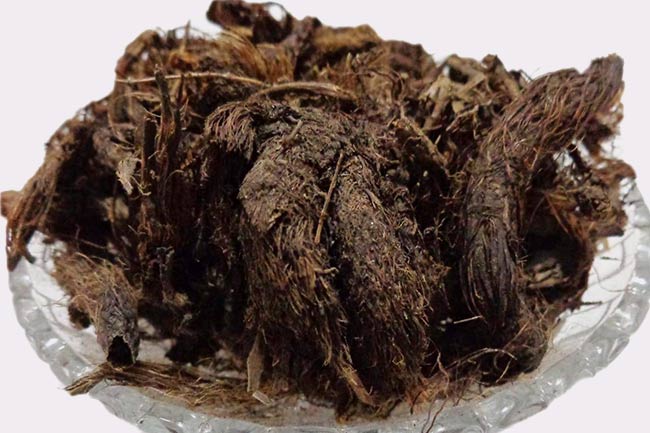 Jatamansi that is native to Himalyan range and is found in North-east part of the country is a very effective remedy for treating insomnia. The powder made from the roots of the herb calms the body and the mind and also the nervous system. The herbal root also works wonders for improving the energy levels and reducing symptoms like irritability, depression and stress that arise out of sleep deprivation. In Ayurveda, our body has three doshas-Vata, Pitta and Kapha. An aggravated Vata dosha makes the nervous system malfunction and because of which we suffer from anidra or insomnia.  Jatamansi also balances the tridoshas or three dosha in our body.  1/4-1/2 teaspoon of Jatamansi Powder is recommended for improving sleep. It can be taken along with honey once or twice a day.
Jaiphal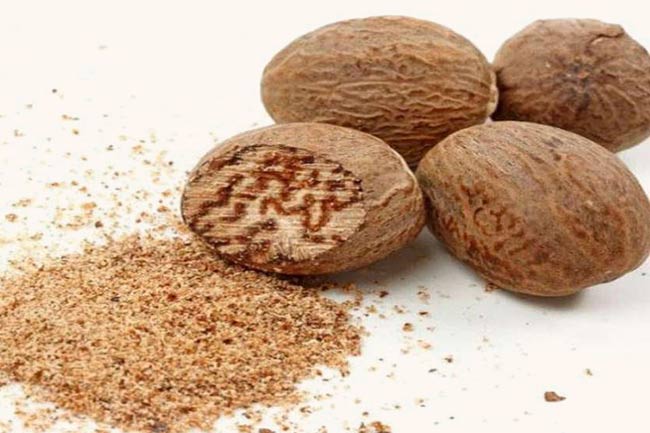 Jaiphal has been used as a flavouring agent in Indian kitchens but it has a lot of medicinal benefits too. Ayurveda recommends adding Jaiphal or Nutmeg powder to the milk before going to sleep. Jaiphal soothes your mind when taken in smaller doses and is full of powerful anti-oxidants. It is also anti-inflammatory in nature so it can help in headaches and for other pain relief. Jaiphal helps in relaxing nerves, de-stresses the body and mind and increases serotonin secretion in the body that induces sleep. People suffering from insomnia must try this.