Yoga at your desk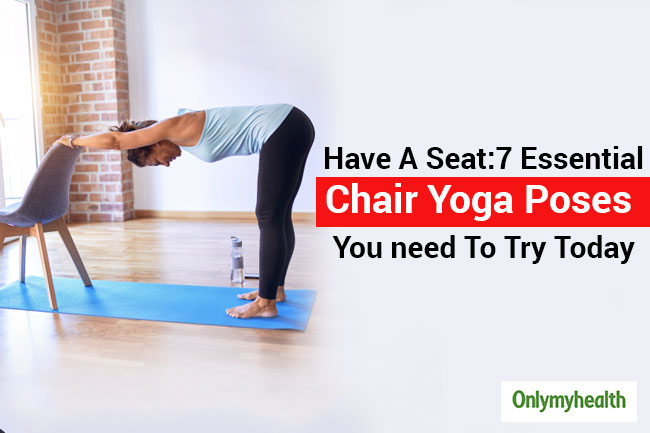 Most of us are engaged at 8 a.m. to 5 p.m. desk jobs. Even when times we are at home, we know how difficult it is to take out time to exercises in between work. We all know how a stagnant lifestyle can lead to various health concerns, foremost being obesity. Hence, we must understand what can be done quickly while taking out time in between work. Your chair could also be your workout buddy with some essential yoga asanas that one can try on any chair too.  Yoga asanas are not only meant to be done on yoga mats. So, do not find reasons not to keep fit. Even while sitting on a chair and working, take those 5-10 minute breaks to do these below-listed yoga asanas for a fatigue-free body.
Eagle arms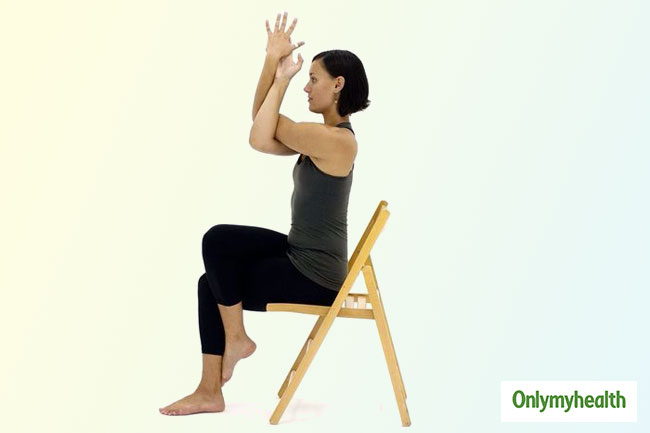 One of the most common and simplest yoga asana that one can do while sitting on a chair is the eagle arms pose. To do this asana, keep your arms parallel to the floor while sitting on a chair. Bring your arms to the front, and cross your right arm over the left arm in a way that your palms touch each other. Keep your spine straight while lifting elbows. Hold the pose for five counts before you relax. Do the move with the left arm over the right. This particular asana is done to make your shoulders more reliable and increased blood circulation in other body parts. Hence, make sure you do this for a minimum of 5 minutes in one go. It also helps you stretch better after working on a laptop the whole day.
Spinal twist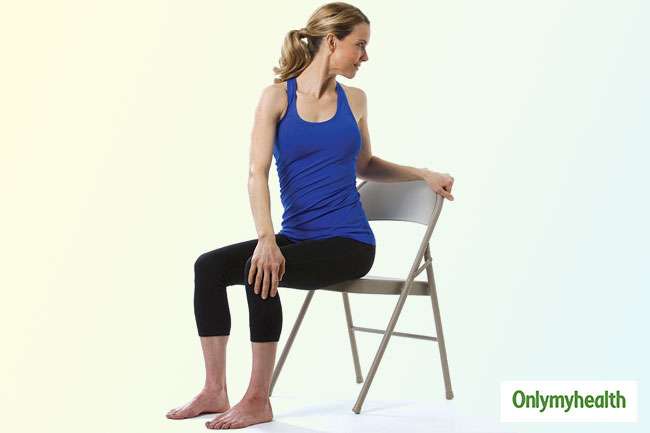 Do you feel the need of stretching after sitting in one position for a very long time? Firstly, doing any asana the right way is significant. To perform this asana, sit sideways on your chair. Keep both feet flat on the floor. Twist to the back of the chair while holding the chair with both hands. Hold it there for two counts before you relax and repeat with another side. This chair pose helps in relieving the pain in spinal muscles, and stiffness that becomes common in those who continuously work on computers. Further, it tones the abdominal muscles, improves digestion and relieves rheumatism in the knees. Hence, try to take shorter breaks in between while working to give some breaks to your body muscles.
Neck rolls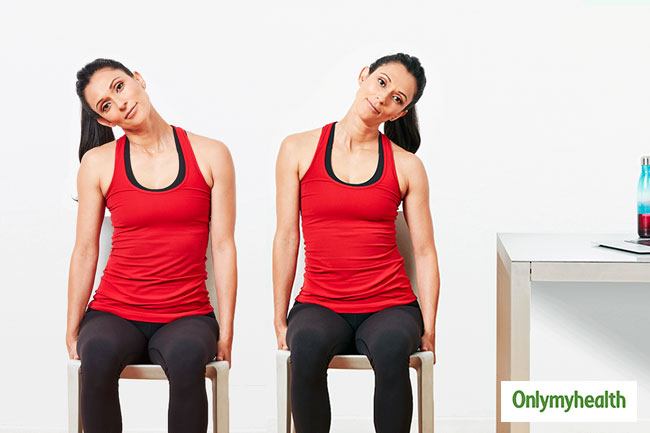 Don't we love rolling our necks in between while we work? Hence, neck roll is one such yoga pose, which gives you the freshness to get at your work again. Doing neck rolls is the easiest, and may not even feel like an exercise to you. Neck rolls is one of the most natural yoga poses. You have to begin to rotate your neck slowly, right ear to the right shoulder and then head back. Repeat on the other side – left ear to the left shoulder. At no time should you hurry neck rotation? This is one of the best asanas to get rid of pain in the neck without actually moving away from your work station.
Forward Fold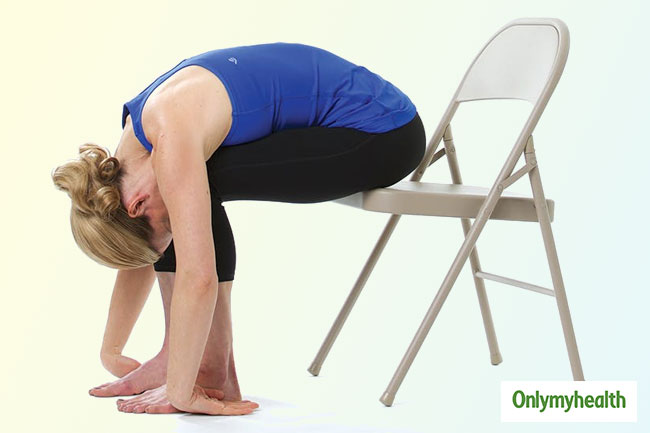 You may feel the need to taking a break and sitting without any work in between. Hence, this is the time for you to go for a forward fold yoga pose. For the same, sit on your chair with your spine upright and feet flat on the floor. Slowly bring your head lower and slowly turn your upper back, lowering your chest in between your legs. Try to plant the palms by the side of the feet. Hold the pose for two seconds before slowly rolling back up. This asana helps in opening up your back, shoulders and regulate blood circulation in the body. It targets the upper joints of the body and releases stiffness in muscles and veins.
Cat-cow stretch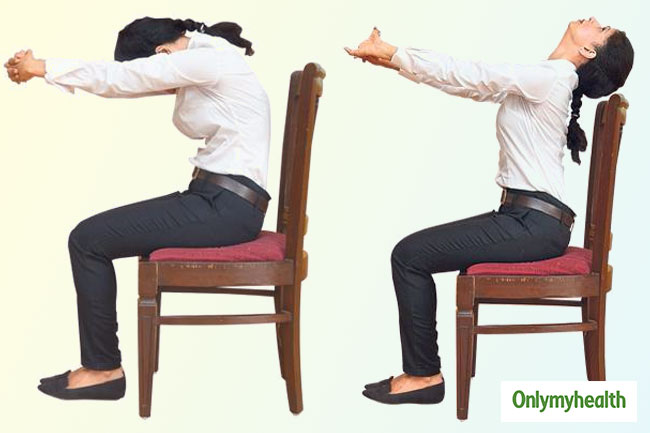 Your shoulders, back and neck, suffers the most wear and tear while working for long hours in front of a computer. Hence, to give some relief, why not try the cat-cow stretch while at the comfort of your working chair. To perform this asana, bring your feet flat on the floor and hands on your knees. Now inhale while arching the back looking upwards to the ceiling. Exhale out slowly, turning the spine and bringing the body back to the starting position. This posture is extremely helpful in giving you relief from pain in shoulders, neck and back. Stay in the pose for a minute or two before changing back to normal position.
Finger stretches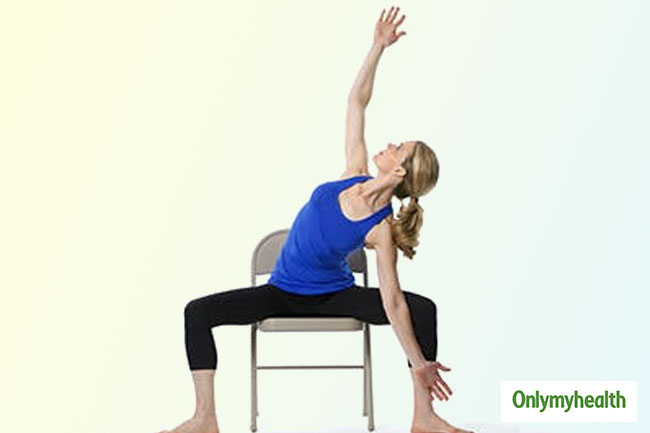 Who does not love to stretch while working? For this comes to our mind is to do finger stretches even while sitting in a chair. To perform this asana, place the hands on your desk with your palms facing the ceiling. Keep the fingers pointing towards you and put a gentle pressure to counter-stretch the wrist and the forearm. Stretch the other arm out in the same manner. Do it on each side for 5 to 10 times. Finger stretch helps in stretching the whole body, giving the much-needed relief to the muscles. Hence, do not forget to do this asana right after waking up from slumber for relaxation.
Other yoga poses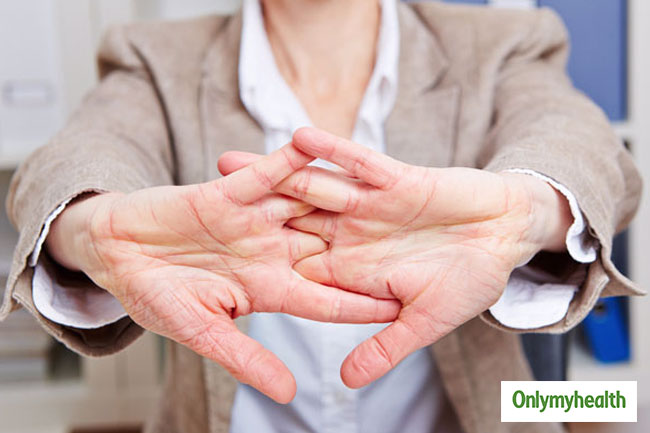 There are other yoga poses that you can do at your desk. They are standing pigeon, seated forward bend, seated mountain pose and standing forward fold with a chair. All of these yoga asanas are primarily focused at giving your back, neck and shoulders relief from working for prolonged hours in front of a computer. One should know that working overtime may get good fortunes but certainly brings along a host of diseases. Hence, be careful while working. Taking short breaks is always helpful in saving yourself from a severe health concern.
Benefit of doing yoga using chair
Yoga at work not just helps you get some physical activity but has many other benefits too, such as it relieves stress to keep you calm, controls blood pressure and wards off back pain risk. But ensure that you do not flex the wrong muscles while doing these yoga asanas. They may look simple but doing any asana in a wrong manner may even lead to injuries. Hence, make sure you take all caution required while doing any exercise. Yoga on the chair helps you stay active and free of fatigue, without actually taking out extra time from your schedule.