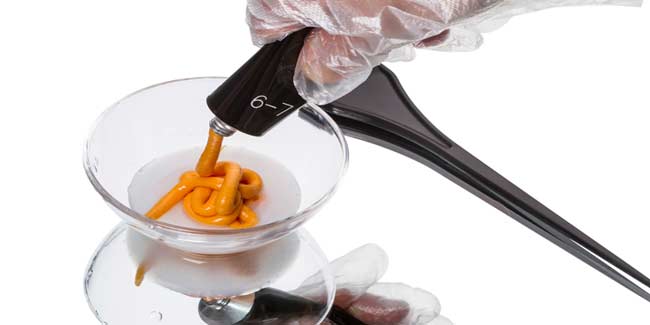 Hair coloring or dye ranks third in number after fragrance and preservatives when it comes to common cosmetic causes behind skin allergies or reactions.
Malaika Arora, Aishwarya Rai and all the other lovely ladies look lovelier with dyed hair, don't they? And so will you, my dear. However, it can save you a lot of trouble if you just take a look at the colorless truth behind it - figures and statistics show an alarming increase of 40 patients of allergy due to hair dye annually.
Truth about hair dyes
Hair dyes are made of chemicals and even though some products insist that it has natural ingredients in it but at the end they are all chemically based products. The outer layer of hair is called the cuticle which can suffer maximum damage due to chemical, environmental or personal care factors. Hair dyes can damage the hair cuticle in the long run causing it to become porous and more prone to chemical damage. As the hair cuticle continues to get damaged, your hair becomes weak and susceptible to dryness and splitting. A latest survey found a twofold increase in frequency of dermatitis due to hair dyes just in a span of six years.
Hair dye reactions
All the hair dye packages contain a general warning for allergy or reaction which may be occur from coloring hair and rightfully advice for a spot-testing before applying the complete solution on hair. Usage of hair dye can trigger allergic reactions in a considerable number of people and youngsters are at a greater risk as they are more into the fad of coloring their hair. Hair colors or dye rank third in number after fragrance and preservatives when it comes to common cosmetic causes behind skin allergies or reactions.
The cause behind most of the allergic reactions is an ingredient called paraphenylenediamine (PPD) which is found in most hair dyes. Many other related chemicals and ingredients are also to be blamed.
Allergic reactions
Allergic reactions caused due to hair dyes can be of a mild intensity or even severe in form. A mild case of allergy will be characterized as a sensation of tingling or discomfort in the scalp after coloring your hair. In severe cases which are quite rare, inflammation and swelling can occur around the areas of the scalp like forehead, ears, nape of the neck and eyes. An acute allergy attack due to hair dyes may need hospitalization.
Ways to avoid hair dye allergy
You can protect your health and well-being by being aware and taking basic precautionary measures when it comes to coloring your hair. Good safeguard measures and knowledge in preventing allergies will do you better in the long run.
Being overzealous while trying out new hair colors or latest trends and brands will put you at harm's way. Allergies which are caused due to hair dyes are seen in people who experiment with new colors and brands. Since different brands have varying recipes or ingredients in their products it makes a perfect case for an allergy attack on an enthusiastic and experimental person. Stick to a good brand and never go overboard with hair colors.
Quick patch test
Patch test or spot-testing is the best preventive measure against a full-blown allergic attack. A patch test will indicate your skin's sensitivity to a product and will guard you from an allergic reaction.
Follow the instructions given in the label while you make the mixture of the hair dye.
The area behind your ear is a sensitive spot and will immediately indicate signs of an allergic reaction. Use a cotton swab to dip into the hair dye mixture and apply it behind your ear.
Leave it on for the next 24 hours to be doubly sure of its non-allergic formula. After the crucial hours have passed, you will be sure that you are using a 'safe' product.
Read more articles on Hair Colouring.