Hair colouring is a phenomenon that is restricted not only to the fairer sex, but men too, these days, experiment with different hair colours and dyes to change the way they look. Just dying or colouring your hair can do wonders for you if you have been looking to introduce a dramatic change to your life. Of course, some discretion and good sense is necessary not just to get the right look but also to avoid causing damage to your hair.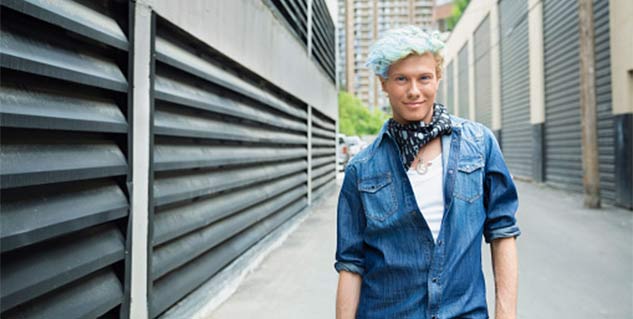 So, whether you choose to colour your hair to cover grey hair or to bring some freshness into your life and look, knowing the right way to go about it can make all the difference between ending up with a disaster and making a daring style statement.
Choosing the right colour
When picking a colour, always go for one that is close to your natural hair colour, especially if this is your first time. You don't want to end up with a colour that is at odds with your eyebrow or one that clashes with your skin tone.
[Read: How to remove hair colour from your hair?]
Again, as an apprehensive first-timer unsure of whether the colour you've chosen will actually suit you, then you could use a temporary or a semi-permanent hair dye. So if the result is not something you desired, you don't have to live with it for too long, as it will wash out after half a dozen to a dozen shampoos. You could then try out another colour and finally use a permanent dye once you've settled upon the right colour.
Colouring your hair
While colouring your hair can be quite thrilling as you find yourself completely transformed in a within hours, there is also always the prevailing apprehension of the possible damage that can happen to your hair's texture. The fact of the matter is that colouring your hair properly will cause it no damage. What can cause harm is an unhealthy level of peroxide or an over-usage of permanent colours, a phenomenon that is called over-processing.
[Read: How to choose the best Hair Color]
Changing hair colour frequently
If you are in the habit of changing hair colour frequently, especially if they are drastic changes between heavily contrasting colours then experts advise using deep conditioning treatments to avoid hair damage. Over-processing can also start to make your hair look dull and lifeless. When this happens it is best if you switched to semi-permanent colours where the pigments remain on top of the hair giving it lots of tone and shine.
Image: Getty
Read more articles on Hair Colouring.
For more such stories, Download Onlymyhealth App.