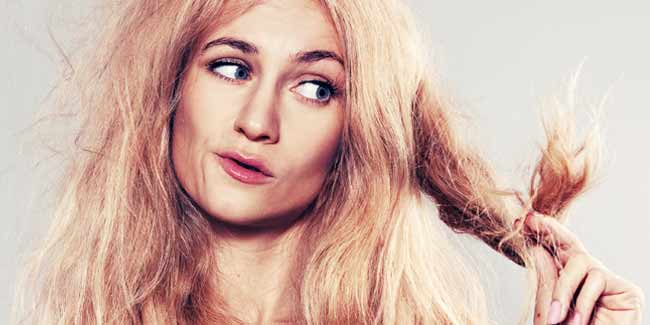 Damaged hair is no good; it is after all a matter of great pride for men and women to carry their hair beautifully. Damaged hair is a common condition for many people, and there are a lot of steps that you can take to restore shine and glow in your hair. Your damaged hair is defined as that type of hair which has rough texture, the porous strands feel brittle and dry to touch, and it is susceptible to breakage. It is time that you say goodbye to bad hair days, and welcome a new you.

[Read: Home Remedies for Damaged Hair]

Limit your Shampooing

If you have dry and damaged hair then shampooing everyday may be harmful for you, and there is no good reason to shampoo your hair every day. By shampooing every day you strip your hair of its natural oils, and so you leave your scalp dry and then it becomes prone to flakes, and then your hair is brittle and becomes prone to frizz. Unless you have oily hair you can miss a few washes each week. It is a good option to wash your hair every alternate day.

Add Moisture

Your hair needs moisture, and by using hydrating conditioner or leave in conditioner daily you will prevent future split ends and control the frizz. Use moisturizers that have natural oils like olive oil, glycerin oil, argan oil, sorbitol, or shea butter. However you must stay away from shampoos that have mineral oil and petroleum that allows the moisture to stay outside and doesn't allow it to get in. You can also use a lightweight serum, apply it to dry hair, as this can help define lifeless curls and regain their natural resistance.

Protection from Heat

Straightening of hair requires a lot of heat, and it can be very damaging for your hair. The heat from blow dryers and straighteners can cause split ends and frizz. You should use a smoothing cream and glossing serum after your normal shampoo and conditioner routine. Such products will help to remove frizz and make your hair smooth, thus protecting the hair during styling. For hair straighteners you can opt for the ones with ceramic plates as it helps to protect your hair's cuticle from the strenuous heat.

Cut the Ends

If in case you have long hair then you should get rid of some length by chopping off the scraggly ends. A good rule for a healthy hair is to trim the dead ends every six to eight weeks, this especially goes for you if you use hot tools regularly. Do not try to do this by yourself as if your scissors are dull then your ends may get even more fray, therefore got to a parlor.

[Read: Causes of Split Ends]

Diet

Here is a way for you to enjoy some good food and get benefitted for your hair. Your hair requires healthy fats, and so you should eat plenty of avocados, salmon and olive oil. These foods are very much packed with fatty acids, and can moisturize a dry scalp with natural oil. Never ever go low on healthy diets; you will be depriving your entire system.

Read more articles on Hair Care