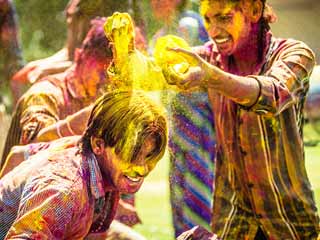 Holi brings a lot of problems for your hair if not cared properly. So it's advisable to follow simple self-care tips that can protect your hair from any serious damage.
We love: The colours, the parties, the family and friends, the food and the day off from work.

We hate: The aftermath of irritated skin, dry hair, tinted ears, nails and others, and sun burn.




Hair gets damaged a lot during holi due to chemicals present in the colours. So it's necessary to take proper care of your hair before and after holi as they can cause serious and irreversible damage to your hair.

The chemicals present in the colours, if left on the scalp, can create rashes, itching, redness and even dandruff. This damages the hair cuticles causing hair loss. These colours can dry your hair by absorbing all the moisture from your hair. Hair can become brittle and thin and can cause split ends also. So in order to avoid all these problems a proper hair care routine should be followed before and after holi.
Hair Care before Holi
Hair Massages- Indulge in a lot of hair massages before Holi. This helps to increase the blood circulation in your scalp thus preparing your roots to get stronger.
Root Mask- Apply a healthy root mask for your hair. Root mask will prevent your scalp from getting too dry. It will also protect your scalp from the chemical colours while playing Holi.
Hot Oils- One of the best hair care tips to follow in Holi is to apply a good amount of oil in your hair. Rub the oil deep into the scalp right to the tips. This will not allow the colour to stick to your tresses.
Essential Oils- It is better to use essential oil rather than chemically treated oils. Essential oils can be prepared at home itself. It will not have a negative reaction on your lovely locks.
Get Rid Of Split Ends- Get rid of split ends a day or two before holi. When colour sticks to your hair, it will only make your hair dry. This in turn will make your hair split more. This is an important hair care tips to follow before Holi.
Hair care after playing Holi
While washing the hair, first rinse it with plenty of plain water to wash away the dry colours and tiny particles of mica. Then apply a mild daily use shampoo, working it into the hair with the fingers. You can also use home-made shampoo (made with shikakai, reetha and amla or Indian gooseberry soaked overnight, boiled and strained in the morning). Massage the scalp gently and rinse thoroughly with water again.
Add some lemon juice into a mug of water and use it as a last rinse. This helps restore the acid-alkaline balance of the scalp.
Take some henna powder and add four tsp each of lemon juice and coffee, and enough curd to mix it into a paste. Apply on the hair and wash it after an hour,
To discourage hair loss and fall due to harsh chemicals in colours, apply almond oil and olive oil to your hair every night. Soak fenugreek seeds in four tsp of curd and apply it on your scalp. Keep for 30 minutes and then wash away with shampoo. Mix one tbsp of vinegar to three tbsp of oil and apply it to your hair. This will provide strength and nourishment.

During holi, you must pay extra attention to your hair to avoid the harmful effects. So protect your hair from damage by following these simple steps. Play safe and enjoy the festival of colours-Holi.

Images: Getty
Read more articles on Festival Fever.