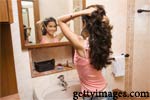 It is best to seek advice regarding the most suitable bridal hairstyle in good time, so that you can try some of them out in advance. For the basics, take a tour of this guide.
It is best to seek advice regarding the most suitable bridal hairstyle in good time, so that you can try some of them out in advance. Have your hair done at a beauty salon, because it should be secure and last through all the various ceremonies. Avoid heavy head covering Indian brides usually have their head covered. Instead of using a heavy material, get a matching "odhni" in a transparent material. Heavy covering for the head can ruin the hairstyle and also be very tiring.
Use material like organza, tissue or chanderi, matching the embellishments on your bridal dress, be it crystal, stones, sequins or beads. It should be a crisp fabric. Avoid materials that "hang down." Contemporary style is good If you have long hair, the hairstylist will put it up. It can be the traditional "joora," or a part of the hair can be braided and wound around, to make it more elaborate. There are many ways of making the hairstyle more contemporary, like having curls or ringlets and then pinning them up. This can be used for shoulder length hair. For short hair, you will need a hair piece, or hair extensions.The front of the hair, for both long and short hair, can be lightly backcombed and pinned securely. The front portion of the hair can also be "crimped."
This has to be done at the beauty salon. Heat is applied through a special crimping gadget, which makes tiny waves on the hair. It suits thin hair, as it helps to add body to the hair. A section of the hair can be left loose, with curls or ringlets, falling over one shoulder. For short hair, after arranging the front portion, the rest of the hair can be tied with a rubber band in a small "pony tail". The hair piece can then be pinned over it. Many differently styled hair pieces are available. Or you can by a hair piece in the form of long hair and have it set into a joora.
Accessories So many hair accessories are available and one can always be innovative. The hair can be decorated with fancy pins, decorative combs and even a piece of jewellery. For example, a gold brooch or locket can be pinned in the centre. You can have garlands of jasmine flowers wound around the hair, with a cascade of flowers down one shoulder. Or, one section can be pinned up and the other left loose, with glamorous clips or brooches to hold up the hair.
Diamante, or small glittering stones are available, which can be attached all over the hair. How to deal with Styling products Styling products, like hair gels and sprays, tend to cling to the hair and can also collect on the scalp and block the pores. They can also make the hair dull. The best thing would be to have a conditioning treatment before shampoo. Get yourself a mild herbal shampoo, a plastic shower cap, towels, a comb with large, wide teeth, as well as some hair conditioning ingredients mentioned below. First wash the hair with very little shampoo. Dilute it with a little water and then apply. For a quick conditioning treatment that helps to add shine, mix one teaspoon each of vinegar and honey with one egg. Massage the mixture into the scalp.
Wear the plastic shower cap and keep it on for half an hour. Then wash the hair again, using less shampoo. Then give your hair a lemon and tea rinse. To the juice of a lemon add tea water. Cool and strain. Use it as a last rinse. It leaves the hair clean and shiny. Wrap the head in a towel and allow it to soak the water. Then comb the hair.