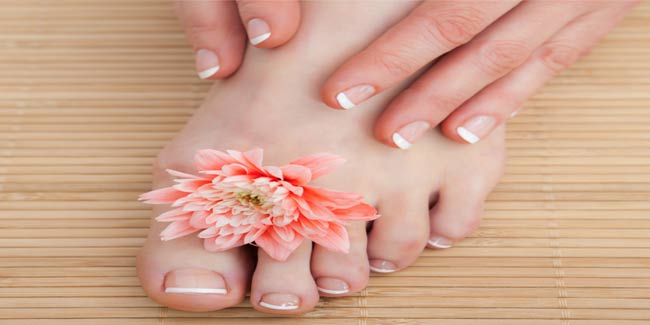 Nails too need to look good! One simple nail fashion is French manicure which suits your look for all occassions. Find out how to do it simply at home.
From work to parties and to red carpets, French manicure is one style statement which suits all occasions.



One runs out of nail styling options when dressing up like you are over 20. French manicure comes to the rescue here too.


Despite its simplicity and the natural look that it evokes, French manicure gives the nails that clean, well-groomed appearance that is neither flashy nor fussy.


A beautician running a parlour in Alaknanda says, "Manicure is not only about your hands or nails looking good but also preventing nails from chipping and breaking. Women, especially housewives, have to work with water all day long and therefore the breaking of nails is most common in them. With French manicure they can give the nails a sexy and stylish look."


According to Kanika Chugh, a student, "French manicure looks cool and recognises your style-quotient. This is the reason it is gaining popularity among all classes of women today."


But if you can't do it right, don't do it at all!


Let us tell you the correct procedure of doing French manicure at home.


You'll need:
Cotton balls
Nail polish remover
Hand moisturizer (optional)
Nail file
Buffer (optional)
Cuticle pusher
Clear, base-coat polish
Sheer, neutral-colour polish
Opaque, white polish
Clear, top-coat polish
Steps:
Take of all traces of previous nail paint using a nail polish remover and cotton balls.
Pamper your hands and nails with a vitamin E rich moisturiser.
Push the cuticles back gently with a cuticle pusher, until they only slightly frame the nail. Take your nail file and shape the tips, (round, square, or somewhere in between).
Apply your base coat. One coat of clear will do.
For a stark-white tip, you'll apply the neutral first -- three strokes, sides and centre. Don't apply more than one coat. The streakiness will even out as it dries.
Then you'll apply the white tip. You can do this using tiny, sticky stencils included in a kit, free-hand (one smooth stroke width-wise).
If you want to soften the white, reverse those steps so you're painting the neutral over the white tip.

If you are wondering which nail shape will suit your hands, here's the answer-
Women who have small hands look good with almond- shaped nails which make fingers look normal size.
Those who have short and stocky fingers, squared-off oval-shaped nails look the best.
Women with weighty and heavy hands, squared-off end shaped nails look beautiful on them.

The procedure elucidated above really gives a complete look to nails and is best suited for special occasions. While any common manicure process in parlours costs you between Rs 100 to 250, a French manicure on an average costs somewhere between Rs 250 to 450.

Manicure kits are available in malls and showrooms which mainly consist of a pusher, cuticle nipper, filer, manicure stick, nail brush and clipper. Once you are aware of the process then it can be easily done at home. According to beauticians, French manicure is cheaper and yields better results than American manicure.

Read more articles on Hand Care.