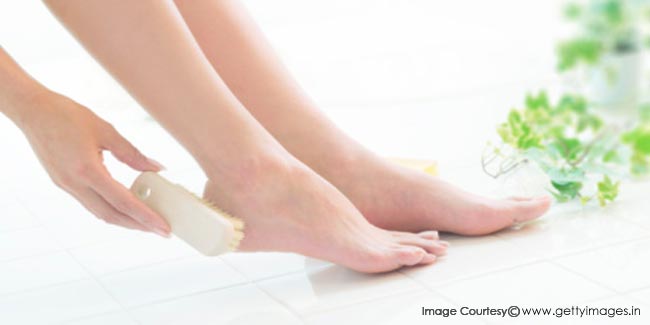 Diabetes brings along a lot of health complications. It can particularly be harmful for your feet. If you are diabetic, learn some feet care tips here.
Diabetes can cause problems in your feet as it lowers the blood flow there. This deprives your feet of oxygen and nutrients thereby; giving birth to blisters, sores and cuts, which are difficult to heal because of body's decreased immunity.
Diabetes can cause a nerve damage called peripheral neuropathy, which further causes numb feet. In this condition, detecting sores and blisters becomes more difficult. To have fine feet in spite of diabetes, follow the given feet care tips for diabetics.
Feet Must be Checked Daily
The foremost step is to analyse your feet carefully every day and make sure you have checked for dirt between your toes. Diabetics have the tendency of developing blisters and infections between their toes. These blisters are the signs that diabetes has severely affected the immune system. If you cannot inspect your feet by your own, use a mirror to look at the bottom of the feet.
Wash feet with warm water
Use warm water to wash your feet at the end of each day. Do not use hot water. Use an antiseptic soap to clean the feet properly. Soak your feet for five to eight minutes only. Soaking for too long in water may result in waterlogged sores, which take a lot of time to heal. Use a soft towel to dry your feet properly and remember to wipe between the toes.
Wear Well Fitted Shoes and Do Not Stay Barefoot
Shoes of inappropriate sizes and those giving shoe bites can cause a blister, which may turn into an infected sore. Before purchasing shoes, make sure they are well fitting and durable. Wearing a pair of socks for too many days develops redness or irritation therefore, wear a fresh pair every day. Do not wear shoes or sandals without socks as shoe materials can cause irritation. Wearing netted socks does not protect your feet therefore, the use of padded socks or thick socks is advisable.
Another important advice for diabetics is to never stay barefoot and always wear slippers at home. This prevents the skin from getting dirty.
Keep a Check on Blood Sugar
Nothing other than a well-maintained blood sugar level is a better treatment for diabetics. Strict blood sugar control with effective insulin therapy decreases the possibilities of developing peripheral neuropathy symptoms - tingling, numbness, burning, and pain exponentially. A well-balanced diet and exercises such as yoga, swimming or walking can help you control diabetes.
Keep the Blood Flowing to Your Feet
Put your feet up when you are sitting. Wiggle your toes for 5 minutes, 2 or 3 times a day. Move your ankles up and down and in and out to improve blood flow in your feet and legs.
Do not cross your legs for long periods of time.
Do not wear tight socks, elastic, or rubber bands, or garters around your legs.
Do not wear restrictive footwear or foot products. Foot products that can cut off circulation to the feet, such as products with elastic, should not be worn by diabetics.
Do not smoke. Smoking reduces blood flow to your feet. If you have high blood pressure or high cholesterol, work with your health care team to lower it.
Medical Help
Inform your doctor if you witness changes such as sensation in your toes, feet or legs, pain, aggravating sores, tingling, numbness, burning or any other unusual signs. An untreated infection or pain can become a reason for foot amputation. Avoid self-treatment and start taking care of your feet.
Read more articles on Feet Care.