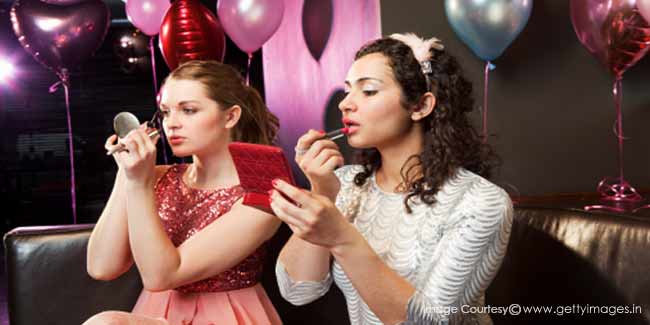 Evening parties call for a radiant, glamorous effect. Deep and sophisticated make-up works best for it.
You can play with colours and materials to create a chic, sublime look, taking advantage of the subdued lighting of the occasion.
The Right Occasion
Different parties need different make-ups. If you are planning to wear a stunning dress, go for a sophisticated make-up. One can add colour to their face while at night out clubbing or evening at friends'.
The Right Colour
Go for make-up colours that suit your complexion for a glam look. Use a natural base to accentuate your beauty. Avoid using artificial or unnatural colours that do not bring out the best. Also colours like blue and violet make you look older by highlighting harsh lines.
The right Technique
To start with the make-up, one needs a silky, smooth complexion. Wash your face clean for it. Use a liquid foundation or powder to even out your skin tone. Take a large brush and apply an illuminator over the whole face for a luminous effect.
Amber coloured blushers subtly catch the light. Use one to highlight your cheekbones. Next, apply a tint of blusher high up on the contours of your face for a chiselled look.
Give an intense and sexy look to your eyes as they are the hero of evening parties.
Chose dark eyeshades such as deep grey, brown or black, in a creamy or pearlescent texture. Add shimmer by light-reflecting shadows.
Along the base of the lashes, apply kohl to highlight the eyes. Then apply black eye pencil under the eye. Take a large brush and apply dark eye shadow in the small of the eyelid and a light shade under the arch of the eyebrow.
Moving from the inner corner of the eye to the outer one is the secret. Add a little eye shadow under the eye, at the level of the lashes for more defined eyes. Complete the eye make-up by applying black mascara that is volumising and provides depth to your eyes.
Coat your lips with red lipstick for an ultra-feminine and bold look. It will survive through the after-hours too. Think Scarlett Johansson.
Deep red lipstick is intense and provides a star appeal to the lips. Glosses don't last long enough hence should be avoided.
For long lasting colour, first, highlight the edge of your lips with a well sharpened lip pencil- a slightly darker shade than your lipstick. Applying the lipstick with a lip brush is a better idea than applying it directly. Start at the middle of your lips, working out towards the corner.
For better hold, dab the lips on a tissue after applying lipstick once. Reapply. A touch of gloss at the centre of the lips can give a lacquered effect. Use it for the irresistible pout.
If you aim to be the centre of attraction of the party, add a touch of glitter to your eyelids and the tops of your cheeks.
Fake eyelashes, stick-on jewels and glitter can all be part of your glam party look for make-up fantasies.

Follow these tricks and get ready to dazzle all night!
Read more articles on Eye make-up