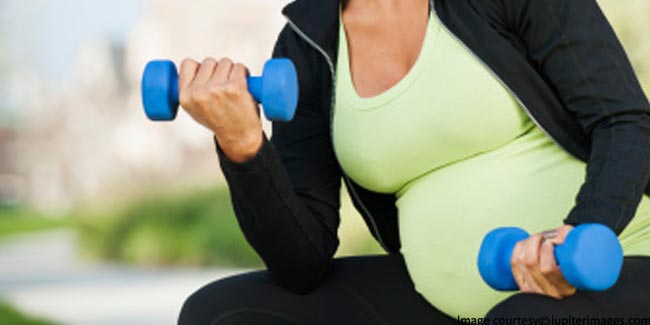 Regular exercise during pregnancy makes pregnancy a comfortable and healthier journey for women. Experts suggest that those who exercise regularly are able to tolerate labour and childbirth in a better manner. Moreover, it also helps pregnant women to gain only healthy weight and it also aids quicker recovery post pregnancy. Even though there are enormous benefits of exercise during pregnancy but one needs to be extremely cautious while doing them.
Pregnancy Exercise Do's
Consult your physician before beginning any prenatal exercise regime. If you are in good health then your physician will encourage you to exercise but if there are any medical concerns for you and your baby then you may have to limit your physical activities.
Make sure that you start with a warm up session.
Listen to your body. If you are not comfortable with a particular exercise then either try to modify it or eliminate it from your exercise regime. Stop exercising if you feel extreme fatigue or discomfort.
Let your safety be the prime concern. While you exercise, it is important to constantly remind yourself about the safety of your baby.
Wear comfortable clothes during workouts. They will make it easier for you to move around thus decreasing the risk of injury.
Do stretching exercises that require you to stretch your lower back, hamstrings, chest, inner thighs and calves.
Pregnancy Exercise Don'ts
Don't exercise on your back especially in the second and third trimester. Laying down on the back reduces blood flow to your brain and uterus.
Never exercise when you are physically tired. Make sure that you take plenty of rest.
Don't try any exercise or movement that you haven't done in the past.
Don't overdo it. Instead listen to your body and stop at the very slight signal of discomfort.
Remember that pregnancy is a crucial time so never experiment. Always exercise under the supervision of an expert who is experienced and a certified trainer for pregnant women.
Don't use jerky, jarring and twisting movements in your exercise. Such movements put extra stress on the areas that are already undergoing change during pregnancy.
Exercises that require bending forward with head down must not be practiced.
Never aim for weight loss during pregnancy.
Read more articles on Pregnancy Exercises.