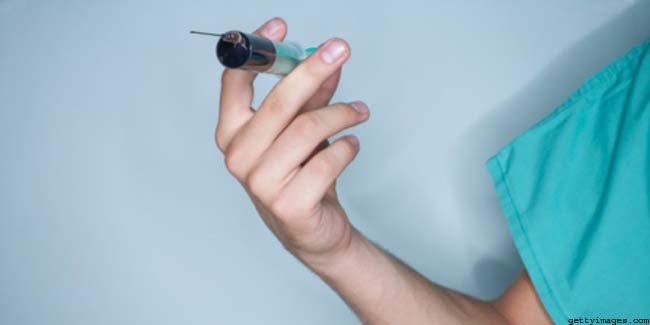 If you are looking forward to get rid of any/all signs of ageing that is beginning to appear, your blood can be put to good use for this purpose!

According to doctors, a test tube full of blood extracted from a person can be processed with growth hormones and injected into the patient's face to get rid of wrinkles. This new innovation in anti-ageing has been termed "Dracula Therapy" as it makes use of blood for treatment.
How Dracula Therapy Works

The therapy is based on extracting platelet rich plasma, an essential element of the blood, releasing certain growth drugs in it and stimulating growth. The renewed solution is then injected into your face. It is believed that by adding growth hormones in the blood, it will lead to healing of scars and treatment of wrinkled skin as the added hormones stimulate growth of new cells. It would be the repair of DNA itself rather than any sort of artificial fabrication.

The unique aspect of this therapy is that the chances of infection are minimal. This is because the body is, in the process of the therapy, getting back its own blood and hence, there is no chance of an allergic reaction. The therapy was first introduced in Britain by Daniel Sister, a French cosmetic doctor. Women in their 30s and 40s, who preferred Botox or laser therapy, are increasingly choosing Dracula therapy over the former. This trend is also catching up in India.

Datinderjeet Singh Tulla, consultant at the BLK Super Speciality Hospital where several women have undergone Dracula therapy at the department of plastic and cosmetic surgery, says that this method is better than Botox because the latter paralyses the skin cells. When differentiated against each other, the method of promoting growth hormones in a sample of blood extracted from the person is preferable. With this therapy catching up in India and despite a single sitting costing Rs. 25,000, doctors have started to view this as the next generation of plastic surgery.

Precautions to Take
Dracula therapy promises a lot in terms of anti-ageing, but people need to be careful about it before adopting these techniques. Some of the precautions to take include the following:

• The clinic that you pick for blood processing must have recognised certification.

• The laboratory should have aseptic and sterile conditions.

• The surgeons working there and performing the therapy should be certified.

• Precautions also need to be taken in procuring the blood.

• The plasma should be processed in a few hours after extracting it from the individual, in order to minimise the chances of infection.

Since the licensing norms for clinics in India are not so strict, widespread commercial use of the technique can take time in India.

Read more articles on Anti-ageing.