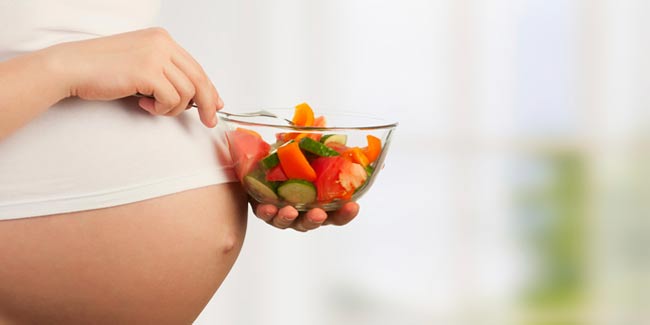 Diet during pregnancy does affect its outcome and it is actually the most important factor on which yours and your baby's health depends.
The diet of a pregnant woman is the most important factor that influences the growth of her baby. There are some nutrients important for healthy foetal growth while some foods and drinks contain harmful substances, and it is as important to avoid them. You should not look to lose weight during pregnancy but follow the recommendations of your doctor regarding a balanced diet and exercise regimen for ensuring growth and development of your baby.


Required nutrition during pregnancy
Some nutrients are particularly important when you are pregnant. These include:
800 mcg of folate, a kind of vitamin B found in food, is one of these. You can get it either from foods rich in the nutrient or take folic acid supplements for the same. This is important to prevent neural tube defects.
1000 milligrams of calcium a day is also needed for you to ensure proper development of your baby's bones and teeth. Vitamin D is also important to help in the absorption of calcium.
Protein from dairy, grains, beans, legumes and tofu is needed to help in the development of muscles. 71 grams of protein is required per day. Having protein rich foods would ensure that you get the required 27 grams of daily iron intake. This is important for preventing anaemia and aiding your immune system.

Knowledge of relation between healthy diet and pregnancy is as important as between avoidable foods and their harm.
Harm from avoidable foods
If you are not conscious about avoiding certain foods that are harmful during pregnancy, you and your baby could be under serious health risks. They are:
High mercury seafood such as swordfish, shark, king mackerel and tilefish need to be avoided. So should poultry, undercooked meat and eggs as these can increase the chances of bacterial diseases and illnesses resulting from food contamination. These can be very harmful for your child.
Unpasteurised cheeses that are too soft also put you under risk.
Limit your caffeine intake to less than 200 milligrams a day. An intake of caffeine more than this has been linked to preterm labour.
Smoking and alcohol should be an absolute no for pregnant women. This is because there has been no research which suggests that a certain degree of these substance abuse to be permissible during pregnancy. Whatever little the amount, it may not be safe for your unborn child.

As the pregnancy diet affects the development of your unborn baby, it needs to be planned carefully. You would do well to consult your OB/GYN to suggest a diet plan or a nutritionist who can plan the same for you. This would be helpful in determining the ideal diet for you during pregnancy. Your OB/GYN would tell you about how to manage your diet and ways to modify it in case of any complications.
Read more articles on Pregnancy Diet.