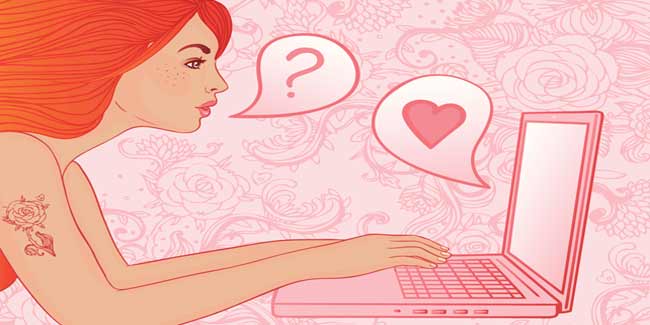 Dating up until now had different rules, but with the advent of the internet things have changed. At a time when online dating is a rage, find out what are the dos and don'ts.
People of the modern world are constantly in sync with the internet; everything is done via the World Wide Web. Even the dating scene has seen a major shift in the age of the internet, so much so that there is a vast network of internet dating sites. Moreover, people usually date online via the various chat rooms, yahoo chat, Google chat, and now the increasingly famous facebook chat. If in case you are interested in finding new dating avenues on the internet, then here are a few dos and don'ts for you.

[Read: Ways to Charm a Woman on First Date]

Do Establish Boundaries

It is true that you are excited, but hold it. Do not trust people blindly because he or she is so nice at typing words on your chat box. Remember you do not know this person very well, and there is a 50 per cent chance that it is a fake profile, always go by this assumption. Most times girls are victims of such fraud profiles, and next thing you know, Prince Charming just wants to have sex. Try to make things clear, and be a little strict when it comes to sending photos or meeting randomly at a private place.

Don't Create False Profiles

Do not put up some dashing handsome boy's picture or a Megan Fox look alike as your profile picture, try and put up your own picture. It doesn't matter if you look like yourself, because much to your dismay that is what the world wants to see. Set up an honest profile and don't call yourself a love guru, super sexy, dashing, and all, keep it simple and give a brief description of yourself. If your date finds out that you had set up a false profile then even the little possibility is dead.

Do be Interesting

It is one thing to be interesting and quite another to be boring, so draw a nice and thick line. Interesting means to discuss all sorts of things, and also listening as much as talking. You will need to be that interesting person, and please do not over fill your chats with emoticons, save them for later. When you meet, try and be the same person you were when you had met online, or else consider that to be your first and last date.

[Read: Tips to Start a Conversation on First Date]

Don't Disclose Personal Details

Online dating as mentioned earlier is not very safe and so you must not disclose your personal details. These may include your address, your home phone number, where you go and things like that; most people may seem normal on the internet but they may be someone totally different in their private life. Therefore, do not give out all your personal details at the initial stage of dating; you can do so once you trust the person later on.

Do take things Slow

There is no hurry and you are not in a competition, so you may as well take things slow, even if your chemistry is magnetic. The most important thing is to arrange to meet in a public place instead of a private setting. Moreover if someone wants to meet you in private at the very beginning, then you should know that something is wrong. There is nothing wrong in taking things slow, in fact it saves you a lot of worries and troubles that may show up in the future.

Don't Double Date

Just because you are dating online doesn't mean it is right to date two people at the same time. So, do not get back home and start searching for a new beau after meeting one. Yes, if you do not like this person then you can finish one chapter and move on to the next. If your date is nice and you like him or her then you should stick to this person and see how far things can roll.

Online dating is fine, you just need to be a little more careful.

Read more articles on Dating Tips