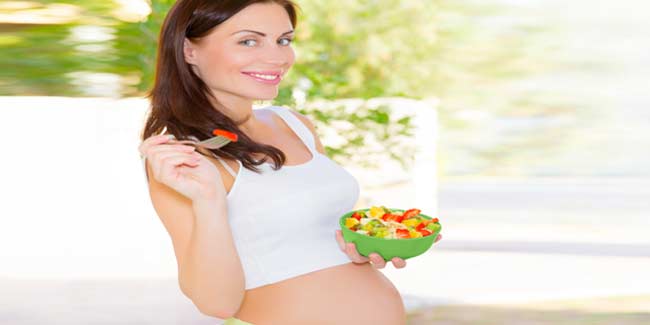 Each and every month of pregnancy is marked by certain physical changes. These changes can lead to certain side effects but can be avoided with necessary changes in diet and exercise. If you want to avoid the complications of physical changes such as anxiety and depression, the diet tips for fifth month of pregnancy can help to ensure that.


Recommendations of Health Authorities
The American Pregnancy Association states that in the fifth month of pregnancy, women should gain 1-2 pounds every week. This should continue all through the second trimester.
According to the Academy of Nutrition and Dietetics in USA, women should ensure that they consume 347 additional calories than before in their second trimester of pregnancy.
Further, these additional calories should come from healthy protein sources, and should include calcium sources too. Whole grains should be an important part of this diet while sugars, fatty additives and simple carbohydrates need to be avoided.
Recommendations of diet for a healthy pregnancy in 5th month
Have a lot of sugarcane and mango juices which contain healthy carbohydrates along with plenty of dietary fibre. They enhance your strength to help you carry the baby and improve your body's condition for labour.
Avoid meats altogether, especially if uncooked or seafood.
Have more of cereals, legumes and pulses. These are rich in protein which is required for the growth of your baby. You can supplement them with nuts.
Strictly avoid carbonated drinks, canned food, smoking and alcohol. They can cause a lot of complications during pregnancy.
As you are likely to gain a lot of weight in the fifth month of pregnancy, avoid butter and oils that contain saturated fats.
You need to have a balanced diet based on your requirements. It would include whole grains, healthy proteins and oils, fruits and vegetables.
The daily requirements of each food group would depend on your height as well as weight prior to pregnancy. You need to get expert advice of a nutritionist or your health care provider for this.
A woman of normal weight and height needs 200 – 250 grams of whole grains, 190 grams of protein, eight teaspoons of healthy oils, three cups of dairy around five cups of fruits and vegetables daily, in her second trimester of pregnancy.
Pregnancy care in 5th month would include knowing the right amount of food to be consumed along with the various nutrients, and the amount of these nutrients in the mix too. Try finding out the nutrition content of the food that you consume and work out how much you need to consume daily. You can take the help of informative websites, a nutritionist or your health care provider for this.
Read more articles on Pregnancy Diet.