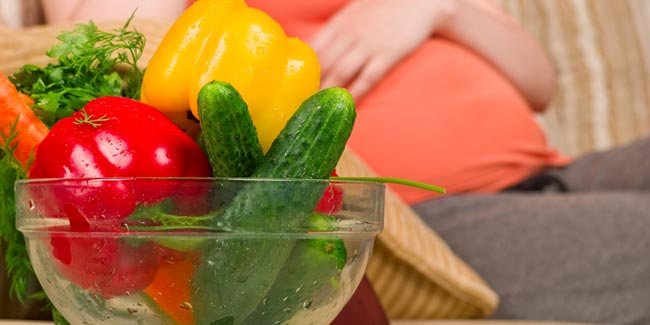 A healthy diet plan during pregnancy can help the mother provide the baby inside her of all the necessary nutrients essential. Find out if you are making any mistakes.
Have small meals or portions every few hours even if you do not feel hungry. A growing baby will constantly need extra energy and nutrients.
If pregnancy is causing you to have nausea and food aversions, try dividing your daily diet into smaller portions throughout the day. In this way, eating will not be a chore and you will meet your baby's nutrient needs.
Gain weight at a moderate pace. Pregnant women are lead to believe that having a diet for two is important and they put a lot of weight in the course. Eat a healthy diet and ensure you are getting all the nutrients necessary; your weight should not be an issue if you are not overweight or underweight.
Excess weight or being underweight might be a problem in pregnancy and therefore, will need to be checked. Your doctor will guide you better.
Continue being active by moving around in the house. Being pregnant does not mean you should retire to bed instead, doing moderate amount of exercises will only do well for your health. Avoid any strenuous exercise or lifting weights. Medium pace of walking, yoga and stretching is equally good.
Get enough vitamin D to keep your bones healthy and to aid better absorption of calcium in the body. Have a supplement of vitamin D or just expose yourself to some sunlight when the rays are not strong. Your baby will love it too!
Ensure that all fruits and vegetables are properly washed and cooked well before consumption. Heat the food before you eat to avoid any chances of food poisoning. Avoid stale food at all times.


Diet Don'ts
Do not drink alcohol either before or during pregnancy as it not only affects fertility but can also affect the baby's development. Consumption of alcohol can cause Foetal Alcohol Syndrome (FAS) in which growth and mental development of the baby is severely affected.
Do not exceed safe limits of caffeine (200 mg) in any form on any day. Caffeine increases the risk of miscarriage and low birth weight. Avoid it altogether or limit yourself to a safe 200 mg a day.
Do not eat raw, half cooked or uncooked foods as they may cause food poisoning.
Do not eat cheese with a moldy texture such as blue cheese. Eat hard cheeses instead of the soft cheese variety such as parmesan.
Do not have loads of vitamin A as overdose of this vitamin can cause serious defects in the developing baby. Avoid vitamin A supplements and liver as it contains a lot of vitamin A.
Do not smoke as it affects the growth and development of the foetus.
Do not overeat in the belief that you are eating for two persons. Extra calorie consumption for the developing baby is needed only in the last three months of pregnancy. Divide your meals into small portions and eat after every two or four hours depending on how hungry you are.
Do not try to lose weight during pregnancy. Dieting should always be done on the preconception stage when a woman is overweight. Losing weight during pregnancy can affect your developing baby by stripping you off all the required nutrients and resulting in low birth weight and deficiencies in the newborn. Appropriate amount of weight gain is a normal occurrence in pregnancy.
When you are pregnant or trying to conceive, there are certain dos and don'ts to follow to make sure that the prospect of having a healthy baby is secure in your hands. So, stick to a healthy lifestyle and nurture a happy family.
Read more articles on Pregnancy Diet.