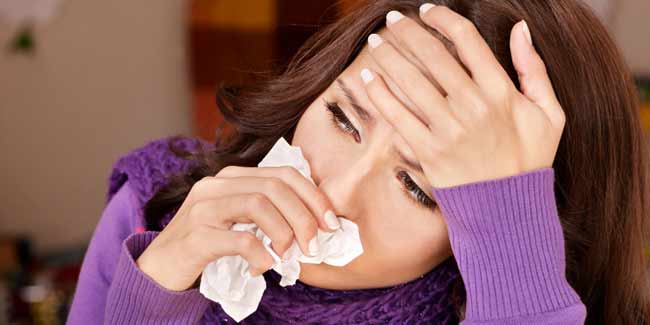 Women are susceptible to cough and cold during pregnancy because their immune system is weakened. They need to be careful of getting colds repeatedly.
A woman's body becomes more susceptible to illness during pregnancy as her immune system is weakened. This is because her body undergoes several changes in this condition and it is important that she realise this.


Cold is a viral infection spreading on contact with a person infected with its virus. The symptoms of cold and cough during pregnancy are more or less the same, but there are some complications women should know about beforehand.
Sore Throat
The most common symptom of having cough is without doubt having a sore throat. Sore throat is mostly due to cough but the sickness experienced during pregnancy can also cause it.
Muffled Nose and Sneezing
Women who catch cold during pregnancy usually experience stuffy nose and sneezing. She is more likely to have muffled nose now than earlier. Moreover, severe cough and cold experienced during pregnancy can be accompanied by flu, but this is not very common.
Fever
If you feel like having cold during pregnancy and your temperature reads upwards of 100 degree Fahrenheit, it is a actually flu, especially if you find other symptoms of flu also present. Fever is not caused by cold.
Body aches and pains
Cough and cold during pregnancy can lead to body aches and niggling pains. They are more likely in this condition when your immunity is weakened.
These symptoms can last for 2 weeks but they do not have long-term health hazard for the expecting mother or the baby. 200 different viruses have been identified that can cause cold, so your body does become vulnerable to infection with one or more of them when pregnant. You may actually experience a string of colds, one after another, with infections from different viruses, if you do not take proper precautions.
Remedies for Cough and Cold

Treatment of cough and cold during pregnancy is only by natural means as the drugs normally used to cure cold can have adverse impact on the growing baby. Garlic cough syrup and fresh ginger can be used as treatment of cough and cold during pregnancy as they are effective natural ingredients. Garlic can be mixed with some ingredients to make it taste better. Ask your healthcare provider or anyone who knows how to make garlic cough syrup with honey and benefit from its healing properties. Having sliced pieces of ginger and chewing them to release the natural healing enzymes will dissolve your cough without harming your baby.
Read more articles on Problems during Pregnancy.