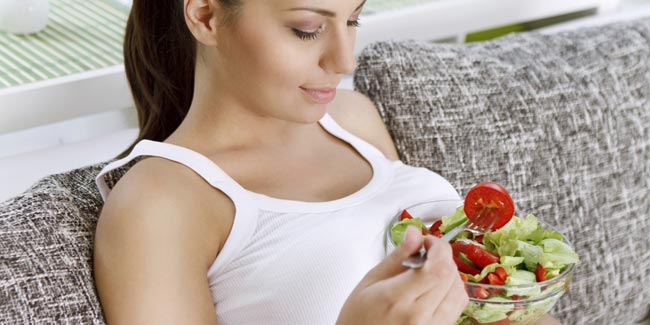 To prevent medical condition of the liver or reduce its complications during pregnancy, an expectant mother must adhere to an appropriate diet.
Cholestasis is a medical condition of the liver that affects women during pregnancy. The condition occurs late in pregnancy causing severe itching on the hands, feet and other parts of the body.
It is an intensely uncomfortable condition, though it doesn't threaten the victim with any long-term risk. The condition may be dangerous for foetal development and should therefore, be prevented with the help of dietary changes.

Cholestasis refers to the disruption in the flow of bile, a digestive fluid in the liver, which either slows down or stops. Pregnancy is one of the causes of Cholestasis; others being obstetric Cholestasis and intrahepatic Cholestasis.
Appropriate Diet for Cholestasis during Pregnancy
The complications of cholestasis during pregnancy can be reduced with dietary changes. Mentioned below are some dietary recommendations to avoid the complications.
Lecithin, an unsaturated fat, is necessary to metabolise fats that are stored in the bile.
Vegetable lecithin and animal lecithin are effective in preventing Cholestasis. A mix of animal as well as vegetable sources of lecithin is recommended for better results.
Safflower oil, peanuts, soy products and corn oil are healthful sources of vegetable lecithin.
Meat, egg and dairy products are some effective sources of animal lecithin.
Expectant mothers must abstain from consuming too much fat and cholesterol. Instead, they should have lean meats and low or non-fat dairy.
Administering Cholestasis during Pregnancy
An obstetrician or pregnancy care provider should be consulted to keep track of the development of cholestasis during pregnancy. Expectant mothers must prepare to deal with the situation; discussing their condition with the health care provider may make it easier to cope.
Tell your health care provider about the symptoms you're experiencing.
Give details about your dietary chart, supplements and medications that you may be taking.
Make a note of the feedback he/she provides you and comply with it.
Feel free to clear any doubts that you may have and enquire about all the treatment options available for its cure.
Ask him/her the best course of action based on the severity of the condition.
Important Considerations for Preventing Cholestasis during Pregnancy

You may feel discomfort due to intense itching or have breathing issues when suffering from Cholestasis. You may ease the breathing problems with the help of breathing exercises or by practising yoga.

You may apply an anti-itch cream on all the affected areas or take a bath with a pinch of cornstarch added to the water. Alternatively, soaking itchy areas of the body in lukewarm water may also relieve itching. Application of anti-itch cream or over-the-counter products for relief from itching must be avoided if you experience unbearable itching.
Read more articles on Pregnancy Diet.