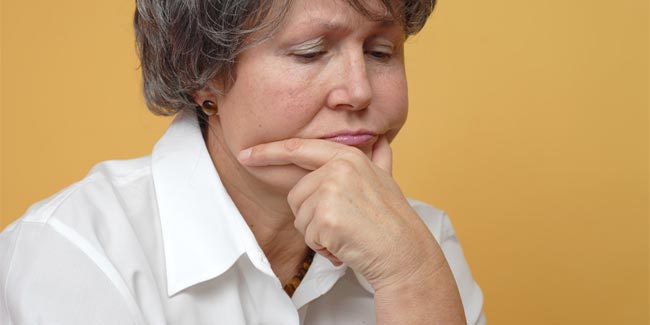 Causes of Spotting after Menopause: The causes of post-menopausal spotting can range from uterine problems to an underlying medical problem.
Bleeding during early menopausal phase is quite normal. If, however, you experience spotting after menopause, you may be suffering from some underlying medical condition. A woman is said to be going through menopause if she hasn't had her periods from a year. If she menstruates after six to ten months of going through a period of zero periods, she isn't said to be going through menopause yet. The causes of bleeding/staining/spotting after menopause are often triggered by decrease of estrogen levels or its replacement. It is important to avail immediate medical attention as spotting after menopause can also indicate a malignancy. Enlisted here are some possible reasons of post-menopausal spotting.


Uterine Causes

The production of estrogen, the female sex hormone, drops drastically due to which the ovaries stop producing eggs and you stop menstruating. The diminished levels of estrogen in the body lead to a thinned uterine wall, causing atrophy. Blood vessels present in the uterine wall also become weak and break down, causing red and brown spotting during menopausal phase.


Vaginal Causes

Spotting after menopause can also be attributed to vaginal dryness, which can lead to vaginal atrophy. Vaginal atrophy is inflammation of vagina caused by decreased lubrication and shrinking of vaginal lining and tissues. This vaginal condition may lead to breaking down of vaginal lining causing bleeding or spotting. Having sexual intercourse despite severe vaginal dryness may also lead to spotting along with extreme itching and stinging pain.
[Read: What are the symptoms of Vaginal Atrophy?]


Hyperplasia

Overgrowth of uterine lining results in a condition called hyperplasia, which may cause spotting after menopause. Light bleeding after menopause indicates malignancy it is therefore advised that you consult a doctor if you have experienced post-menopausal spotting. Your doctor may refer you to an oncologist to examine you for cancer of uterine lining called endometrial cancer.


Fibroids and Polyps

Another cause of post-menopausal spotting can be the formation of fibroids and polyps in the post-menopausal uterine cavity. Spotting and staining may be accompanied by pain in the lower abdomen or vagina. Fibroids may result in heavier post-menopausal bleeding than polyps.


Side-Effects of Medications

To relieve the symptoms of menopause, women are often given hormone-replacement therapy (HRT). This therapy brings much needed relief to menopausal symptoms such as night sweats, hot flashes and weight gain, but causes an excessive build-up of the uterine lining due to replacement of estrogen, causing uterine bleeding after menopause.
[Watch: What Is Hormone Replacement Therapy (HRT)]
If vaginal spotting after menopause is accompanied by pain or pressure on the pelvic floor, your bowel movements are affected or you're experiencing vaginal discharge, talk to a physician about it soon.
Read more articles on Menopause.