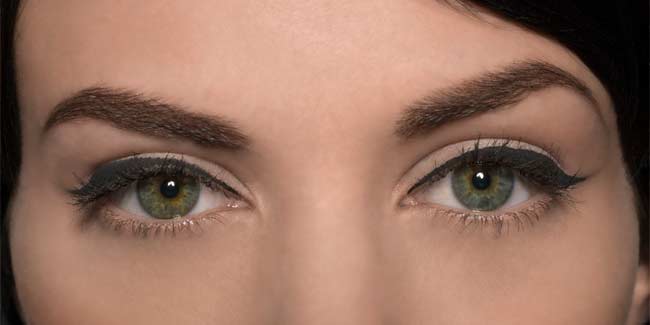 Coloured eye lienrs are one trend that seem to scare women the most because it's easy for them to go the route of a 12-year old. Read on how to wear it nicely.
When it comes to make-up, women are very considerate. They take all necessary measures to retain the most glamorous look. Those measures can be associated with them keeping their eyeshadow, hair and nails in perfect shape. For this, they have too many colours to select from. But there is one aspect of make-up that is almost forgotten by women and that has got to do with eyeliner which is an integral part of acquiring good looks.
Beautiful eyes get noticed quickly by everybody. So make your eyes look sensuously bright with these three fashionable colours in eyeliners:
Black Eyeliner: With its use, you can get the Cleopatra-kind of eye elegance which would be appealing and will give you a great deal of confidence. Even if you use the eyeliner in the form of liquid or pencil, what matters by and large is you must use any of them to draw a thin line with it on the top lash and render a day-wear look with mascara. Or you can sketch out a thick and winged line with it on the top lash or the lower lash paired with a smoky eye for an eveningwear look.
White Eyeliner: Having it in your make-up bag will just make you extra trendy. Women today are more curious about it as it gives them a fresh and dewy touch. If you add a bit of mascara, it will heighten your diva appearance. You can even pair it with the black eyeliner in order to enhance the evermore gorgeous look. You can put the black eyeliner on the top lash and the white one on the inside of your lower lash. Thus, you can pose amazingly.
Blue Eyeliner: It is the most preferred one and the beauty artists use it extensively. It became popular just after Chanel or Givenchy two big cosmetic brands introduced it in the market. So use this blue eyeliner and show off your pride as a beautiful woman. Don't wait. Go and combine all these elegant eyeliners to put forth a graceful style!

It is not that only these three colours of eye liners look good; one should wear the colour that suits them best. A few things to remember while applying a coloured eye liners are:
To make colored eyeliner work, you need to pick one that compliments (not matches) your eye color. Remember that opposites attract: brown eyes look best with richer, more saturated colours like purple, lavender, pink, turquoise, blue, gold and copper; blue eyes are incredible when paired with bronze, orange or rust; green eyes look wonderful with purple, gold or a dark turquoise; and hazel eyes really stand out in green or purple.
Pencil liners give you the most control, making them excellent for novices or those who don't have the steadiest of hands. If you want to rim the inner lashlines, use a firm, traditional pencil. For a smudgy look, choose a kohl, which is more malleable. Liquids give you the thickest, most dramatic line – those with a brush deposit the most pigment but require a steady hand; pen versions dry faster but are less saturated. Gels produce an even line and glide on more smoothly than liquids.
On a day when you want to go bright yet not so dramatic, this is the best bet: first, line your eyes with a soft black pencil. Then trace the colored eyeliner right on top of the black, lightly smudging them together. What you get is a deeper, richer shade that's almost – but not totally – black. It gives just the right pop of color without screaming out loud.
Read more articles on Eye Make-up.