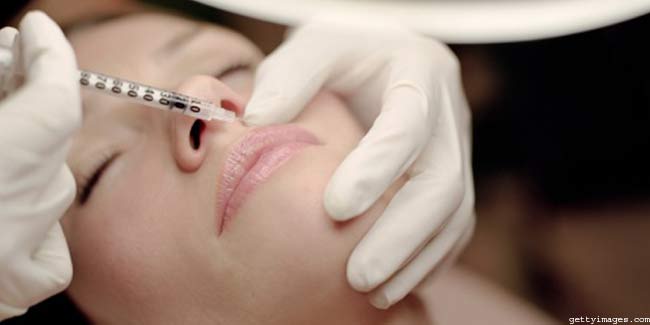 Botox is a non-surgical, doctor administered injection treatment to temporarily reduce moderate to severe expression lines on face.
Wrinkles are a natural part of ageing. As you grow older, your skin gets thinner, drier and less elastic. As a result, wrinkles, lines and creases form in your skin. But, fret no more! Botox is here.
If your wrinkles are bothering you, you have more options than ever to help eliminate or at least diminish their appearance. These days, every person wants to retain youthful looks for as long as possible. There are many non-surgical options available for those who want to improve their looks quickly, easily and safely and don't want to go undergo any kind of surgery. The most popular among these options is Botox.

What is Botox?

BOTOX is a highly purified protein that is extracted from bacteria. It is a non-surgical, doctor administered injection treatment to temporarily reduce moderate to severe dynamic lines (Expression Lines) on face in people of different age groups. Many facial wrinkles form over time as the result of frequent facial movement. Botox is injected directly into the muscles with a tiny needle. It works by blocking the transmission of nerve impulses to the injected muscles; this reduces the activity of the muscles that cause those persistent lines to form. Botox relaxes the tiny facial muscles that cause expression lines, leaving the overlying skin smooth and unwrinkled. Thus, the lines gradually smooth out from disuse and new creases are prevented from forming.

What is Botox widely used for?

Botox is used widely for the elimination of 'Frown Lines' between the eyebrows, 'Worry Lines' or horizontal forehead wrinkles and 'Crows feet or Smile Lines' around the eyes. It is also being used to lift the eyebrow (Chemical Brow lift) and open up the eye for a more youthful appearance (Awake Look). Good results are also seen in 'Gummy Smile' (excessive show of upper gums during smiling), perioral lines ("smoker's lips"), and reducing neck bands and chin dimpling or creasing. Another area where Botox has given excellent results is in Excessive sweating (Hyperhidrosis) especially in underarms, palms and soles of feet. Botox reduces sweating in that area for 6-8 months after the treatment.

Procedure

During treatment, very low doses of Botox Cosmetic are administered by tiny injections directly into the muscles that cause those stubborn lines. Discomfort is usually minimal and brief. The treatment is usually done in about 10 minutes, and no recovery time is needed. Within days, you may see an improvement in the wrinkles. Lines continue to improve for up to a month and results can last for up to 4 months or more. If you discontinue treatment, the wrinkle lines gradually will look like they did before treatment.
Plastic surgeons can help you decide if Botox treatment is needed for you. They have practices that focus on facial aesthetics, as well as detailed knowledge of facial anatomy and experience injecting Botox. Dermatologists trained in Botox treatment can also give this treatment safely. Injection at wrong place by an untrained person can produce undesired effects. In the amounts used for wrinkle therapy, the most common side effects are temporary and localized to the area of injection. These include soreness or mild bruising, mild headache, and very rarely, developing a heavy eyelid lasting 1-4 weeks which your doctor may be able to treat with eye drops. There have been no permanent side effects of Botox reported. Botox should not be used in the presence of infection at the proposed injection site. It is also not given to pregnant or lactating women.

Botox does not radically change your appearance

Botox does not radically change your appearance or make you look like you've had some kind of surgery. The muscle activity that causes lines is simply reduced. Its popularity lies in the fact that there are no unwanted scars, and that there is very little recovery time with the procedure.
Dr K M Kapoor is the Director of Anticlock Age reversal Clinic and Medispa in Chandigarh.
Read more articles on Anti-ageing.