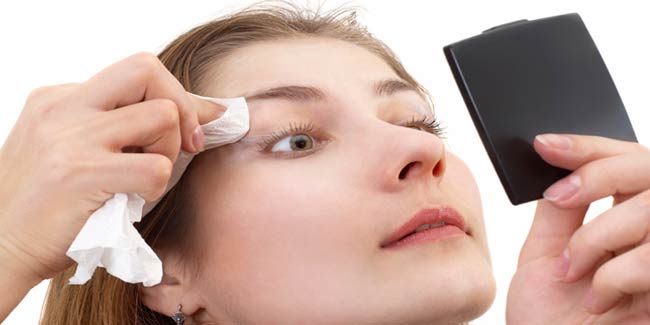 The prevalence and extensive use of make-up usage has been fuelled by an array of sophisticated products based on unique innovations that are easily available in the market today.


They have helped in popularising 'the natural look' by emphasising on the positives and downplaying the not-so-flattering aspects of your face with utmost ease. The same is true for eye make-up as well. Eye make-up constitutes of various forms which include eye shadows, liner pencils and liquid eyeliners, mascara, and artificial eyelashes.

However, one needs to be extra cautious while dealing with eye make-up. The eyes are considered to be the most delicate and surely one of the most vital organs of the body which need to be taken good care of. Therefore, the choice of products for your eye make-up is critical. The ingredients should be absolutely free of toxic compounds that are liable to cause eye irritation or prove potentially harmful for your eyesight in the long run. Similarly, one should also adopt safe means to remove eye make-up, without causing any consequent damage to the area surrounding the eyes.
Remove Eye Make-up the Safe Way

There are several advocated ways to remove eye make-up; however, not all might prove to be just as safe. Therefore, a bit of research could probably come in handy here. There are umpteen products available in the markets which proclaim to be the best way to remove eye make-up. However, you need to be careful before using them. It is important to check their ingredients and consult an expert before beginning regular use. These products are specially formulated to loosen the grip of eye make-up like liners and mascaras in no time. But sticking to natural solutions is always better. The steps involved in the process to remove eye make-up with natural compounds are listed below.
Vaseline or mineral oils could be ideal substitutes for expensive eye make-up removers. In order to remove eye make-up safely, you simply need to soak a clean cotton ball with liberal quantities of either. Once the cotton swab has been soaked, close your eyes and press it against the eyelids. Hold the cotton in position, to a count of fifty. Remember to count slowly. The idea is to allow sufficient time for the Vaseline or the mineral oil to loosen the eye make-up successfully.
Once the make-up has been effectively loosened, you need to apply short downward strokes with the cotton pad in order to remove eye make-up gently.
Depending on the amount of eye make-up, you might have to repeat this process quite a few times for removing make-up completely.
Once the make-up has been completely removed, wash your face and the area around the eyes with a neutral cleanser for removing all traces of oil and Vaseline.

Therefore, the best way to remove eye make-up is with a help of a natural remover that you are completely sure of. Do not spend unnecessarily on expensive make-up removers. Getting the process right is more important than investing in fancy products.
Read more articles on Eye Make-up.